Hear Ye, Hear Ye!
HOT lil wayne concert went down last night people!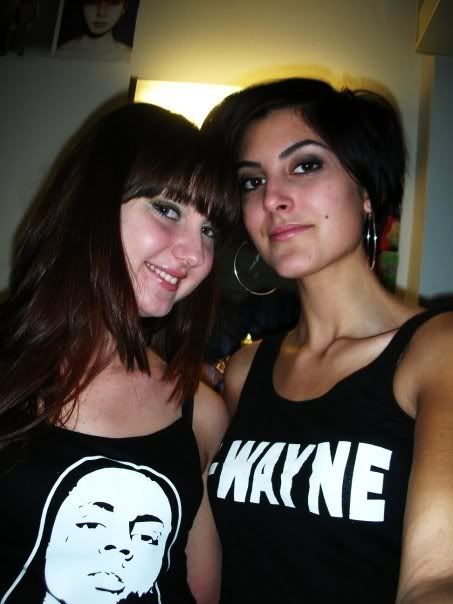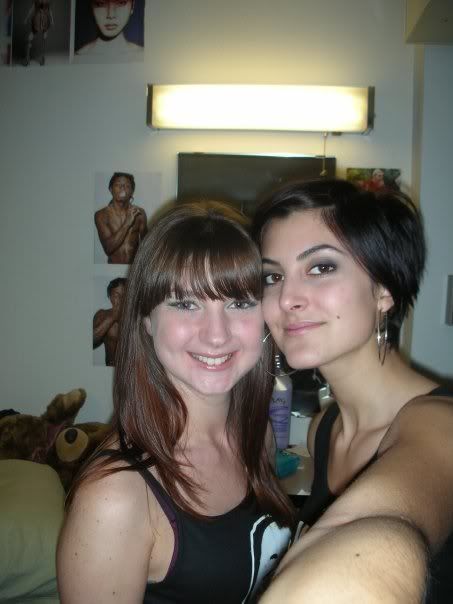 Let's start from the top. Me and Bambi had OK seats. We paid a pretty penny but they were no way as stellar as I wanted. I didnt fully realize this untill a few weeks ago. My roomie Eva was like, well, who ELSE would you actually pay money for to see? AND THERE IS NO ONE. It's Britney and Lil Wayne. I have bomb seats for Britney's concert in April. but these Lil wayne seats are not acceptable! he is the ultimate! Im a HUGE fan and he's coming to Seattle. NO excuse not to be upfront for my favorite artist.
Fast forward to concert. We're there, out in front of the Key Arena. I spy the KUBE 93 (rap station) tent, and make my way over! I hear the DJ guy say they're gonna give away 3rd row tickets. what! (and i had been trying ALL weekend to call in to be entered to win those front row seats..to no avail) So I get up there and I'm like, "Vini! When you givin away those 3rd row seats??" He's like "Now, lets do it right now!..Let's do a T-Pain, Lil Wayne trivia BATTLE!!"
Bambi and I look at eachother like, hell yeah. we got this. We asked if we could be a team and go up together, but he said just one. I dauntlessly step forth.
I get up there in front of people, I'm up agaisnt this black girl.
First Question goes to her. "Name 4 Lil Wayne CDs" uh! She says Carter 1, 2 and 3 and some other. softball.
My question: "Who discovered....T-Pain?" ohh! Man i was about ready to say Birdman cuz I thought he was gonna ask who discovered LIL WAYNE. But T-Pain?? Who discovered T-Pain?? Seriously. Who knows that? .......................me. I lean into the mic, "Akon."
That's right! Bambi and Julia are cheering me on from the front.
Next, her question "What is the name of the housing project/community Lil Wayne represents?"
She don't know it! I raise my hand up as soon as I know she can't answer. They put the mic up to me, "Okay, what is it?" -"Hollygrove" . Correct.
Her question to redeem herself. Where is T-Pain from? "Tallahassee". correct. But i'm one ahead of her so If i get MY question right, I win.
"Not Cash Money now, but what is lil wayne's own record label, his own enterpise?"
I lean into the mic. "YOUNG. MONEY." (bitch!)
And thats it. I wonnnnnnn!! 3rd row Here we come!
The guy that was asking the questions was like Damn girl I didn't think you had it in you, you look all punk rock. and with your rihanna haircut. I was not expecting you to know your stuff like you do!
So obviously I'm hella excited. I had to fill out some paperwork and it was nerves but also the freezing cold, I couldnt even hold the pen. You know when your hands are so cold you cant even move them and it stings to touch things?? yeah. so we go back to the car to warm up instead of waiting outside.
We eventually get inside, and me and Bambi are trying to find where to go for the floor seats. The people keep telling us, down the stairs, keep going down. SHIT! We get into the main arena place and go down more steps to get to the floor. and we're so low and close. and we have to keep walking foreward. closer and closer. are we there yet? are these are seats? Nope, this is row 20. Keep moving forward. We see how close were actually gonna be and Bambi and I freak out. Bambi starts running forward to out seats. We definitely didnt see the security guy who has to look at your tickets to admit you up there. (hella strict up front especially) so he damn nearly tackles Rachel! "GET BACK!" "I gotta see some tickets!" Well, here they are!! Section BB row 3. FRONT AND CENTER.
Me and Rachel get settled and just look at eachother, bewildered as to how things managed to unfold.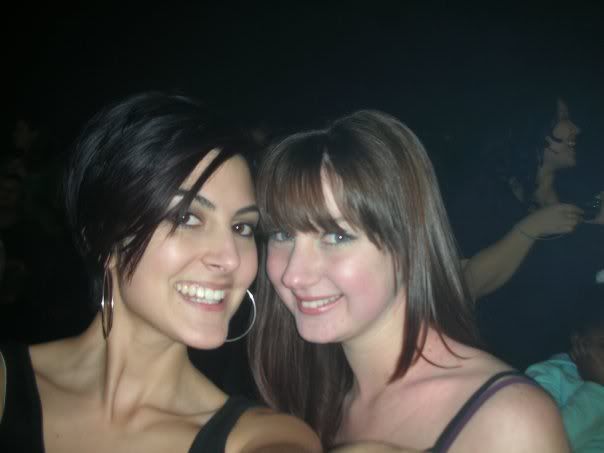 Gym Class Heroes were up there, and we saw how close were were to Travis, the lead singer. Thats how close we'll be to wayne. Not too into the Gym C. H. but Travis is pretty freaking hot with his septum piercing and gauged ears and neck tattoos. and i dont even like gauged ears. But neck tattoos? =always hot.
This was the quickest tranpiring concert I've EVER attended. These roadies were ON it. Usually there's like an hour wait in between atrists to take down and set up for the next but this was fast. and t pain had hella shit! some huge blow-up thing..circus-sy stuff. (Thr33 Rings). Lights go down, his sets starts..and... MIDGETS! with their faces pained black and white..carwheeling and flipping around and pop/locking aross the stage. freaky and not really appreciated. but i do get it. circus......very high energy. He's in WAY better shape than he was at SummerJam, a mere 6 months ago. He couldn't even dance around without getting embarrassed or losing his breath. He's got some major moves now. I was impressed. And know what else i was impressed by?? Pain can sang. At his piano, he played and sang. SANS auto tune. Just straight up singing and it was good. But yes, major energy, jumping around with all his hits. 2 step. im so hood. boss. he did the pop champagne remix. yessss
Then that was over. Lights came on. Waited...maybe 15 minutes max before the lights went down again and the crowd goes apeshit. People on their feet and Wayne's not even on stage yet. and then, strobe lights, smoke! and all of a sudden, wayne just pops up center stage in front of us!. Like he was shot outta some hole at the bottom of the stage! YESSS
His DJ was in this suspended box, like 30 feet in the air overhead. and there were a few other boxes, housing the drummer, bass played, guitar player, etc. Thats two big contrasts from his last show we went to right there. 1-It was a full on SHOW. lights, hanging boxes of musicians that got higher and lower, FIRE! and 2-the instruments! last time it was all DJ. this time, I'd say damn near every (if not completely every) song was done not from the DJ playing the beat but with drums and guitar and bass. Wayne's totally in a hard rock phase right now. even the way he was dressed-all black, tight black t, a chain on his pants..mm. And this just in--He's relasing a ROCK LP ! Its called Rebrith and it's due April 7th. its going downnnn.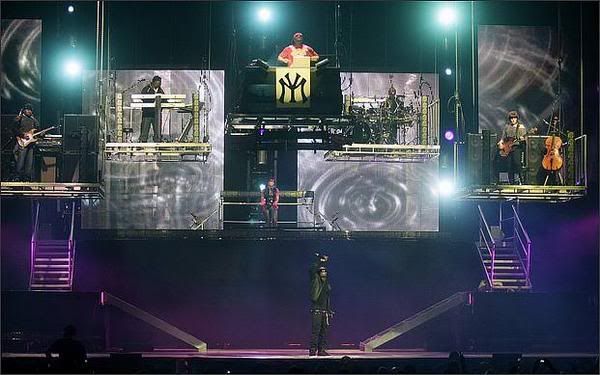 Like last time, the whole set is kind of blurry. I remember bits and pieces, and that it was freakin awesome. What was crystal clear though was my view of wayne! I could see all his tattoos..even the tear drops on his face.. so close...15 feet away. you can see him in the back of this shot..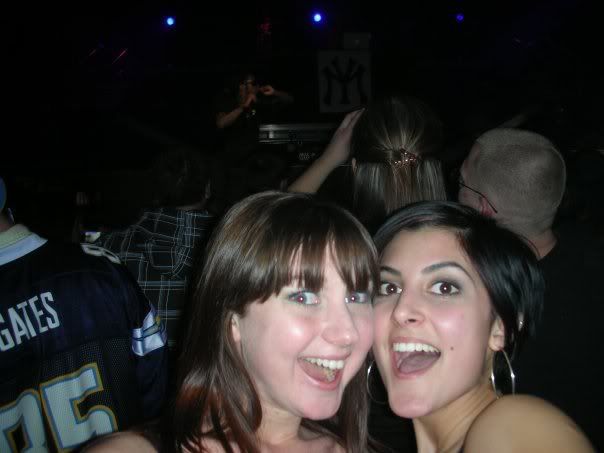 First song he did was Mr. Carter. He also did Money on my Mind early on. Fireman, complete with huge-ass blasts of fire!! YOu could feel the heat on that shit! T Pain got out there and they did Got Money. They had a feature battle, like who's been on more tracks. Now THATS a competition. They did little snippets of their best features. mm..did a new song together. I believe their third official T WAYNE song to be realsed. They're actually gonna go through with this T-Wayne album thing. And i was SO on it with my T WAYNE tank. I bought mine online months ago, and I've never seen another person wearing one. But they were sellin em there at the concert, so HELLA people had T WAYNE shirts. but! they were big baggy shirts. No one else had a cute little tank top like mine!
God what else!? I got SUCH good pics and videos..as soon as I can upload more i'll put them on here..I only have a few of Candy and Bambi for now. and one I stole off another site shwing the whole stage set up. cuz you know, i was too damn close to get back and get the whole stage shot like that. ..He did duffle bag boy, i'm me, some mixtape stuff..mrs. officer, phone home, dontgetit, please dont shoot me down, lala, lollipop..complete with strippers on a pole and background lights..SO vegas. (a la his music video). He disappeared and reappeared on camera only, singing a chanty, kind of spiritual My Life. Segued into A Milli(now in full view of audience), complete with more fire. his most energetic song of the night, as I expected.
he had 3 different outfits. my fav was the first all black with chain ensemble but next was this hella cute one with pinkish jeans and a cool printed shirt..last wasa black suit. When he was in the bright jeans, keri hilson came out and they did "turning me on" lovvvve it. best line: "i hope yo vagina tight!" hahahaha Keri was wearing these big heels that did a great job of further migetizing wayne when he stood next to her. She was all touching on him and flirting..she's like "I dunno about you, but he's really turning me on!" and "Lil Wayne...(caresses him)..not a damn thing little about him!" hahaha (um. except maybe his height and weight) He playfully smacks Keri's ass. I wish it was my ass. uhhhhhhh
alright enough of that.
oh! he also pulled out his guitar and sat down and did Prostitute 2. Thats one of my fav. songs of his. He broke into a wee bit of Pussy Monster..but oh, what a tease. thats all we got.
He was up there for a good hour and a half, which was the fastest hour and a half of my life.
So we left the arena and I peeked over the edge of this balcony and my eyes were graced to see the tour bus of the great one. That bus is famous! its in every article written about him, he records his music there, He does interviews on that bus, he invites girls up onto that bus. he LIVES on that bus. Year round, not just for tours. I was ripped a new asshole when i dared stand up on the planter to get a better view. ..this securirty guy.."GET OFF THE PLANTING SECTION!!!!!!!!!!!!!!" jesus christ you'd think i was attemting to assasinate the president. wow! Anyways, we walked around the other side and, in truw lil wayne tour-bus fashion, i looked in and I could see the flat screen on, what else, ESPN. probably on slient, like it always is.
So hurah, hurah! Candy and Bambi experienced Wayne yet again!
And he is one sexy. ass. mother. fucker.
here's some pictures I took for you to enjoy.