I completely didn't even know the Golden Globes were gonna be on! If i hadn't heard a radio comercial for it while i was working earlier in the day, i would have completely missed the boat and perhaps thrown a tantrum. just ask me about the time i missed the top model premiere...
I haven't seen many (any?) of the movies that were nominated, so I don't feel qualified to discuss merit. BUT! I got so pumped up for the movies that I am going to see two of them today! Benjamin Button and Revolutionary Road. If Kate Winslet and Leo DiCaprio were in a Star Wars movie together, I'd see it. It doesn't even matter.
Lets get into the red carpet! ..which is pretty much what this blog is gonna be about... I caught it like 40 minutes late but that still means there was an hour and 20 minutes left of "who are you wearing" goodness. Lets get into some highlights!
Jennifer Lopez was wearing a Beyonce-gold dress. Kind of draped in front, very low cut...hmm...if it was green I would think I had seen it before.....hmm her Versace dress from the Grammys??
Kate Winslet-love her but her dress was pretty boring. She never scores high in my book with her dresses. They're always kind of boring to me. This one is no exception. Black, Yves. St. Laurent or however you spell it. velvet belt..blah.
Anne Hathaway wore a glitzy, beaded, deep blue Armani Prive dress..dress is "meh" but her skin! She has this amazing creamy white skin. Pasty never looked better.
DREW BARRYMORE- love it!! this very light, grey/powder blue tulle haute-couture Dior gown..so glam! it was lightly draped over the shoulder. very lovely. and her hair was absolutely fab. HUGE. Marilyn hair. but bigger. disclaimer!! *i was watching it with some people related to me (it sounds weird saying family..) and my uncle was like "the roots!" kay, her hair was very blonde. but she had dark roots. yes its true. BUT! It's for her movie she making right now. I've seen pictures. She's some kind of dated frump. So she gets a get-out-of-jail-free card for that one.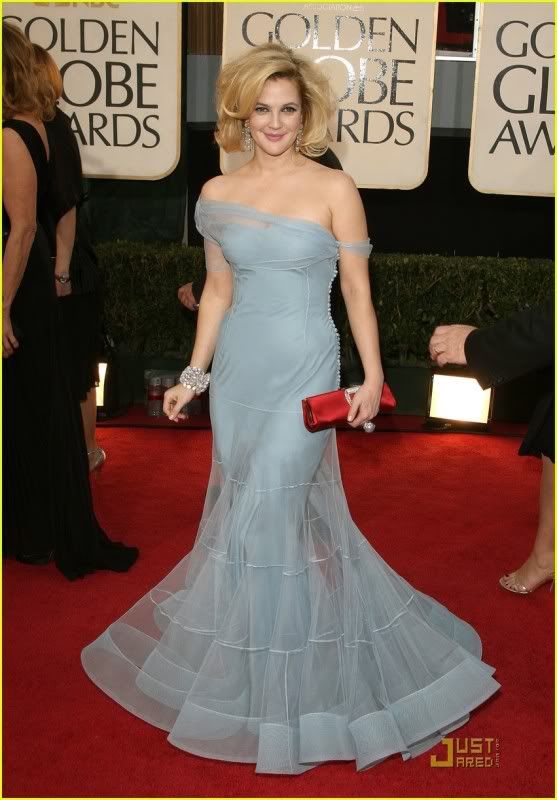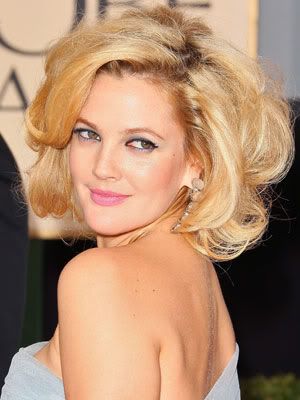 Amy Adams- Girl looked a damn mess. He hair's got those damn wispy pieces pulled out in front..I already am not a fan of that but the pieces were all frizzy and it made it look like she ran down Rodeo Drive to get to this thing. Frazzled! Not a fan of the dress either. Makes her look big..
Evan Rachel Wood- She looked very soft compared to her Dita von Teese phase not too long ago. Beautiful black dress. Thumbs up.
Eva Longoria- I hate the way she always looks on the red carpets. She's about as predictable as Taylor Swift's prom dresses and poodle curls. You can bet money she's always gonna be wearing some knee-length dress. sometimes spaghetti strapped, sometimes strapless. Sometimes glittery. But Always knee length. So you can guess how blown away I was when i saw her and she's wearing a FULL-length red gown, with train! Strapless..just gorgeous. Now, this girl wears those little dresses cuz she's so petite..she has no cirves whatsoever. no boobs. no hips. no ass. But this was a miracle dress because it gave her all three. she actually had cleavage and the dress was kind of mermaid so it gave her va va voom hips! like major! I was so impressed. Whoever dressed her should be given an award!
her hair was pulled back in a simple yet oh-so-elegant chignon. Beautiful! I bet the Paves was behind that 'do! Well done Ken! And Beautiful, understated earring. Lovely.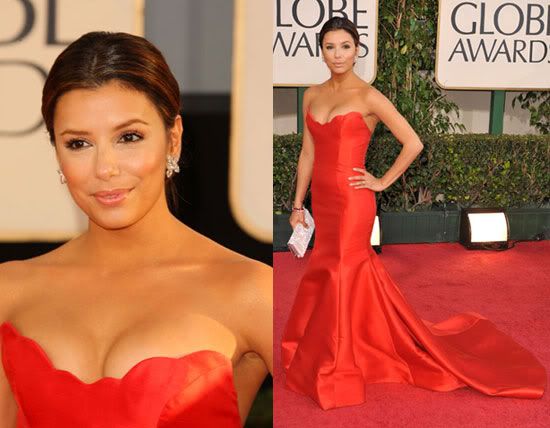 Cameron Diaz- blech! Worst I've ever seen her! This ruffled pink mess of a dress. One shouldered (which i hate) with and arkward cut-out (but not really a cut-out) by her armpit. Hair was the worst! Ashy dark dishwater blonde for like 5 inches then a prettier blonde at the ends. She just aged herself like 8 years. way to go.
Angelina-ah St. Angle Jo...She can be elegant, she can be kick-ass, she can be a gorgeous goddess...tonight she was flowy and ethereal. and a little French. I don't know, I was feeling that french beauty.. she looks beautiful. The dress really isn't anything phenomenal. it's pretty simple and it just lets her shine through. Her makeup was gorgeous of course. hair too..everything perfect.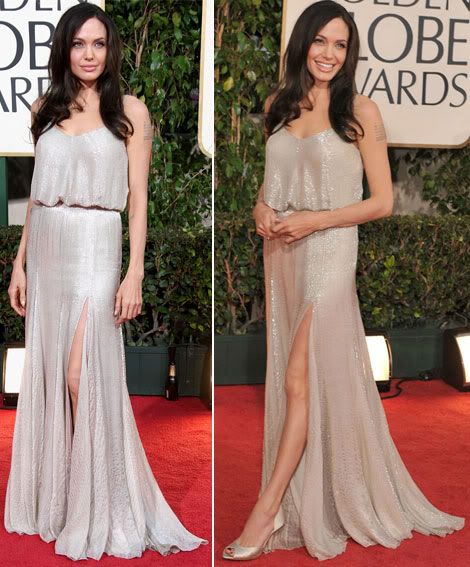 Enemy #1, Eva Mendes- Why the hell was she there? She thought she was gonna get an award for "The Women"? She wanted to tell people about how she loves to be nude around the house or about her "Latina Curves" (what curves!?)? ugh. can't stand this girl. She thinks she's hot shit. But personal issues aside...the bitch looked good. First thing my eye was drawn to was this beautiful turquoise necklace. it was the 2nd of the two I noticed that night..not just a necklace but a whole clavicle-engulfing piece of elegance! Beyonce had one too but it wasn't as fab as Eva's. Just exquisite. Makeup and Hair was perfection. Kind of bouffant-y. And you know I love my big hair. And THEN you notice the dress. Dior white silk taffeta gown. strapless, lovely. There's some material gathered at the waist that makes it modern and very fashion. no, i don't mean fashion-able. I mean fashion! WELL DONE bitch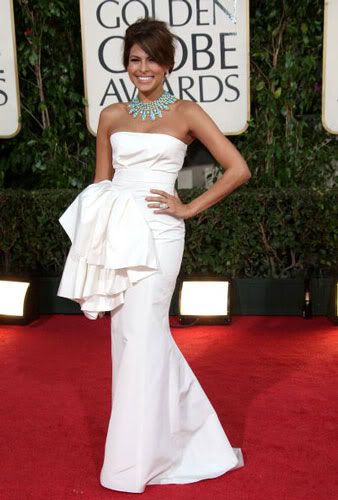 Elizabeth Banks- ..who? Who is this girl? She might be from Mad Men. If i was a good blogger i'd do some research but I'm just going to leave it a mystery. whoever she is, she's like a better looking version of Chelsea Handler. But this dress was so pretty! Pale pink, cute sleeves, low cut, soft ruffles throughout. So soft and so utterly, utterly feminine. Love it. She looks like some fertile goddess of love. it doesn't get more feminine than that.
And last for the women, Renee Zellweger- She got pretty bashed for her dress and overall look, but I give it top marks! I Lovedd it. Black, Caroline Herrera I believe. Sheer from the waist up, but she was wearing this nude colored bustier underneath..so it was like a little tease..you could see through the black but not actual boobs. tricky tricky renee! I Liked it because there has to be some skin showing, and in this case, the neck like was all the way up to her actualy neck..so the sheerness balanced that very well i feel. There were long cut-outs over the shoulders and upper arms. That gave a little more skin. Very unique and I liked it. It was also a mermaid dress so it gave hips. A very dramatic silhouette. Very gothic looking. I would definitely wear this dress. Love it so much I'm going to give you TWO pictures.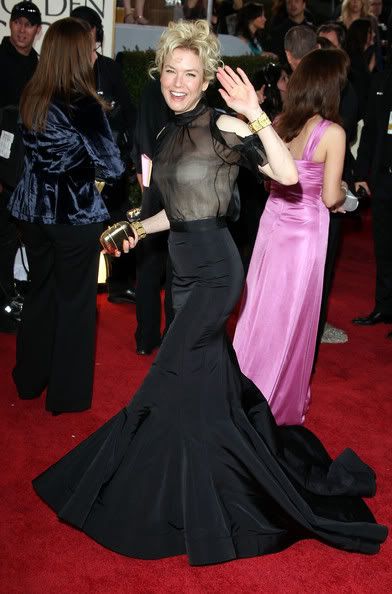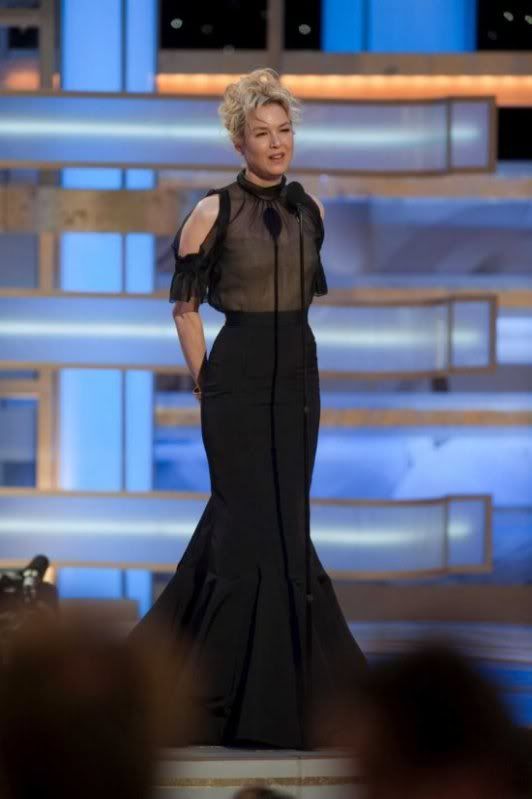 And just a quickie overview of the men..I'd say scruffy, messiness was in. Some were very clean-loking, with coiffed, slicked back hair, but there was a lot of sexy, rugged, messed up looks. Wildest hair award goes to Robert Downey Jr. He got some height on that shit. Very cool though, I think it fits him.
Jeremy Piven was there and he's growing out a bit of a beard. A little rugged-scruff agrees with him.
Colin Farrell too, who won for "In Bruges". He looked sexy as usual but at the same time, what a mess! When he came out to present an award, he's chewing gum! and sniffling..and he defends himself that its a cold, and not "what it used to be" (snorting cocaine). and hot messy hair. it was so sexy.
And the hottest mess award goes to this bitch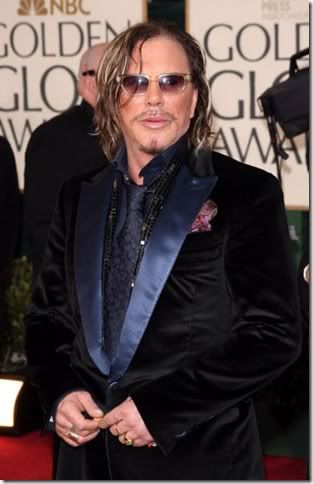 Mickey Rourke, who won best actor for "The Wrestler". I loved it. He's old but he's still got that rock n roll style. Blue lapels, some kind of beaded necklace, a paisley scarf peeking out of his pocket, Maroon tinted glasses, long, messy, dirty-looking hair, a chain on his pants....LOVE it. I'll call it RocknRoll Ecclectic.
So overall very good. I was very impressed with most of the dresses and overall looks. Even on people I dont like. I dont even like Eva Longoria. She alwasy seems drunk. And Eva Mendes always seems ugly. But not tonight!
I'm about to go back to my room and watch the Fashion Police special on E! with Jay Manuel and Chrsitian Siriano! Love those crazy bitches! So before I hear theirs, let me give you MY Top picks!
4. Elizabeth Banks
3.TIE-Drew Barrymore and Eva Longoria
2. Renee Zellweger
1. Eva Mendes