Michael K from Dlisted.com is worried about the ever-growing baby army with these celebrities and just regular people who won't stop having kids..but I think our real worry should be the old people because they are freaking taking over. .. at all the good awards shows, at least. You read my blog on the VMAs..now its happened again, at the Grammy's! Read on!


I missed the first hour of the red carpet but i hear there wasn't anyone good on that early anyway. but! interspersed in the red carpet parts i did see, they kept breaking in with breakin news about Chris Brown and RiRi! Chris was named a suspect for alleged battery after Clive Davis's big music industry party the night before. he "allegedly" beat down an unidentified female, and she pointed him out as the main suspect. so poor grammy producers had to scramble around to fill in the time that he woulda been performing. but! wait for it................ Rihanna "wasn't in good enough shape" to attent either! A reliable source from Cedars Sinai said he saw her come in and outta there with some knarly bruises. COINCIDENCE????
So the producers had to fill in ANOTHER performance slot cuz Rihanna ain't showing up either!
On to the show!
Best R&B- jennifer hudson. eh i'll give it to her. good speech. short and sweet but still acknowledging the family drama with some emotion..

The first performance was the "fill-in" performance: Al green, Justin, Keith Urban (?) and Boyz II Men (???)
Chris Martin and Jay-Z did a little ditty before Chris ran off to do Viva la Vida. i'm so over that song.
Sugar Land won for something country-realted. The girl's accent hurts my ear but she's had a fab dress. I'd wear it. i tried to find a pic of it but maybe they're too irrelevant cuz i aint find nothin!
Song of the year- Viva la Vida. big surprise. question: whats the different between song of the year and record of the year...?

Then ! the much anticipated duet between Miley Cyrus and ms. prom poodle. i was skeptical because it was one of Taylor's songs ("fifteen") but Miley can sang!! I was impressed..like belt it out singing.. i actually enjoyed this performance.

Best Pop Collabortation: there were some good noms in here, JT and madonnna for 4 minutes, RiRi and Maroon 5 for Makes me wonder, Jordin Sparks and Chris "wife-beater" Brown for No Air. I really really really wanted No Air to win because that song is powerful!! it's so emotional and the video is so intense! They're like shouting in eachothers faces and shit. SO hella good nominees and the grammy goes to...Robert Plant. what! (i'm silly and didn't know who this guy was throughout all of last nights show so I was just really dazed and confused, but turns out, he was the lead guy of Led Zeppelin) Still..

J. Hud (Jenneifer Hudson, gotta keep up with the nicknames) performs. its hellllla boring. but i can't say that cuz given the circumstances. but it was! for emotion, i give it thumbs up, cuz you know that was real. performance? thumbs down
Next Is the Jonas Brothers performance!! With Steevie Wonder!! Joe Jonas was sexing it UP man! With his dance moves and semi-thrusting and writhing anf what not!! I have never seen him so sexy! add in Steevie and they were JAMMIN. awe-some!

Guess who presents next! Blink 182! and traivis is still all banged up! his arm in a sling! dang that was in september! But they're back! i was never really a huge fan but thats exciting. they presented best rock-coldplay. boo.

Katy Perry Performs (another note, in a previous blog i think i said something about her getting snubbed but she totally wasn't..i blame perez hilton, thats where i got that info. he's so dumb..) I give her credit for not lip syncing but beyond that..meh

Kanye comes out with that barf bag, estelle, and he's hella 80s-tastic!! Metallic silver jack and an afro-mullet. im lovin it.

Best New Artist: Adele. ugh
Record of the Year: Robert Plant and Allison Krauss"Please read the letter" ..the fuck?
Then!! The perfomance of the night!! Queen Latifah introduces the "Rap Pack" aka Kanye, Jay Z, Lil Wayne and T.I.!!!! omg they're gonna do swagga like us!! but!!! I ddint even anticipate the best part. Swagga Like us is taken from M.I.A.'s song, Paper Planes, so it opens up with her singing the song and the hook......and homegirl is 9 months pregnant! The day of the Grammys was actually her due date. ! She's jumpin around, full swagger..wearing this skin-tight, see through bouse with two small polka-dot patches over her boobs and a gigantic one over her her HUGE belly. whaaaaaat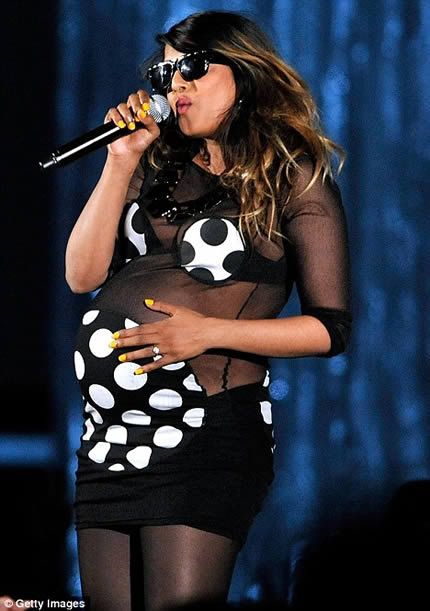 And then in come the 4 greats! All wearing tuxedos/suits. And M.I.A. stays up there, bouncing around the whole song!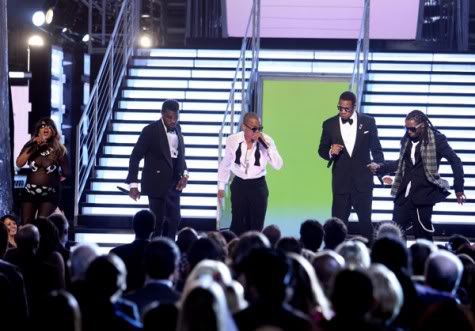 This is what the grammys are about. Those jaw-dropping, OMG shocking moments.
M.I.A. is a real god damn rebel. NO other woman could stand up there dancing and hold her own with those boys. let alone being 9 months pregnant.
But! if there ever was a woman that could stand up there with those guys, she'd have to default to the sexy object, wearing some sexy little outfit. even if you're beyonce. PROPS.
Best Male Pop Vocal- Say, by John Mayer.
Radiohead performs. pretty good.
Wayne and Robin "sexual soul white-chocolate" Thicke do tie my hands.
Best Rap- THA CARTER III. redemption!! the grammy acadamy or whoever the hell votes this shit in has my respect cuz this shows they actually listened, REALLY listened to the CDs. To an outsider, or at first listen, TI's paper trail would be a better CD. But it takes soo many full listens to fully unravel and understand the greatness that is Tha Carter III. It's a million puzzle pieces you have to put together to fully appreciate it. Well done.
Album of the Year: out of Tha Carter III, In Rainbows (radiohead), Coldplay's Viva and Neyo's Year of the Gentleman...it goes to Robert Plant. gahhhh