You already know.
Unless you live under a rock, you already KNOW what went down this Sunday at the VMAs! This Kanye talk is EVERYWHERE! But if you're a celebrity gossip connoisseur like myself, you don't want the bulletpoints, you want all the dirty details. So here we go.
They were back in New York this year, at Radio City Music Hall, thank GOD! After last year's joker venue.. that was already a good sign.
So! Starting with the red carpet pre-show. I was already psyched to see what the hell kind of GD outfit Gaga would try to pull off, and she was one of the first artists to be shown! It (the first of her 4ish outfits) was crazy! Black dress with a big chest peice with feathers spouting up her neck and down her chest. VERY Cher. Actually, pretty decently similar to something Christina Aguilera wore to the Grammys some years back. With the constant talk of similar looks of those two, im kind of surprised gaga went there. Lady G also sported a half mask, a la phantom of the opera..and some kind of Victorian looking hat. Take a look see..and compare the chest piece to Xtina's..similar, no??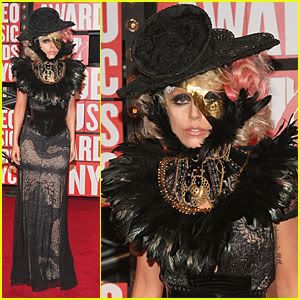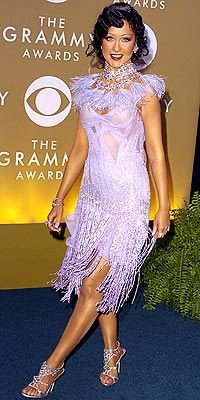 They showed Shakira talking to someone..and I didn't even recognize her! Yes, I still am stuck at the Whenever, Whereever/Hips don't lie days when she only rocked her curls...so the straight hair always throws me off but her face! It looked like she had some work done or something cuz the face was different to me...
She and Pink also showed up in the same dress. Oops! At least they could pose together and be cool with it. I'd be embarraased!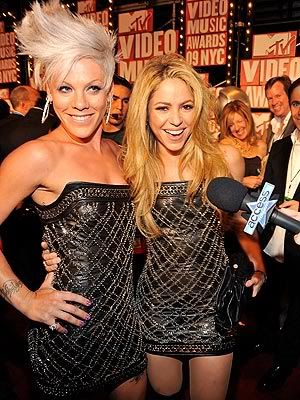 And here's Pink with Carey Hart. She made a joke that last year at the VMAs, she was performing an angry song about him; This year, he's her date! They're cute. Sort of remind me of another on again/off again couple. similar hair too..hmmm....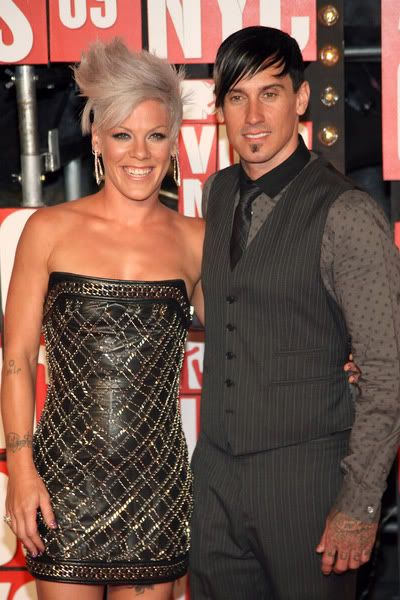 Taylor Swift shows up in a Cinderalla-style horse-drawn carriage. Sparkly dress, shimmery eye makeup and curls! what a goddamn surprise.
Skeletor and J.lo were there..don't know why..
and Faye Dunaway was there too! WTF
Jermaine Jaskson and his spray-on hair.
And thats about all the good stuff from the red carpet. I omitted all the twilight-related bullshit for your reading comfort.
SHowtime!! We all knew Janet was gonna do a Micheal Jackson tribute, and thats what opened the show. Madonna walks out and starts stating all these similaries her and Michael had..talked about how her (Madonna) mother died at age 6. (??) but then said Michael still had the shorter end of the stick cuz he had no childhood. it was interesting.. She ended with "Long live the King". Then it gets exciting when Janet busts out and starts dancing like her brother, to this song that they recorded together. They cut to J.lo and she was going batshit. At one point, Janet was up there, with a big screen of the music video behind her, and she's doing all of Michael's moves, as he's doing them at the same time on the screen. to a T! it was haunting! Very cool.
Katy Perry and Steve Perry (get it?? They have the same last name!)of Aerosmith are up on stage doing We will rock you..to pump up the audience even more and Russell Brand emerges. Bambi and I agree that he is sexy. He's like, this gangly, Tim Burton character, that happens to be funny as hell and a nymphomaniac.
But he didn't do any stand up! I was soo looking forward to that! I like it because it's scadalous and shakes things up..but the show this year obviously made up for that in other ways!
So first award of the night- Best Female Video. It was pretty much a race between Lady Gaga and Beyonce. I voted for Beyonce because Single Ladies is iconic. It was imitated/spoofed by everyone! And it was so simple too- just three girls in leotards, dancing their asses off. No tricks, no backrounds, no story. Just booty shaking at its very best. And the award goes to...Taylor Swift.
what! There's no way!! Nobody even knows that video.
Obviously, there was someone else who shared my sentiments because before Taylor could finish her speech, Kanye storms the stage, takes the mic and is like, Taylor, I'm happy for you, Imma let you finish, but BEYONCE HAD ONE OF THE BEST VIDEOS OF ALL TIME! OF ALL TIME!!!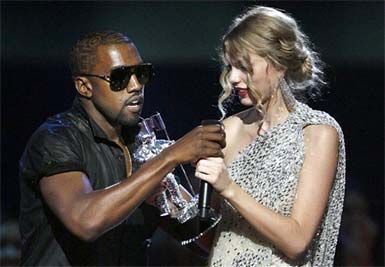 If you want to know the truth, I gasped, and then proceeded to laugh my ass off! Classic Kanye. He is just a crusader for what is right! He's done that before, I think it was in Europe. He was nominated for, but didnt win some award, but he goes up on stage anyway! And at the AMAs this last year he won, and went up there and proceeded to give the award to Wayne cuz he said this was Wayne's year! And who could forget-"George Bush doesn't care about black people". Kanye is just a crusader for what is right.Plus, I can't stand Taylor Swift and she had NO business winning that award. more analysis on this later.
Best Rock Video: Green Day. for whatever the hell that fucking song is called.
Taylor Swift performance. GOD I hate that song!! The one where she sings about the boy she liked in high school. oh wait......
"She wears high heels; I wear sneakers!" I'm just a tomboy! I'm just a nobody compared to this hot cheerleader...SHUT UP. You wear sneakers? Thats funny because as you uttered that line, you were, in fact wearing high heels. twat.
Then it happened. Lady Gaga took the stage for her theatrics. Outfit 2. She looked like a white devil! A white cropped top and panties..and another facemask with these two feathers up on her head that looked like horns! Already a crazy-ass look in her eyes like a trapped rabid animal! She started with Pokerface and segued into a frantic Paparazzi. Well, really, the song seems to be about obsession, stalking and desperation to begin with. "I'm your biggest fan I'll follow you untill you love me" She sings it softly in the CD cut but for this performance she was downright hysterical. She woman is completely wigging out (pun?)onstage, Sharp, jerky movements..they wheel some girl out in a bedazzled wheelchair (which I saw earlier in the backstage broadcast and immadiately pegged it with Lady Gaga) and then Gaga starts walking with a cruth like she's in worse and worse condition as the performance goes on.
She starts playing the piano..with one leg up on the keys..whipping her wig around and then!!
She gets off the piano bench and starts screaming the lyrics, sounding like she's on the verge of tears and blood starts oozing out of her chest!!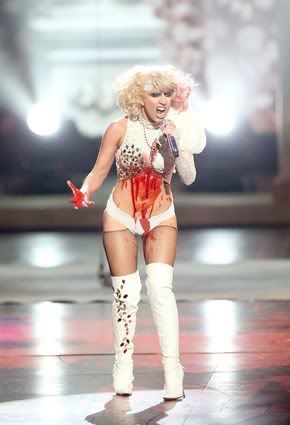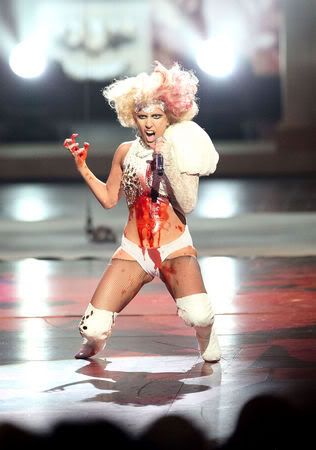 More bawling..she goes limp and one of the backup dancers takes her in his arms and it looks like a Jesus Christ thing..weird!! Then the dancers take her and we can't quite see whats going on but we make out that she's writhing in pain and moaning, then she's raised up by her wrist with a rope and then just hangs there. We get a closeup of her face, all bloody and smudged..and BLOOD ON HER EYE BALL. And she's just completely dead with her eyes still open and wild.
!!!
This woman is batshit crazy!!! BRAVO.
Best Pop: BritBrit, for Womanizer. ehh.... I voted for Pokerface, but Womanizer winning isn't totally incorrect. I'll give it to her. She had to accept it via video because she's still traveling with the Circus on tour.
Beyonce performs. In the traditional leotard and shiny tights. Allllll my Single Ladies! It was so bomb. There were the regular two dancers with her like in the vid, at first. Then at one point the moves stopped and she sang, "Now WAIT" and high rise rows behind her were revealed, filled with with leotarded (haha) girls all doing the single ladies dance. And Bey added a couple more moves in there and REALLY put some weight into it. Even more than she does in the video. freakin crazy. But it didn't come across sleazy or slutty at all. It was just stompy, peppy and fun. and FIERCE. But still female empowering. She was like, Put that ring in his FACE! omg, so good.
Best Male Video: T.I. for Live your life. And obviously, he wasn't there to accept. And they can't do a live broadcast out of a jail cell!
Best Hip Hop Video: When voting, none of the noms stood out to me.. It seems like it would be between Eminem for "We made you" and Kanye "Love Lockdown". I voted to Jay Z, Death of Autotune. That song is sick. So, I guess I was just going by the songs themselves, instead of the video. whateva.
It went to Eminem. I was a little surprised. He accepted it..looking skinny as hell! I dunno if rehab's done EM's body good!
There was a Jay-Z performance somewhere in here, not sure where it fits in between the awards so I'll just say it was after the best hip hop award. It was about loving New York, ft, Alicia Keys. Appropriate, since the VMAs were back in New York and you know both Jay and Alicia rep NYC. Jay was good. But, I'm just gonna go ahead and state that I will never enjoy it when Alicia Keys is onstage. Everything. I don't love her singing and shouting, she always wears form fitting shit around her hips that make her look meaty. In a bad way. like, saddlebags. I don't think she is attractive. I just don't see it. I never have. And every guy I've ever dated has found her specifically attractive, which baffles me even more. Anyway, averaging out Jay's good and Alicia's bad, i'll say it was a decent performance, but towards the end, Lil mama gets up on stage and starts swaggering around..what a mess! NOT a planned part of the performance. She later said that she was high on emotions from the song, and got caught up in her New York pide. crackhead!
Best New Artist: Lady G! She gets up there to accept in this red lace outfit(outfit 3). Reminds me of this painting.. I can't find a picture of it but its a pretty well recognized work of art. I bet thats what inspired the outfit.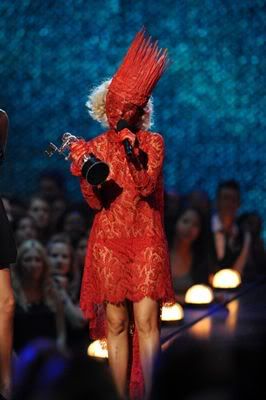 Serena Williams (or RuPaul) gets on stage, I think to introduce Pink as the next performer.
It was pretty good, she was swinging like a money from acrobat swings. pretty cool. Pink is bad ass.
And the moment the VMAs lead up to Video of the Year.
It goes to....Beyonce.
MUCH deserved. We got it right with this one. I already told you. Single Ladies is ICONIC. And yes, I agree with Kanye. "One of the best videos of all time".
So The lady of the night goes up there, and starts to say something about how excited she was when she was at 17 when she got her first VMA with Destiny's Child.. and I figured she was just noting hey journey and was gonna go through the, "If you told me I'd still be winning VMAs 11 years later I wouldnt have believed it" stuff, but she didnt go that way. After mentioning her enchantment that came along with her first VMA, she said she'd like Taylor to come onstage and "have her moment".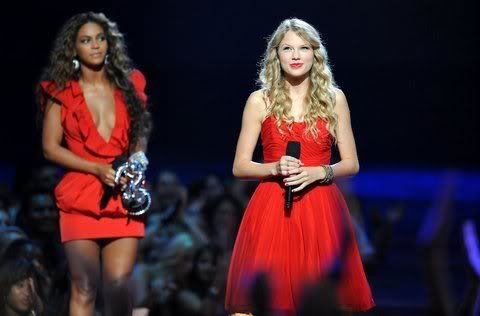 Oh my gosh. Beyonce, you are a saint. That was probably the classiest thing ever done/said on a VMA stage. It was crazy for a second. because, let's face it, when you think of the VMAs, class and dignity aren't typically virtues that come to mind. But that was CLASS. I mean, she's beyond this. Beyonce is better than the VMAs. She's won every kind of musical award by now. She's done it. She's experienced the joy of winning a new exciting award, and didn't want that to be forever missed for Taylor.
Bow DOWN to Saint Beyonce
Taylor gets up there..blah blah. But best part of the video of Taylor gettin up there: you catch a glimpse of Gaga's outfit numner 4. and its a damn bird's nest around her face! Like, imagine a helmet, a thorny, bush helmet. engulfing her head. whaaattt.
and it kills me but I cant find a picture of it! But if you go to youtube or mtv.com to watch the video of Beyonce winning Vid of the year, you'll see it!
Anyways, the show wraps after Taylor's do-over speech. Thanks to Bey, some dignity of the night is preserved. I'll be damned.
Editor's Notes-
Although St. Beyonce and Lady G were leaders of the pack with nominations this year, you have to notice that, unlike last year, nobody dominated. Which i love. In fact, nobody won more than one. It's annoying when you keep seeing the same person get up there to say thank you, for a video that probably isnt even that great. So everybody left even steven. Kumbaya.
It was obvious, though not dominated by one particular artist, the show was very FEMALE dominated this year. Sweet! Last year was balanced, and 2007 was very MALE dominated, with Timbaland, Justin Timberlake, 50 and Kanye being the main focus. So, go ladies!
Here's a good summary pic of the best performances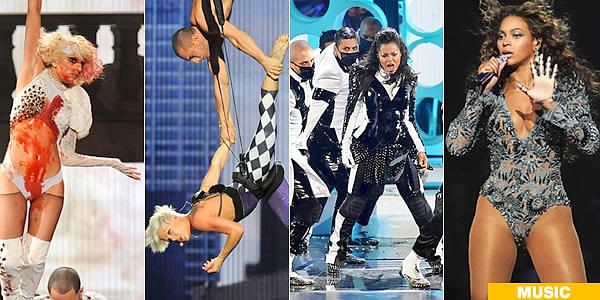 And Who the hell was Katy Perry's date?? They kept showin this guy with to her, kinda gay looking, kinda rocker looking. confused.
Of course, we gotta discuss Kanye. it may be of some moral comfort to know that I DO have a heart, and I do recognize that it was rude and inconsiderate of him to go up there. He did steal her moment. I know. But is it so wrong, from an entertainment perspective that I enjoyed every minute of it? I'm a celebrity gossip fiend and I love the drama! Look at it this way, like a soap opera..there's that outrageous bitch of a character and crazy moments of them acting out where you're like OMG NO she didnt just do that!!! and it gets you riled up because it's so crazy. Thats how I see it. I love the shocking and unexpectied. And I love the buzz about it the next day, when EVERYONE knows what happpned and everyone's got something to say and different opinions. It facilitates conversation, awareness and discussion. Mo ho.
Secondly on this same topic..Taylor Swift isn't a child, so stop calling her one. On the View discussing it, the ladies called her a child, as in "A grown man doesn't DO that to a child!" or, on Ryan Seacrest's radio show he said when he saw the incident, his blood started boiling because sweet Taylor is a "defenseless little girl". And this morning on the radio, a DJ said he had heard her referred to as a "little kitten". Jesus Christ! Buck up. She's Nineteen. Newsflash! There are pornstars that are 19. There are 19 year olds that have commited murder. There are 19 year olds fighting in Iraq. Nineteen is NOT a child. Stop defending her as one. Just stop at "It was incredibly inconsiderate and selfish", don't bring her alleged fragility and innocence into this. Just because she's deciding to stay in a nine year old's fairytale land and arrive in a princess carriage doesn't mean she is a nine year old or a princess. She's an adult in the, sometimes brutal, entertaiment industry. She knows what comes along with that.
And I've already mentioned Beyonce's sainthood, so the last person to be discussed is Lady Gaga. Damn man. I mean, she can be hot, when she's all done up in a good wig and lashes and some hot leotard. But obviously, being sexy isn't top priority. She's totally willing to sacrifice the sexy, for the shocking, which I totally respect her for. Most female pop singers just want to look sexy and coy while singing their songs-- God forbid they get dramatic in a performance and make a weird face or something. Or wear outfits that women may get, but 99% of men will consider unattractice. Or just spaz the hell out on stage like a retard. No one else will do that for fear of what people will think of them or how they'll be viewed or classified--less sexy? worst dressed? Gaga don't give a SHIT she just wants to express herself by whatever means necessary and available. She wants to shock and bring the drama and I love it.
In closing, this was leaps and bounds away from last year's mess of a show. There were young people in the audience for startes, actual FANS of music. They STOOD up and were excited and enthusiastic. The red carpet, presenters and performances were well organized and properly executed. No technical difficulties with equipment. No bullshit trivia for commercials with WRONG answers. Nobody had to perform in a 12 by 12 pen. and there were no botched wins, everything seemed about right. A night to remember for sure (Thanks Kanye). Up there on my "Best VMAs" list with 2003 and 2007. Well done!