American Music Awards review. Ready, Set, Go!
The much hyped Janet Jackson 8 minute opener was boring.
First award of the night- Best Pop/Rock band or duo = Blakc Eyed Peas. Fergie actually looked good for once. Good hair, good face, good dress. She looked fresh. thumbs up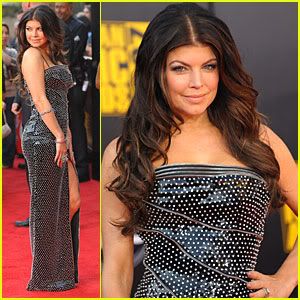 Shakira performance.. she did Give it to me.. but no lil wayne? What's up with that? I heard he was gonna be there..anyways. She looked good. But nothing spectacular.
Kelly Clarkson performed. Every time she performs you can count on new unflattering pics of her at the mic looking heavy.. At least she was smart this time and wore black. She didn't look that bad. And the song is decent.
Best Pop/Rock female.. noms are Gaga, Beyonce and Taylor Swift. We all remember what happened last time these three were in the running together.. I had high hopes that Gaga or Bey might take it but alas.. Taylor Swift was called. boo! Can't we get over her already? What's so unique or special about her as an artist? She has a pretty comparable style to LeAnn Rimes or Julianne Hough or Carrie Underwood or insert-other-blonde-country-star here. She's not that special. Bey and Gaga on the other hand are ground breaking. There are a few Beyonce emulaters out there (Amerie, Cassie, Keri Hilson, Ciara) but Bey was the first. The are all trying to follow in her footsteps but none are as multi-dimentional as her. Beyonce is the reigning Diva. And I don't think I even need to explain how there's no one else bringing what Gaga brings. Taylor Swift is SO overrated.
So anyways she accepts via satelie because she's in LONDON. mo ho.
AROD presents the next performance. Jay and Saddlebags McGee sing Empire State of Mind. Tight black pants and boots? check.
Best Alt. Rock- Green Day. OMG your 15 minutes are UP. Bille Joe needs some silk drops for that mop of his. It's been colored and flat ironed to high hell.
Then Kate Hudson and Nicole Kidman present the next performers. I was so memsmerized by Kate and how adorable she is! She looked SO cute in this metallic DEEP v cut dress. I absolutely love it! She is reppin for the flat girls showing that small boobs can still be sexy.

Black Eyed Peas perform. I've come to the conclusion that they produce the lowest common denominator dance songs. They are the most lyrically worthless and non-sensical songs ever.
Best Male R+B Soul = Michael Jackson. This is a cop out and its not okay. He didn't produce the best R+B song this year. It's people trying to pay their respects in an innappropriate way. ugh people. take your emotions out of this!
Jermaine went up and accepted. accompanied by his sons.. wait for it.... Jafar and Jermajesty.
Best Male Country- Keith Urban
Best Female Soul R+b- Beyonce, who was not present.
That disgusting self-righteous pig Ne-yo introduced RiRi.. wow. She is coming on a little too strong now. like, she's gottas be straight up scaring some people away with this shit. its too much. I get it. You're Strong. You're bad ass. ..She was wearing this white striped bodysuit. not flattering. but! She was wearing this cool chest/shoulder piese that shot out laser beams.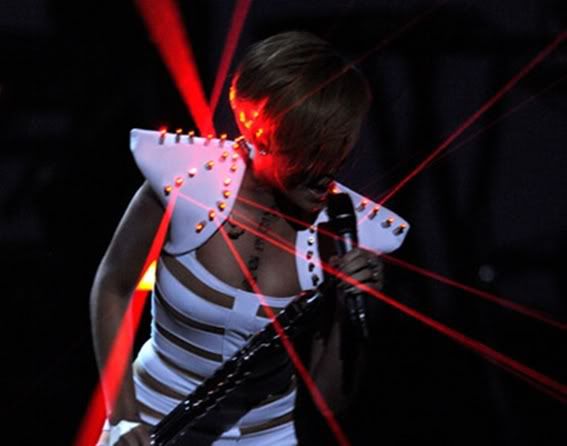 Rah! Rah! Time for Gaga!Sparkly harness with flickering lights.. a similarly constructed helmet.. God she is so wacky I love it! She performed Bad Romance first and then a song from her new Cd called Speechless. It's really good. She sat at the piano and played and then started breaking whiskey bottles on the piano. Oh yeah. and the piano was on fire!
Mary J performs, introduced by Drake, Cudi and Jeremih.
Jennifer Lopez performed her obnoxious new song, "Louboutins" Apparently she fell on her ass but that was edited out for the west coast feed. boo.
Whitney Houston receives International artist of the year award. performs. I didn't think I'd enjoy it but I actually did. She looked and sounded good. Which is the first time I can say that in a long time. She's come a long way from "Crack is wack"
Best Country female- Taylor Swift. boo.
Best Pop rock male goes to MJ- jermaine goes up there again to accpet. He thanks Allah. I thought they were Christian? no?
Alicia Keys performs again. More black leggings (busting at the seams) and boots.
Eminem performs Crack a bottle with 50. Really? THAT song? That song is terrible. And as if thats not already embarrassing, the horns for Drake's "Forever" comes on and I though Drake was going to join him on stage. no. Em just does his 45 second verse and then dances around while Drake's part plays. Are you kidding me?? You're gonna sing your verse as a guest on someone ELSE's track as your performance? That's embarassing. Eminem is so done. He peaked with 8 mile and lose yourself and has been falling ever since.
The biggest award of the night- artist of the year- I believe in the running were Gaga, Bey, T.Swift and MJ. maybe Jay Z. I was sure it would go to MJ because the voters are stupid. Really? What did Micheal Jackson produce this year to make him the best artist of 2009? not much. But anyways, I was surprised when they called Taylor Swift's name. DAMN. She beat Michael. That's pretty crazy. I'm not sure if i would have rather had Michael win this one without merit, or Taylor win without merit.. I guess Taylor is the more acceptable option. In all her acceptance videos, NO jokes or references to Kanye. :/ Man i wish he was there to unplug the monitor she was being shown on.
Last performance. Behold, Adam Lambert!
He did "For your entertaintment" (t added for fun) and wow. I didn't enjoy the vocals or the song itself, buy boy did I enjoy the spectacle! He shoved this guys head into his crotch and thrusted a few times, had this girl grab his package, had dancers dressed in S+M bondage gear and one on a leash, and then grabbed the key boarder and stuck his tounge down his throat! And this crazy shit wasn't even planned either. He later said he just got really into it and decided to let go. It's really apparent now when you see the keyboarded get jumped.. the surprise is all there. Favorite line from song: "I'll work ya till you're totally blown". I loved every minute of it~ Had a feeling there'd be a backlash against ABC. Because this isn't cable, MTV where ppl expect that stuff. It's network TV, ABC no less, who is owned by Disney. yikes. But it was late enough that anyone letting their kids watch it had to know what was coming.
Overall, good show, a little disappointing that there wasn't MORE craziness, but I guess ABC is already having trouble with the show boradcast as it was.
Show stealer? def. Glambert. suck it Taylor.