I just got done watching the Victoria's Secret fashion show and I am so disappointed! First of all, I watch to see the models strut on the runway, as it is a FASHION SHOW. This year, they decided to add a reality show element by including a competition to walk the runway as an angel. They showed the auditions..the eliminations, a photo challange, another round of cuts, an "angel boot camp" another cut, a press challenge, and a final winner. What! This isn't America's Next Top Angel! Who fucking cares? I like each new coming angel less and less so the last thing I want to see is another blonde airhead win her way to the top.
Second, after watched what runway they did show, I found myself so bored of looking at the same body type over and over. You'll say, oh Melissa, it's a fashion show and there's a certain body type that looks best to display the garments.. Bull. We all know this is a show of WOMEN and not the garments. I'd venture to guess that this annual show draws more male viewers than female viewers. And what female veiwers there are, I'm also willing to bet most aren't watching to decide what lingerie to buy. People watch the scope the Angels but they're all clones. If you take off the head it could very well be the same body stomping down the catwalk every 2 minutes. Long lengs. Hella skinny, small boobs, no hips, no ass. Long tousled waves.
Observe:
Which beautiful model does this body belong to?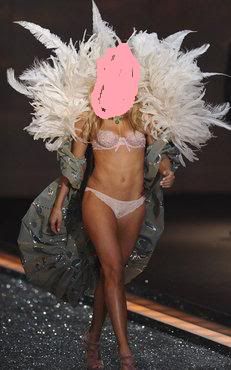 ..or this one??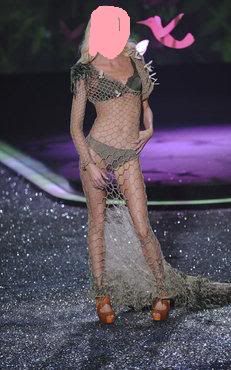 Surely you recognize the woman that goes with this bangin' bod...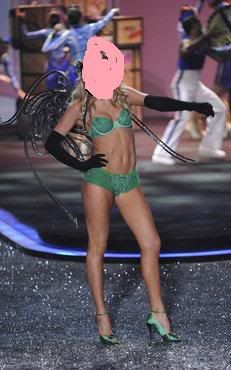 Oh this one is especially good! It must belong to... um...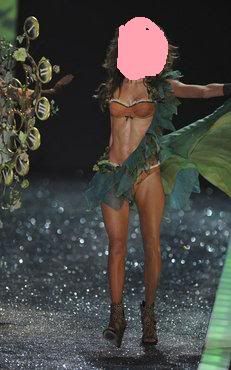 I know it's Victoria's Secret and they do have a distinct style. But a little variety would really spice things up. I think it would be pleasing for the men who are watching to see some curvier women, along with the more typical model types. It would also at the same time be positive for women to see how sexy a curvier woman can be, instead of just ONE type that is considered the ideal. Personally, I think the Angel's bodies are impressivly toned, I give the props for that, but I don't consider it ideal. I'd love to see them feature some curvier girls shaped like Kim Kardashian or Scarlet Johansson. It would be positive for both men and women, which is a rarity when it comes to this kind of thing.
Third. Why are you putting Chanel Iman up there?? She's high fashion, not glamour model. I don't think she has that sexy sultry look that's essential for Victoria's Secret. And neither does Miranda Kerr or those other cutesy ones they only use for the Pink line, Angels or something innocent. I think the Angels should be SEXY! Not some prepubescent looking girl aimed to be appealing to those with pedophilic tendencies. That isn't necesarily Chanel Iman but she doesn't fit the bill of Victoria's Secret. No one is creaming their panties for Chanel Iman.
Fourth- stop calling the girls who walk the runways at this show "Super Models". Some are. I recognized some of the non-regulars from high fashion ad campaigns. Fair. But just because they are walking in a fashion show and are in Victoria's Secret catalogs doesn't mean they are supermodels. They're lingerie models. Big difference. Heidi Klum for example. I would NOT call her a supermodel. She gained her fame from Sports Illustrated Swimsuit edition and then became a very famous lingerie model. What did she do that was high fashion?
Sorry, but I'm team Karl Lagerfeld on this one. Heidi, you are not a supermodel. But neither is Alessandra or Adriana or Miranda. Don't feel bad.
Fifth- In the same vein as the models all being the same, why couldn't they just let Selita wear her hair short as it is? They had to sew some weave on her so she could have the same beachy waves as every other model. God forbid there was a girl with short hair. Hard to believe but some guys have a preference for girls with short hair. And some guys have a preference for girls with curves. Just saying, variety is the spice of life!
So, overall, big disappointment. Recently, Rachel has been sharing the things she's learned in her gender communications class and how it's totally changed the way she views everything depicting women from TV shows to ads to music videos. And a bit of what she's shared has rubbed off on me because I'm evaluating the way women are portrayed through this fashion show. They're shamelessly paraded around for the intended purpose of people fawning over how gorgeous they are. Observe the cream of the crop. The finest specimens of female beauty on the planet. These girls are just out there for people to gaze upon their beauty and ogle. The Angels now are becoming more and more cutesy, dressed in ribbons, blowing kisses to the audience, jiggling around. wearing things that say "Play with me". If that's not an example of female exploitation and patronization, I don't know what is. I miss the days with stronger models like Tyra. She was a big woman with CURVES that talked and had opinions. She stomped around with power. A far cry from the submission and "seen and not heard" image of todays Angel clones.
And it's a sad day when FERGIE shows all you models up. Look her legs are actually thicker, but toned. She looked amazing.