I was so excited to be wowed by the red carpet! People stepped it up and looked good and kept it interesting!
Marissa Miller was the first person I saw on the carpet..why the hell was she there? Go home.
..and Ricky Martin too.
And then we see Gaga getting out of her ride! Very intergalactic.
It was this crazy space-like creation. Armani designed it, which is a first; She pretty much always has her "Haus of Gaga" design her wacky outfits.
But this was an artistic expression, she even had a star-prop to hold to compliment the dress! Love it!
And she's rocking the high heels that have no actual heels! a la victoria beckham :)
But before I even looked at the dress I noticed her bright yellow hair! She's done some different colors before but I've yet to see the yellow. But I liked it! And she usually goes for a more straight look too but this was luscious and wavy. Very glam.
And the makeup! Amazing! She had this sultry dark brow. That plus the hair made me think of old Hollywood.. some shimmery eye makeup and a pink lip.
You mere mortals may think me crazy but I think she looked absolutely stunningly beautiful. for real.
But wait! Best part of all- if you look closely at her face, you can see her hair is actually a part of her dress. It's all attatched via this tight hooded body suit! Her hair is freakin attatched by her dress! Only Gaga.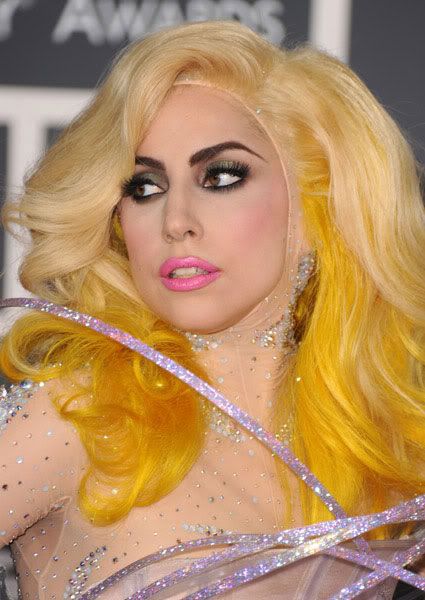 Then Seacrest interviews Russell Brand and Katy Perry. I absolutely love them together!! So funny. Katy just looks great. I love the Bettie Page bangs she's rocking. Adorable. Everything about her is just so irresistible !
And Brand of course is looking freakin sexy. His style is so unique, he just does his own thing and it works. Hot!
Kaley Cuoco- I remember her from that show 8 Simple Rules.. she's doing some other show now.. even so, I'll admit she doesn't really have business being as the Grammys but I'm glad she came because she was looking SEXYY!! Omg. Wearing this sleek silky black dress, plunged all the way down. No double stick tape! That's brave. But GOD. What a knockout! Simple, yet oh-so-sexy.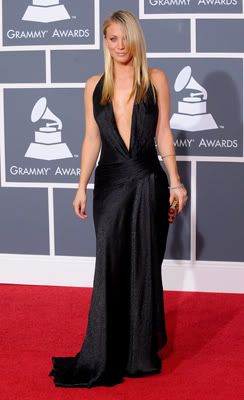 Heidi Klum- I can't stand her but I have to give her credit, it just worked tonight. I mostly loved the hair. Soft, simple, good color. Cute, short dress. In the interview she kept putting her hair behind her ear and I couldn't help but notice these huge-ass rings! Fabulous!
Keri Hilson- looked beautiful in Dolce and Gabbana... but it was TOO glam. This is the Grammys, not the Oscars. GO crazy! or at least be a little more edgy than this Keri.
India.Arie- Another case of too glam, but she sure did look beautiful.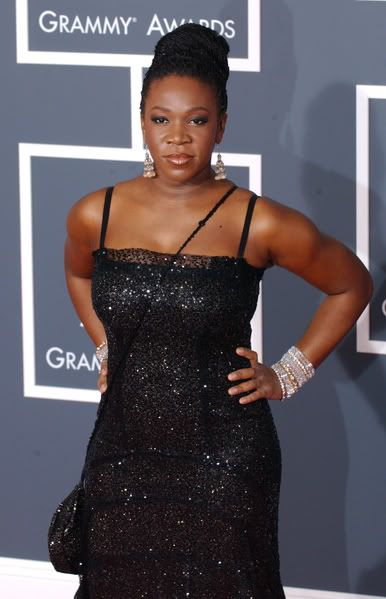 Maxwell- who are you??
J.Hud- looked a damn mess with those floppy bowl-cut bangs. This girl never gets it right! Funky bangs, too many angles, too tight! It made me uncomfortable to see how tight this girl was cinched in! She probably had 5 pairs of spanks on to fit into that top. I'll pass.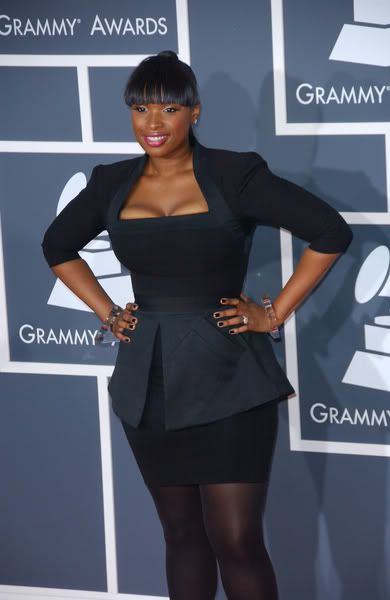 Mary J- She always works the bright colors! A gorgeous bright pink. And the hair! For some reason I was just in love with the hair! Simple and clean, but still coiffed to perfection. Get it, Mary!
Miley- Looks good, a little sultry. Sexy for sure, but not overdone. She didn't look too old. I felt it was ok for a 17-year-old. I approve.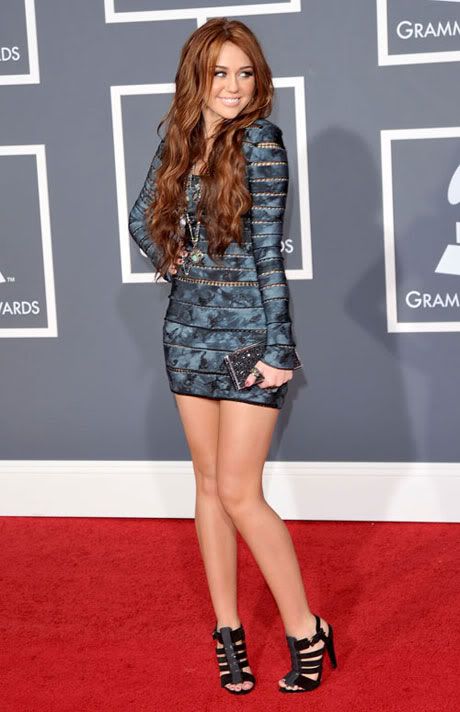 T.Swift- Sparkles and curls. Does her stylist know how to do anything else? She had her curls up this time and looked like a little old grandma.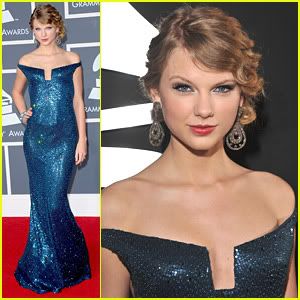 Bey-Hmm. I'm torn. The dress is a bit too much... something. Too much structure. Too much texture. But I do love the color on her. Props for not doing a metallic dress for once. And we all know Beyonce loves her door-knocker earring but this is too much! Too heavy, too gold! Too blonde on her hair too if you ask me. But overall I can't say she looked bad.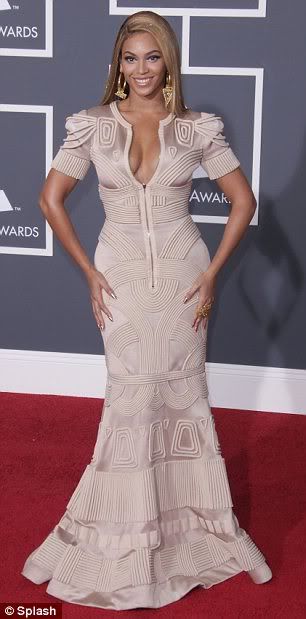 Ke$ha- looks like tr@sh
When asked to define her style, she said "garbage can chic". You got that right! Garbage that fell out of the Rock of Love Bus.
Ciara-Props for being different.. but this was a bit too much going on! PS what happened to the short hair?? :(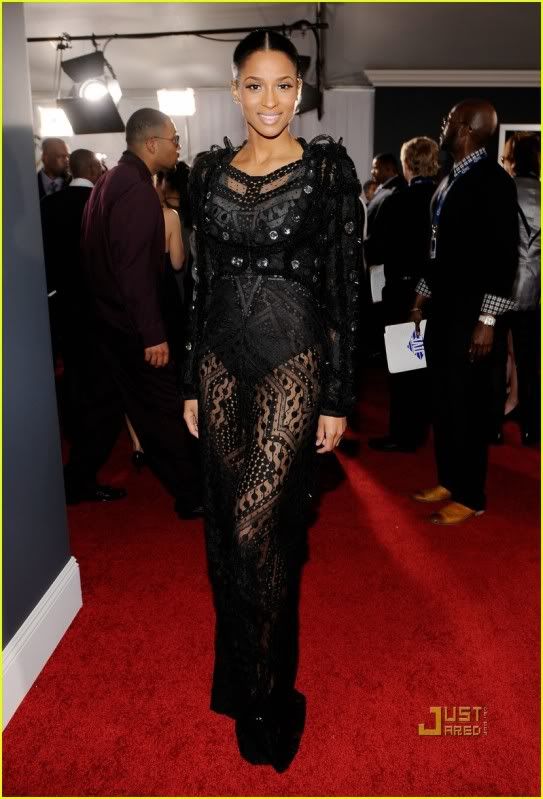 Showtime!
Opening performance- GAGA! She looked sooo good! This teal glittery suit with fuchsia glittery eye stickers..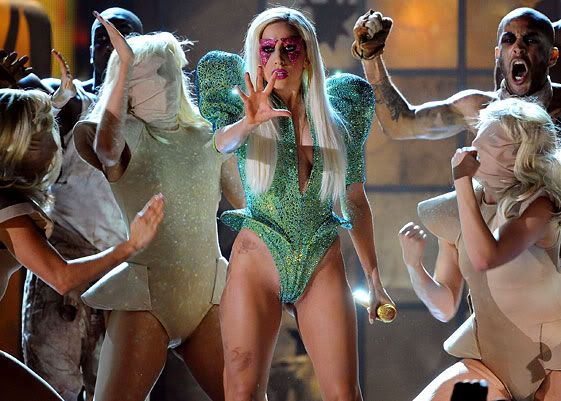 She started with Pokerface (my fave!) and then she fell into the fiery garbage shoot. She quickly emerged sitting at the piano, and across on another piano was Elton John! But Gaga had changed up her look a little! But she was only out of sight for no more than 10 seconds so her handler must have just ripped the eye stickers off of her, slapped her across the face with soot and sent her out! Great duet. She's got a voice.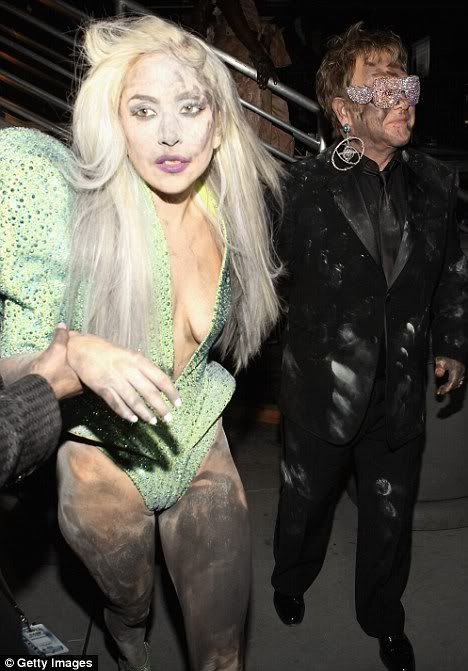 Song of the Year- Single Ladies. Yay!
Best Country Album- Taylor Swift
Beyonce performs- She stomps out there like she's pissed! I'm super excited to see what she's gonna do...and she starts singing "If I were a Boy" what? To be fair, it was a more roughed up, angry version. I don't like her soft songs. I only like it when she's brignin it hard-dancing, stomping, booty shaking. Sasha Fierce only. But I guess this was Sasha. Then she breaks into Alanis' "You oughta know" No. Brit tried that too. They're trying to get all angry and tough. doesn't work for pop stars. only Alanis.
Pink performs-Kind of a slower song. Capped off with some graceful acrobatics, drenched with water. Even though she's done this acrobatics thing before, this one was different. It was less of the circusy, showy vibe and more artistic. It was very gentle and soft. A good change for Pink. I liked it. I'll venture to say performance of the night.
Best New Artist- Zac Brown Band. Who?
Black Eyed Peas perform- and it was actually.. really good. I generally dislike their senseless obnoxious songs, but the energy in this performance was undeniable. Visually it was great-It started with all four member shot out from underneath the stage. Their costumes were all very futuristic-to go along with the robotic vibe of the song. And of the whole CD really. Anyway. Great costumes. Great dancing. Major swag. And it actually all came together and sounded good. Maybe because we're not all sick of "Imma be" yet, but they managed to make "I gotta feeling" exciting again too. Amazing..
Best Comedy- Colbert. Boo! It's all about Suck it by Kathy Griffin.
Record of the Year- Use Somebody. Boo!
Jamie Foxx got up there, still riding his one big hit. Blame it.. That shit was released in February '09! We're over it. But him and T-Pain got up there and did it.. which I was surprised T-Pain was even at the Grammy's. He's been VERY quiet for the past 6 months because of this auto-tune backlash right now. I didn't hear exactly what he said but at the end of the song Jamie shouted out to Jay-Z like apologizing for the auto-tune or something. (Jay Z did that song, Death of Auto-tune, keep up!)
Best Rock- Green Day. Time to retire.
Tribute to Michael Jackson with Carrie Underwood and some other people I can't remember. Which is ironic because as they were up there I remember thinking Carrie is the least relevant up there singing about Michael.. And now I can't remember the others! At the end, MJ's kids Prince Michael and Paris came up and said a few things. I'm not sure how I feel about it..since their whole lives Michael Jackson always strived to keep them away from the cameras..They are some cute kids though. I think Paris is very beautiful.
Bon Jovi performs- I like the Bon Jovi power songs of the 80s and early 90s, but today they don't have the same edge. They're very adult contemporary to me. I equate them with Star 101.5. They had the girl from Sugarland come out and sing with them too. That girl's twang is out of control!!
And finally, Album of the Year- Taylor Swift. That's some bullshit! Her music is hella generic! Is Fearless really that groundbreaking?? And so juvenile! How can these "music experts" on the panel choose her album?? They belong on some princess-movie soundtrack. It's all about her childish crushes on boys out of her league and how she's just this average girl. Gets her heart broken. OLD NEWS. Why are we rewarding this? How is this any different from Justin Bieber or Jesse McCartney songs? Silly child singing about crushes. The only difference is that Taylor is female and writes her own songs and plays a sparkly guitar.
Cut to Gaga in the audience in this amazing ice queen costume, casting a spell on Taylor for stealing her award.
And stop acting so fucking surprised when you win already. It's getting old. You only sweep every single music award show. Only the BET awards are safe. Or are they??
So to wrap up, I'll say this round of Grammys was pretty good overall. This year featured way more consistently popular and well-known artists than years past. No irrelevant people sweeping the awards, no throwback old shit. RELEVANT.
Thank you.