I have a millions other things going on right now, in the midst of finals and papers and fighting with my boyfriend (over the Oscars!) so I really busted my ass to get this blog done. These things take time and energy! But so worth it..
Let's see what people were wearing!
Zoe Saldana-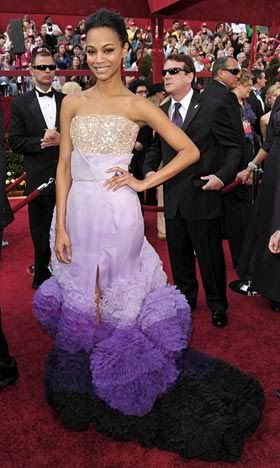 Not a fan of this mess. Too much going on with all that colored popcorn at the bottom. I do like purple though. But no.
Kate Winslet-
My 9-year-old self really must have bonded with her when I saw Titanic..because I have had an odd attatchment to her ever since. I love her, think she's an extraordinary actress..but never been a fan of what she wears on the red carpet. She makes herself look so old! Girl is only like 34. It's always something structured on top, then pretty A-line on bottom. TOO simple. Kate you are beautiful!! Stop being matronly.
Jennifer Lopez-
Gasp! How exquisite is this dress!! Gathered on the side kind of bunchy. You would never tell that there's so much dress from the straight-on shot but when you see the side shot it's crazy! It's like a side-train-I love it! And I love how it folds over the the front. Such a great shade on her too. Gorgeous. She is absolutely sparkling.
Kathryn Bigelow-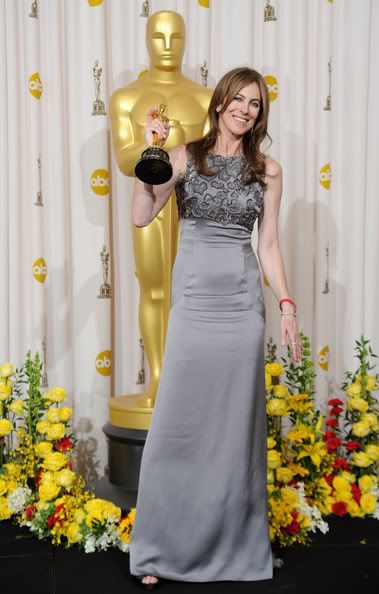 The woman of the night! Meow! She's looking hot in this Marchesa dress.
Liz Hurley anyone?
Diane Kruger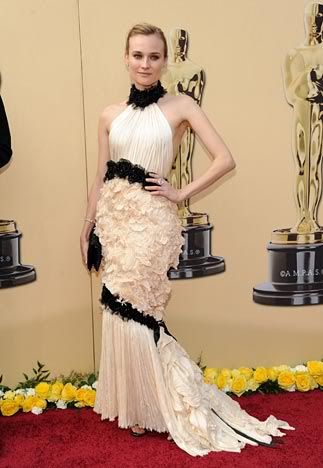 She's been making the rounds on the worst dressed lists for this one..but I'm kind of neutral towards it. It's by Chanel. No surprise there. The thing looks so god damn.. french. I don't hate it.
Maggie Gyllenhaal

This girl is usually a little off-the-wall with her fashions but this one I can approve of. I think its very beautiful. It makes her look like a piece of art, or a water lily sprouting out of a lake...I don't know. Thumbs up from me.
Mimi
Wearing her bridesmaid dress from Grandma's wedding.
Miley Cyrus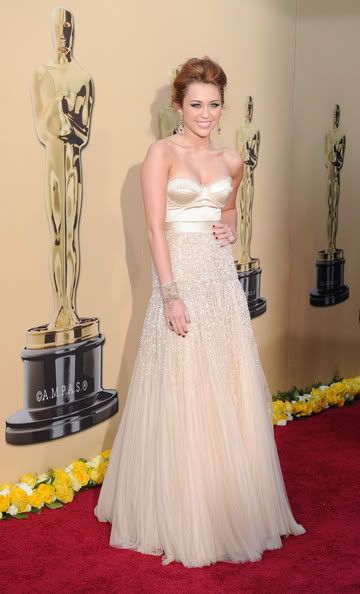 Beautiful and demure. She's been good lately at dressing for the occasion. She nailed it at the Grammys: young, hip, sexy. The Oscars are a different occasion so she fittingly looks sophiticated, mature and polished. Bravo.
Penelope Cruz
Okay this is driving me crazy because I KNOW I've seen her wear this dress before. It was this exact color but more of a mermaid cut. I Googled it and cannot find a single image! It's making me think I'm insane but I remember seeing her walk across the award-show (Oscars? Globes?) stage while wearing it!! I'm not crazy. So, no props for this dress Penelope. You will fool others, but not me.
Sandra Bullock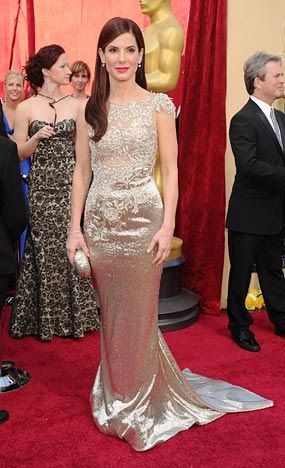 Meh. I don't love it. And I can't quite hate it either. The only thing I know is the shine on this girl's hair was off the hook. Gloss treatment?
SJP

I like it. I like the silhoette the way she's standing. And I think the design on the chest going up in the center is flattering on her.
Kimbo Stewart
Ah! This dress is incredible! Why is Kristin wearing it?? I see her wearing black, but some other, simpler cut. This dress is way too grand for her. She's probably wearing converse underneath it.
Meryl Streep
Gorgeous. It's low-cut but still age appropriate. Very striking.
Hilary Swank
whaaa ?? I'll admit when I first clicked on this pick, my eyes went straight to the cleavage. This slinky black top with a plunging neckline..damn..but who is is? Eyes move up to the face... HILARY SWANK???? I was so surprised. Can't say I love the bottom half but my god this is sexy and stunning on top. Who know she had this sexy side to her? Not to mention the cleavage. Nice hair too. This is the fashion surprise of the night for me!
Vera Farmiga
This dress reminds me of those Asian fans I used to redeem my tickets for at Chuck E. Cheese. Except it's a huge, long accordian extension of them. Constricting her like an anaconda.
Nicole Richie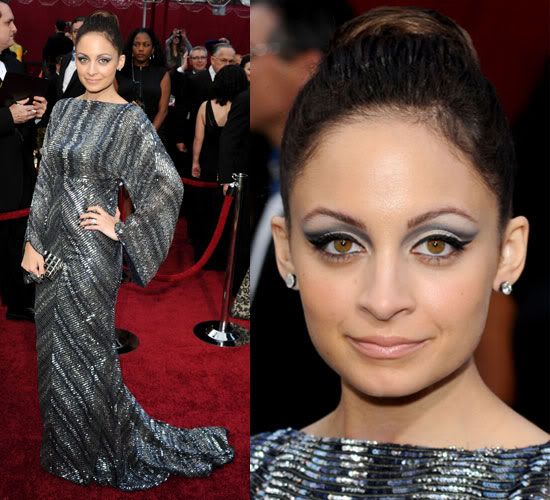 I love it. It kind of has a Jennifer Lopez-feel to it but at the same time, its totally Nicole Richie. Look at her awesome make-up too!
Helen Mirren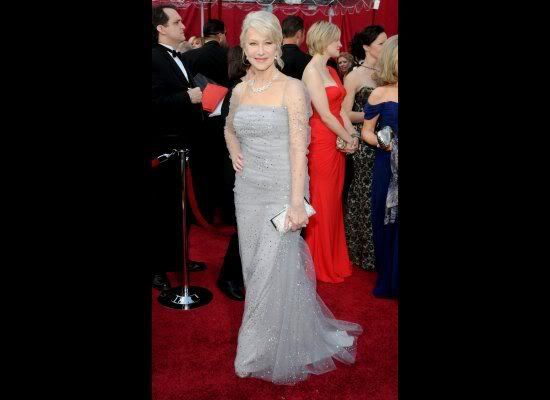 God how old is she?? She looks so damn good! A glowing ice goddess in this gown.
Gabourey Sidibe
I think this dress is very flattering on her. She's got big arms, and I think the off-the-shoulder sleeves were the right option. You can tell her arms are really thick but this was an ingenious way to cover them at the fullest point. A spaghetti strap or strapless gown would have been exposing too much arm. But putting her in a black, long-sleeved dress at the Oscars woudn't be right. That would have been a total cop-out. This is just right and I think she looks beautiful.
Cameron Diaz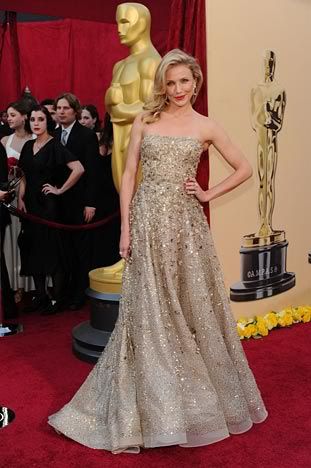 Put that sparkly dress back in Taylor Swift's closet where it belongs!
Demi Moore
So pretty and feminine! She looks great.
Carey Mulligan-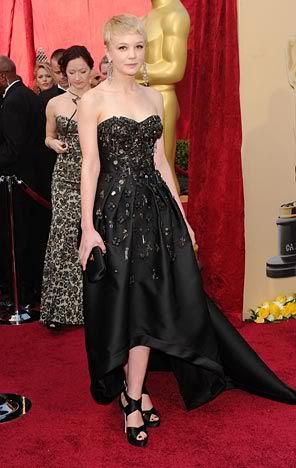 Ick. I do not appreciate how this dress is open in the front. And I think the jewels or beads are way to chunky up top. PS- Where is Shia?
Mo'nique
This is a throwback to Hattie McDaniel, who, in 1940 was the first African America to win an Oscar.
She wore the same color blue dress and flowers in her hair. Aw. Congrats Mo. You look good.
Charlize Theron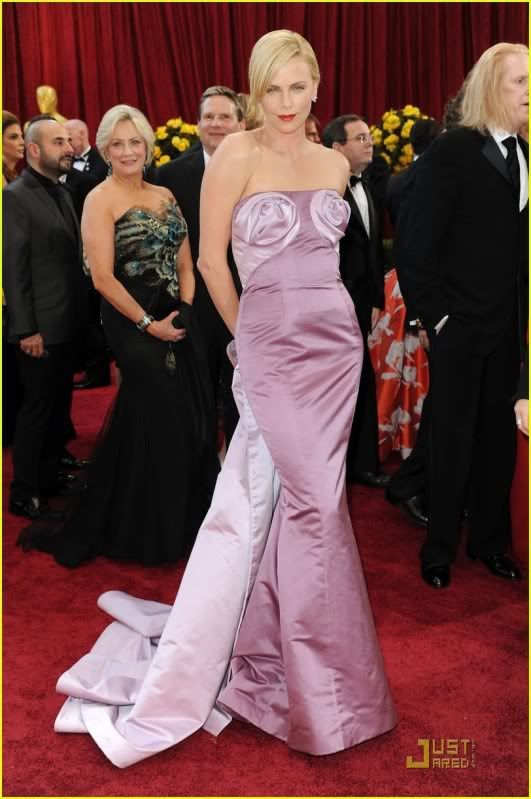 ah. Last but certainly not least. When I saw her on stage on TV from far away I was like what the hell are those cinnimon buns on her boobs? I didn't like it, but when I see it now on the red carpet shots- I love it. I like that it's in-your-face like yeah, I have boobs, without showing any skin. But at the same time as its in-your-face, its still very soft and feminine. The cut, the soft pastel purples. I have this weird feeling that's I'd wear something like this, if ever given the occasion.
As for the ceremony itself.. I'd say it was a feminist's delight. Obviously with Kathryn Bigelow being the first woman to be nominated for and win best director (Beating her ex-hisband, James Cameron), but other more subtle things too. The women all looked stunning the the red carpet, including those who the mainstream would consider outside the realm of traditional beauty. Helen Mirren and Meryl Streep both looked incredibly sexy past the age of 60. Gabourey and Mo'nique as "plus size" black women both looked stunning. They were both glowing and carried themselves with confidence and poise. And women who are often made fun of for being frumpy or odd-looking (Tina Fey, Hilary Swank) shined. Mo'nique showed an amazing transformation from raunchy loud-mouthed stand-up to a powerful, refined actress, and was rewarded.
And lastly, I was struck by what Sandra Bullock said in her acceptance speech, about thanking all the mothers "who take care of the babies and the children, no matter where they come from", Acknowledging how women step up in incredible ways to provide for or bear the burdens of others when in need.
Fabulous.