Starting with the Red Carpet!
Not crazy about Katy Perry's ice skating Marchesa-look. I REALLY think it's time to retire the one shoulder-dress.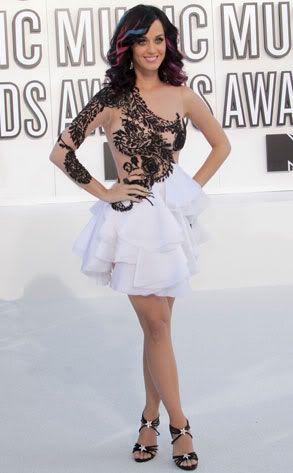 Snooki was rockin some new bangs instead of the pouf she "invented".
Gaga arrived wearing Alexander McQueen from his last collection-the same dress she wore in one of her photos from the Vanity Fair spread.
The dress is so long she could get away with wearing some comfy shoes but of course she went the whole mile. Under that dress she wore Alexander McQueen armadillo shoes. They look absolutely impossible and must be a good 7 inches in height. 8? They look like this...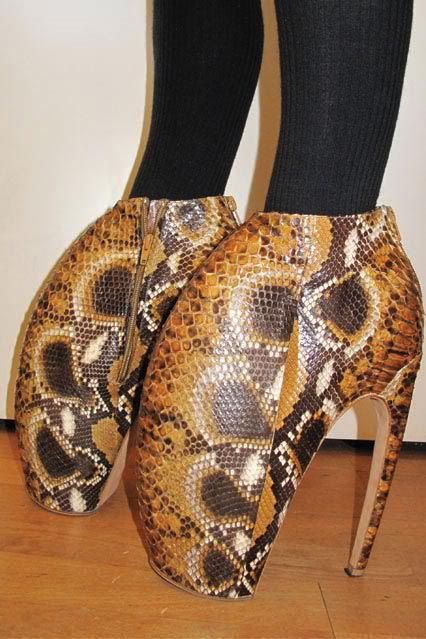 I don't know why but the producers decided to give out a few awards early on the red carpet (white carpet technically..) but the two categories were Best Dance Video and Best Collaboration. Best Dance went to Gaga for Bad Romance and Best Collabo went to Gaga and Beyonce for Telephone. Just as I predicted in my earlier post.
Ursher and Justin Bieber were interviewed...boring as hell.
Then we were graced with an early performance from Nicki Minaj and Will.I.Am. She came out with pink hair and set to it. Props for singing live. It went okay I guess. She did "Your Love". Then Will.i.am came out..And he was black man to the MAX! Like he was completely black from top to bottom. Skin and everything. Actually, his hair was some colorful plastic piece but it was cool. I'm already reading that he's catching some heat for being insensitive doing "blackface". Some guy tweeted that Will.i.am's blackface set black people back 1000 years! OMG are you serious. It would be weird if a white person painted themselves all black.. but Will.i.am is ALREADY BLACK. ugh.
So they switched to the song they have together that samples Video Killed the Radio Star. So, in her performance, Nicki stole not one, but two people's songs.. because Your Love samples Annie Lennox's No more I love yous. I do like Nicki's song but I do find it lame that people making music today can't just come up with their own music and have to resort to stealing stuff from songs that already exist. Just sayin-It looks bad that both songs she performed featured stolen material.
Kesha makes her appearance in what she claims in a garbage bag she got from Home Depot.
That was about it from the Red Carpet. It was kind of underwhelming compared to last year. There wasn't must exciting fashion. I had a bad feeling this was an omen that the rest of the show would follow suit. I decided by the end of the show I'd make the judgement if the VMAs in NYC are just infinitely better than the ones in LA. More on that later.
So the show begins with a tramatizing close up of Eminem's face and blinky right eye, starting "Not Afraid". It starts in an 8 Mile-esque underground club, and then opens up into thw whole Nokia Theater. He continues with the song, then we get a surprise appearance from Ronald McDonald to assist with "Love the Way you Lie"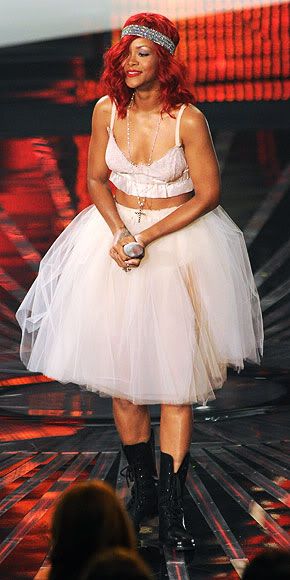 Ok, I already hate both the songs.. but especially the second because it glamourizes and seems to excuse domestic violence.. But even putting that aside, I kept thinking these two were not appropriate opening songs! An opening song to the VMAs should be something upbeat to pump people up! A club-banger or pop diva strutting her stuff-Not a heavy, sad song about domestic abuse. So I thought that was a bad move.
The opening comedy bit with Chelsea Handler started, featuring a cameo from LINDSAY LOHAN!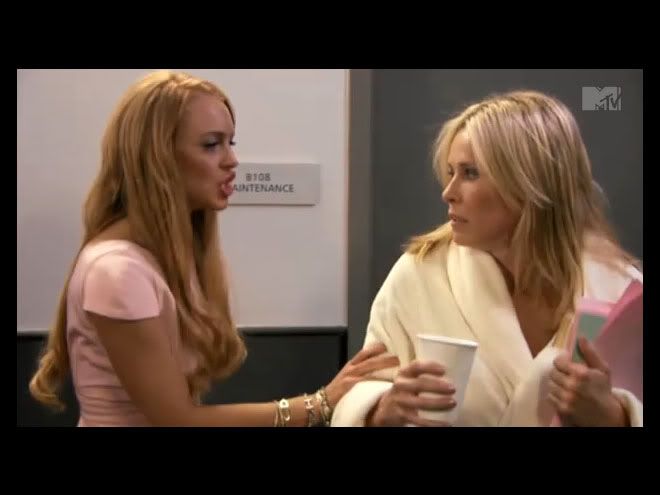 She did a good job and really poked fun at herself for being a drunk at work so it was funny. This fully supports Bambi's hypothesis that Linds is always better off with the natural red hair. Nothing bad happens to her when she's red. It's only when she's blonde or dark that the drama comes. She just dyed her hair back to red a few days ago and she's already getting it together! Team Lilo FTW.
A hilarious opening number to Bad Romance ensued, with Chelsea as Gaga in some crazy outfit with a house on her head. After the song she released a dove from under her dress... and it didn't even fly away!! It just perched on one of the dancers' legs.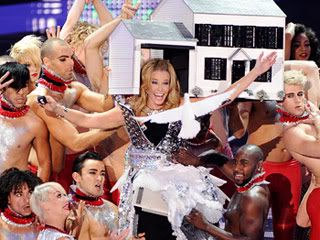 It was the first time in 16 years that the VMAs have been hosted by a woman (Roseanne Barr hosted in 1994). That's sweet and I'm all for it but I'm not sure how well the rest of her comedy went.. I really wanted her to cut down some celebrities but she played it so tame!! She's usually so good with calling people out and confronting them with their shit, and all with a perfectly straight face.. She was ok but not as brutal as I had hoped. Although she did call out Kanye as "The big, black elephant in the room". HA!
Best Female- Lady Gaga-Bad Romance. She needed a little help up the stage but who wouldn't in those armadillo shoes?
Best Rock- 30 Seconds to Mars-Kings and Queens. That's cool. It's a good song. Too bad they sold the rights to it away to that fucking stupid owl movie.
Kim Kardashian introduces Justin Bieber in the stupidest intro of the night. She thinks she's so clever. She even fucking tweeted about it after the show. "Wasn't that intro funny?? Restraining order! lol!" FYI Kim after that whole show, no one is talking about your stupid intro.
Biebs performance is okay. Kind of boring. He's a midget.
Kesha and Trey Songz (Real name: Tremaine Aldon Neverson, you fucker!)introduce Ursh. Kesha appears drunk.
He started with DJ got us fallin in love and segued into OMG. He sang a few parts live but the performance was mostly about his dancing; It was pretty major. No Hot Toddie though??
Katy Perry and Nicki Minaj present the next award. I had no idea Nicki had such a huge ass! Maybe it was just the dress.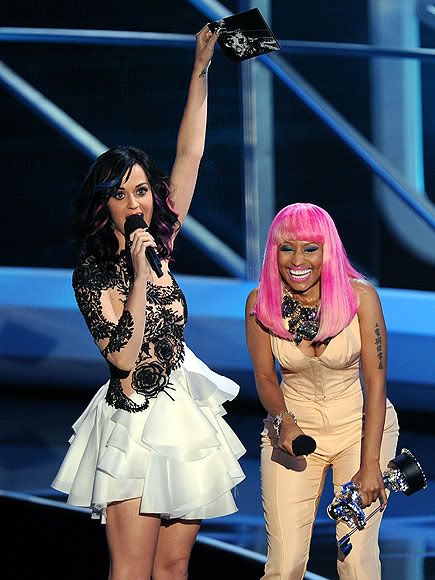 Best Male- Eminem-Not Afraid. They said he wasn't there because right after his performance he hopped on a plane to do a concert in New York.
Ahhh... NOW it all makes sense. Eminem needed to at least show his face and do SOMETHING at the ceremony since he was the most nominated male this year. But with his obligation in New York, he coulnd't stick around longer than the beginning. THAT'S why they gave him the opening slot, just because of the time convenience. If it hadn't been for that he wouldn't have opened the show cuz those songs are unfit opening material. I knew something wasn't right with that shit.
Next performance: Florence and the Machine. Never heard of her. She seems kind of indie to be a VMA performer. I'm pretty biased in that department. But she did well. Impressive vocals.
Best Pop- Lady Gaga-Bad Romance. She got up there, thanked people, and MTV, even though she said they wanted her to cut a lot out from the video to shorten it. Then she said "God bless pop music and God bless MTV!" I actually saw this one going to Katy Perry for California Gurls. That video is the total embodiment of a sugary bubble-gum pop music video. But no. It hit me when Gaga was done that she just stole the one category Katy had a chance for. Ha! She was talkin shit about Gaga a few weeks ago. Suck it Katy.
Now time for that goody-two-shoes Taylor Swift. I guess she took a break from the sparkly dresses this year. She started her performance with clips from last years VMAs-announcing her win, her stupid look of "what?? little old me?? Wow you guys!!" and then Kanye's imminent take-over. And then fade to black. Omg you fucking dramtic twat. Where's the violins?? Can we get a cello for her pathetic ass??
She proceded to sing the whiniest, gag-inducing folk song about how terrible it was and how broken she was but she forgives him. Sample lyrics: "shattered on the floor", "32 and still growin up now/Who you are is not what you did" and "everyone has messed up too".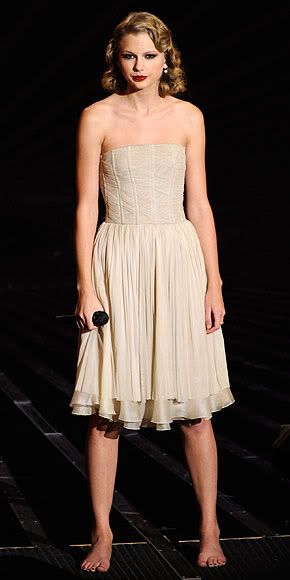 Who you are is not what you did??? Who the fuck are you? Jesus?? Thanks for pardoning our sins, Saint Taylor. I bet Kanye is real fucking relieved.
I can't believe she went there. I guess it's not enough to just be positive and move forward to show resolve. You got to wallow in it a little more-there's still some sympathy to be milked!
In lighter news, Drake performed next! It was a cool 1950's Copa-Cabana vibe. He and Mary J. and Swizz Beatz performed Fancy. And I loved Mary's touch on the song! It was so good live. The beats sounded good, it was a good flow, good energy and everything was right.
Best Hip Hop- Em-Not Afraid. Omg that vid is so lame. All the noms in this category were.
Bruno Mars and B.o.B. perform Nothing on you. Then Hayley Williams comes on stage and she and B.o.B do Airplanes and then the rest of Paramore comes out and they do Only Expecption. ahhh omg ENOUGH!!!!! Was this necessary? It was just a mash up mess. Too many songs the public is already sick of.
Best New- I had this one going to Kesh but it went to the Biebs.
Cut to Gaga wearing raw meat! On her head too.
Linkin Park performs. I didn't know they still had fans?
Cher comes out, in the same exact outfit and hair from "Turn back Time" vid!! And she can still cary it off just the same! That was 20+ years ago.. props, Cher.
She announced Video of the Year.... Lady Gaga-Bad Romance
It was so entirely appropriate that Cher would be the one to give this to Gaga. Cher was the Gaga of my mom's generation-pushing the envelope with sexuality and wacky over-the-top costumes. Love it.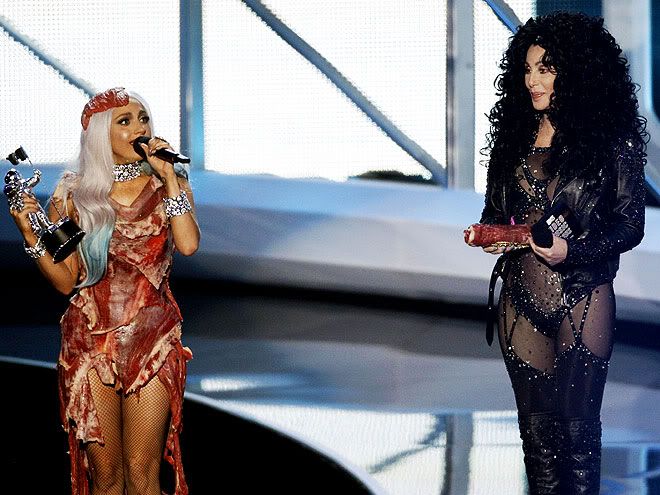 Gaga makes her way up on stage to accept. She says she told her fans if she won she'd reveal the title of her new album, and its called "Born this way" Love it! She said those words earlier in the night when accepting her best pop award, and she also said it at her Tacoma concert. So, I'm not surprised at all. But totally excited.
So the big closer of the night is Kanye, introduced hilariously by Aziz Ansari, host of this year's MTV movie awards. He pretended he was on the phone defending Kanye. And then he was like, "Wait, what?" "..He did what last year?" "HAHAHAHAHAHAHAHAHAHAHAHAH! Thats so funny!"
It resounded with me because that was my reaction last year as well.
So Kanye did some song "Let's have a toast for the douchebags!" He knows. He knows whats up, he knows how the public views him, how he smudged his name yet again last year and he's not ignoring it. It's like he's mocking himself and bashing himself so the audience won't have to. You know if he sang a song about how great he was or about ANYthing else, he'd get boo'd off the stage.
I read tweets from people at the show that there was some booing but on TV all I heard was cheering. And afterwards, chants of "KANYE!, KANYE!, KANYE!"
Funny, he's supposed to be the big bad wolf, but I didn't hear anyone chanting Taylor Swift's name like that. I must have missed it.
Overall, the year's VMAs were okay. Not as stellar as last year, but certainly not as disasterous as 2008. I'm definitely happy with the winners. However, the fashion and performances were lackluster. The redcarpet just had so much more drama last year. (I guess who whole show did!) It's just a different vibe to start with in New York. It just seems more theatrical. I remember so many cool dresses from last year- Gaga's black one with feathers, Pink and Shakira's matching dress, Taylor Swift arriving in her fucking carriage. That's drama. The red carpet didn't have that this year. It was a freaking white carpet in downtown LA. There were no glamourous arrivals. MTV mainly just used the time in the red carpet pre-show to suck its own cock and show clips of its own productions. Here's a clip from Snooki and Angelina's big fight coming up next week on MTV! Here's an exclusive sneak peak of Jaskass 3D! Here's video of the Jersey Shore cast SEEING Jackass 3D! Watch the clip from our new show, "Life of Jenks" ! OMG.
And secondly-the performances!! Last year almost every performance was a huge spectacle! Pink sopping wet doing acrobatics above the audience, Platforms and platforms of girls doing the Single Ladies dance behind Beyonce, Lady Gaga going batshit, bleeding all over herself and then hanging dead on a rope. Jay and Alicia's performance of Empire State of Mind was huge, and I'm not just talking about Alicia's ass in those leggings- And it was freaking crashed by Lil Mama. Shit, even Taylor Swift had a performance on the Subway, then out in the Manhattan streets!
If I had to choose the best performance this year, I'd say I enjoyed Drake's the most but it wasn't anything spectacular. It was great but it didn't have much to keep you buzzing about it for the rest of the week or anything. Em and Riri? Yeah she was a surprise but it wasn't that great. The performances that will be the most talked about will be Taylor and Kanye's but just because they're singing about eachother and talking about LAST YEAR's show! The performances themselves weren't that great; it was the content. Bah. So the performances were kind of a let down for me.
I guess its a trade off. Botched wins and good performances one year, Good winners, bad performances and fashion the next. Let's keep the VMAs away from LA forever please MTV?? Maybe let's try Vegas again??