ABC was hella pissed at Adam Lambert's shenanigans at last year's show so they must've told everyone to keep it tame because this year's AMAs were boring as hell!!
Rihanna opened the show. She started off with a soft, slow song I didn't recognize, then she did the chorus to Love the way you lie... she jumped off the swing she was on, disappeared for a few seconds, and then comes out all sexy, struttin around in a black and white bra and panties and a sarong.. I found that an awkward transition.. from one second singing your song about physical abuse in a relationship to jumping out in a skimpy costume gyrating around.. in bad taste- Yes, but her bod is BANGIN! She was singing her new song "What's my name", which has similar vibe as Rude Boy, and she was doing the same kind of dancing as in the vid. Her body looked so good! And awesome dancing. She was kind of channeling Beyonce, with her hair all huge in ringlets, huge hoop earrings, and dancing like her.. at one point she turned to the side and did her "uh oh" move from Crazy in Love. Hmm.. So, elements of the performance were good but it was just too long! She ended up doing 4 songs!
Favorite Soul/R&B male goes to Usher. I can't look at Usher with respect since last week when I went to his concert and it was the most lackluster concert I've ever been to.. no audience connection, no build up or anticipation, vocals sacrificed for dancing, cheap ass effects.. Dull. OMG is still the shit though.
Favorite Pop/Rock act- Black Eyed Peas
Enrique Iglesias performance. He starts out with a song I don't know.. GRATUITOUS use of auto-tune. Then segued into "I like it" with Pitbull. Pitbull has got to be the most disgusting man in the music industry. I would meet Marilyn Manson or Andrew W.K. or any creeper before I'd meet Pitbull. I wouldn't even win free tickets to his concert.
Miley Cyrus performance- She's channeling Stevie Nicks big time. Dressed in a long black flowy dress, even a very Stevie Nicks style of singing. It could have been a Stevie Nicks song for all I know. But her vocals were actually pretty impressive.
Next was a performance by Diddy-Dirty Money.. I think of a Hello, Good morning club banger when I hear that name and what I got was totally the opposite.. they came out singing some religious, inspirational "Forgiving my mistakes" , "Thank you, Lord, I'm coming home" song, with a full on orchestra-cello, violins.. seems a little off-track for a group called "Dirty Money". I'll pass.
Favorite Country singer- T.Swift.. She's wearing her hair straight!! With blunt bangs! She looks like an adult! Congratulations! She was wearing this little mini dress.. still having a hard time breaking away from the sparkles..but this is progress. Definitely the best she has ever looked. Ever.
Kid Rock performance- all acoustic, just him, a guitar and some background singers. It was really good, His song was kind of a social one about the hard times hitting home.. it was really cool to see something like this from him. He's always surprising us.. he's a rapper, then he's rock, then he's southern rock, country, and now this. I liked it. Props!
Favorite Latin music artist- ok.. Daddy Yankee was nominated.. Shakira won, but what they hell have either of them done in the past year? Further, this is the AMERICAN Music Awards. We're losing focus.
Black Eyed Peas performance-started off with the traditional stealing of another artists' music. This time, it's "Time of my Life". And then Will.i.am is off spitting his nonsense as usual. He thinks he's the shit. Bambi says he acts like Kanye.. and she's so right! Will.i.am thinks he's Kanye status! Hahahahaa
Katy Perry performance-Firework. I really don't have anything to say. It was mediocre.
Next, Nicki Minaj, Trey "Songz" and Taio Cruz get up to present Fav Soul/R&b female. Nicki's outfit is crazy, as usual. It looks kind of Alexander McQueen-ish, but probably isn't. Green-painted hair.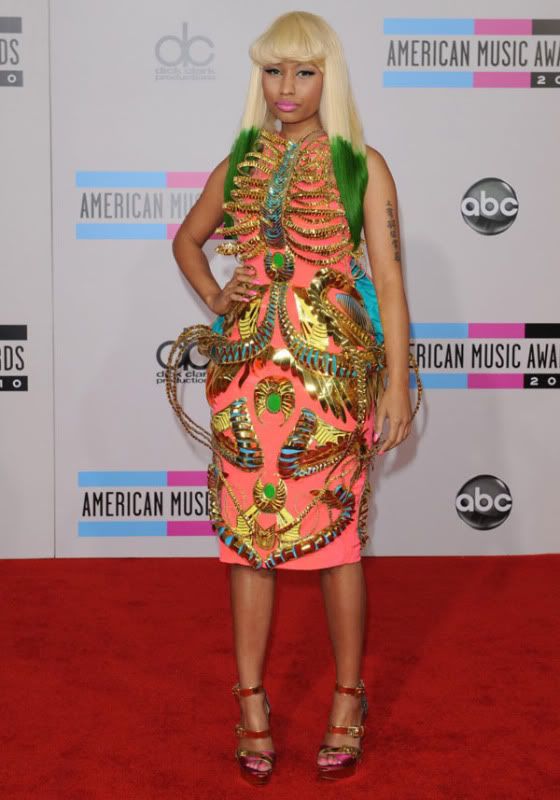 And Nicki gives the most shameles plug I've ever heard!! Trey and Taio are presenting the freakin award.. like "And the award goes to...." and Nicki jumps in right into the mic, "Pink Friday! This Wednesday my album drops, show some love for Pink Friday!" OMG girl. They tried again to present.. and it goes to Rihanna.
Wilow Smith presents the next performance: The Biebs. He did another song about our hard times right now! Shit son.You know our country isn't doing well when both Kid Rock and Justin Bieber are performing inspirational songs about social awareness! Good for him though, expanding pop's boundaries a bit. I'm not a fan, but I think it was a great performance.
Fav country male- Brad Paisley
Bon Jovi performance- didn't they perform their greatest hits medley at the Grammy's or some other recent award show? They can't just keep doing this every time.
T-Mobile Breakthru artist- Biebs
Pink performance- "Raise your glass" What a fun performance! Pink can always be counted on to bring the energy. She had a cool Rosie the Riveter look going on. She's such a badass, I always love her performances.
Ne-yo performs with some MJ moves. That's about it.
T.Swift performs. Now, you are not going to believe what I'm about to say. Well, I already said she looks better than ever, like an actual adult. And she's singing a song where SHE'S the one in the wrong!! What?? No trips to Martyr Land today? She sampled One Republic's Apologize.. which was weird.. but when she was signing her song she actually was bringing the energy and putting emotion into it! She was showing passion and not just being a princess. She actually gave a good performance!! Thumbs up from me.
Fav. Pop/Rock male- Eminem was nominated.. seriously.. Pop/Rock? Something is wrong with this classification system. Anyway, it went to Bieber.
Christina's performance- Dun Dun Dun. Well..... what do you think I'm going to say here?...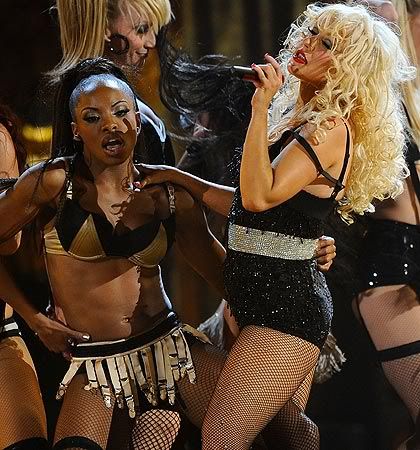 She can never fucking bring anything original to a performance.! All she knows how to do since her Stripped album is old, clichéd themes. Obviously she's promoting her "movie", Burlesque, so she's gonna go with the Burlesque theme. It's just so overdone. It's just as bad as the school girl uniform in pop music, it's been done! Her vocals were what you'd expect, her usual impressive range. But the aesthetic wasn't anything special. Her hair looked like she's been taking weave-maintenance tips from Britney! Some mangy poodle shit going on. There's a few other things I'm tempted to mention but I should probably just draw the line here and stop.
Fav country band/duo- Lady Antebellum- that's a group?
Usher performance- Shit son! This is just what I was talking about! Just like his concert all over again! What is UP ...just like when I saw him, he'd basically not even sing in order to do his choreography. He'd sing a couple of words, then abruptly just stop singing in the middle of a verse for the next 8 seconds to do his moves. His lyrics trailed off, he'd mumble.. Then, when there's some cheap-ass fireworks going off in the back, he'll stop singing all together and just shift back and forth like we're supposed to be so amazed by the effects that we forget we want to hear him sing, or at least engage us somehow. You're fired, Usher.
Fav alternative rock- Muse
Train performance- I want Pat Monahan's jeans! Skinny, grey and glittery!!
Fav adult contemporary- AKA the most boring category. And of course Michael Buble wins. He makes the most boring milktoast music.
You know things are bad when I'm looking forward to the Ke$ha performance. She did two songs, SUPER synthesized and auto-tuned Turn me on and then "We're superstars" or some shit. I hate myself for it but I'm warming up to Ke$ha. Ugh. She did pretty good, for her. At the end she smashed her guitar.
Santana and Gavin Rossdale performance- I kind of wasn't paying too much attention to this one, but I'll venture to say it probably had the most musical integrity of the night.
Fav soul/R&b artist-This is freakin repetitive! They did best Soul/R&b female, male, and now ARITST and it's the same winner as who won the MALE category- Usher. He gets up there, "Trey, we killin em on the road!" Yes, you ARE killing us.
Artist of the year- JUSTIN BIEBER! He's ballin on this shit!! Safe to say he swept this one.
And the closing performance, the New Kids on the Black and Backstreet Boys collaboration. It was just about as embarrassing as it sounds.
I just felt... bad for them. NKOTB weren't my age group but BSB sure was; I was a huge fan. I even saw them live.. but, I dunno, I just don't see why they'd even try to do this. They're missing a member.. and their fan base doesn't care about the NKOTB and the New Kids' fan base doesn't care about the BSB! They're doing a whole god damned summer TOUR together! Can't you just leave your legacy in the past when you were great and desired? Don't end it like this.. you guys are pushing 40.. Jordan Knight from NKOTB was up there like he's still some teen heart throb, still doing that cheesy choreography.. The worst lyrical sample: "All you people-can't you see, can't you see, NKOTB,S,B!" Stop!! You're making me sad.
The biggest theme of the night, aside from boredom, was synthesized robot music. When I take control of the radio in the car, my dad complains that all today's music just sounds like a bunch of Star Wars sounds. And he's right. Black Eyed Peas were hella robotic just like their last album, Ke$ha took it to the MAX with the synthesizing and even Enrique Iglesias used auto-tune. Sign of the times I guess..
Here's hoping that next year will be good.. With Kanye and Nicki Minaj's albums coming out this week, and Britney, Gaga, No Doubt and Lil Wayne slotted to release new albums in 2011, we should hopefully have some good music to celebrate next year.