The Golden Globes fashion this year did not disappoint!! I watched and couldn't even muster enough excitement to even do a blog on last years show; It was so drab and boring! But we've got the awards show ball rolling this year and hopefully it's a good sign of what else is to come for 2011. Have a look!
Olivia Wilde in Marchesa
This dress is larger than life! When I first saw it on the red carpet I though it was a little too much, but this picture won me over. She also paired it with these sick shoes..
There's something kind of badass about how she paired it with those heels, love it.
Helen in Mirren in... I didn't catch the designer
She always looks good for her age, but I didn't LOVE love this dress as much as I usually love what she wears. She still looks great though.
Sofia Vergara in Vera Wang
Va Va Voom. She's such a bombshell. She knows how to work her assets but it's always tasteful.
Scarlet Johansson in Elie Saab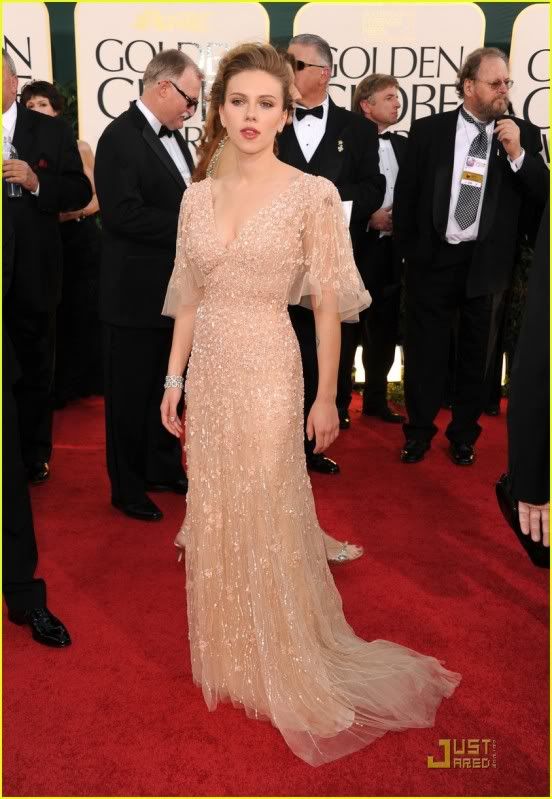 I wasn't into this one at first either but after seeing her on stage, moving around in it, it grew on me. Beautiful beaded detailing and the soft nude color. I think it's very elegant. But I would have expected this more from Michelle Williams.. But Props for doing something different with the flowy sleeves. And hair!! It's a little reminiscent of bride of frankenstein but I love it!!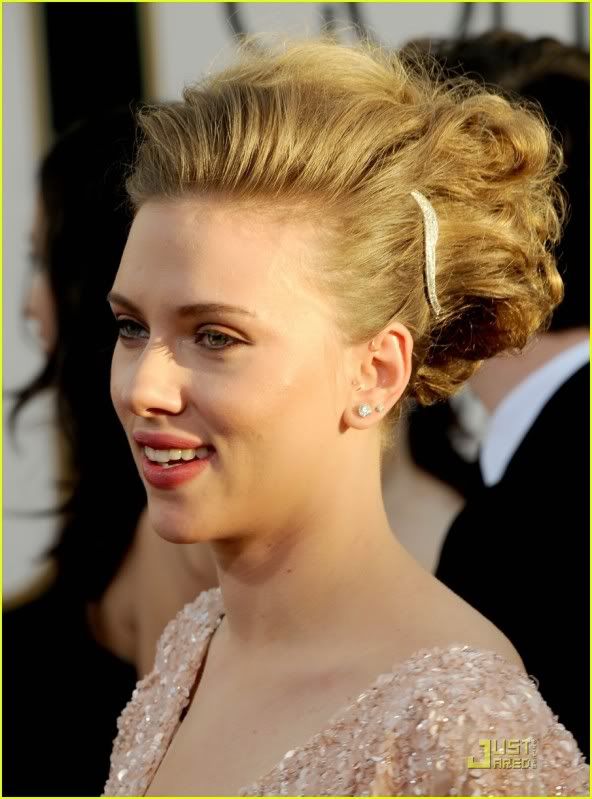 Elisabeth Moss in Donna Karan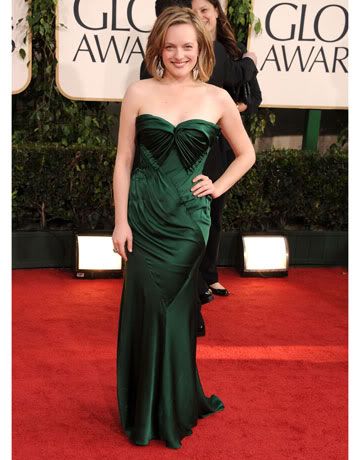 Beautiful dress, gorgeous color.. but what's with the no make up? It looks like she has no eyeliner or mascara. or blush or anything! Come ON.
Sandra Bullock in Jenny Packham
This was just "meh" for me. I do like the bangs but they're SO long you can barely see her eyes! No eyebrows for sure, and we couldn't see her make much facial expression. She's hiding under those bangs. She opted not to do any red carpet interviews either. Hmm.. still layin low to avoid Jesse questions. I probably would too!
Ryan Gosling !
He's the only guy I'm featuring.. Isn't he just too adorable in his velvet suit??
Piper Perabo in Oscar de la Renta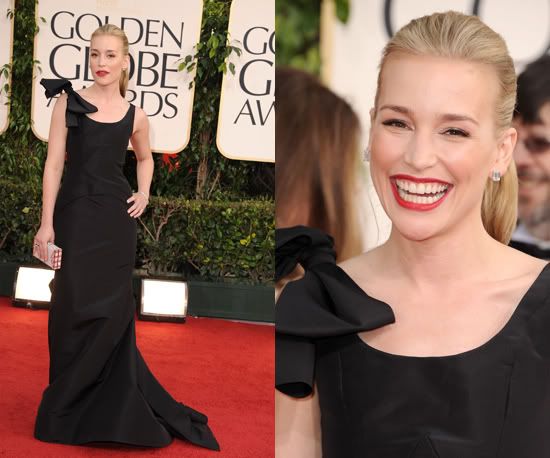 Beautiful, Timeless, and Lady-like. I love the bow, it adds that extra-something. I also love the chic, simple pony and red lips. Classic.
Emma Stone in Calvin Klein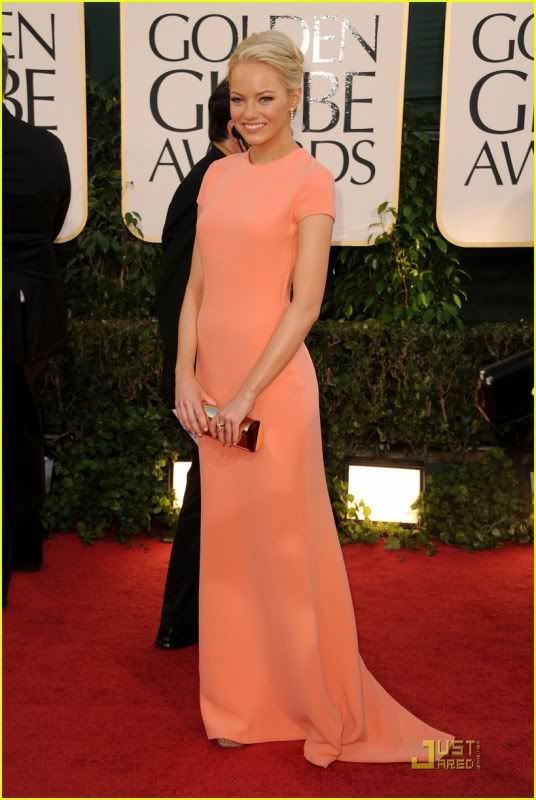 I love the color. It's like a peachy salmon. Very differnt. I like that there's no extra frills and it's just letting the color do all the talking. And I don't really like this Calvin Klein minimalism stuff going on but I do love this dress on her. The only thing I'd say is that she looks a little orange, especially in this dress. I would have cooled it on the fake tanner or bronzer or whatever.
Natalie Portman in Viktor and Rolf
Heinous! I never like what Natalie Portman wears, but everybody else seems to think she can do no wrong! Seriously? That rose..? It just.. doesn't belong. And her hair is way too severe. It looked lop sided to me.
Megan Fox in Armani Prive
I don't know what's going on but I feel like Megan Fox is not herself! She always brings some fierceness to the red carpet but I'm not getting this. Not crazy about the dress, or hair or makeup. The hair looks good on the heavier side, kind of a glam, Jessica Rabbit look, but the other side is barren. He hair is mostly striaght and hanging limp. The overall look isn't Bad, but there's just something...a little off. Like, it could be good if it was tweaked or something. This just leaves me a little confused because I can't put my finger on it.
Angelina Jolie in Atelier Versace
I thought she looked so statueque. Love this green on her, she usually goes with black, so it's nice to see her in a color. And look at the back of it!
Tina Fey in L'wren Scott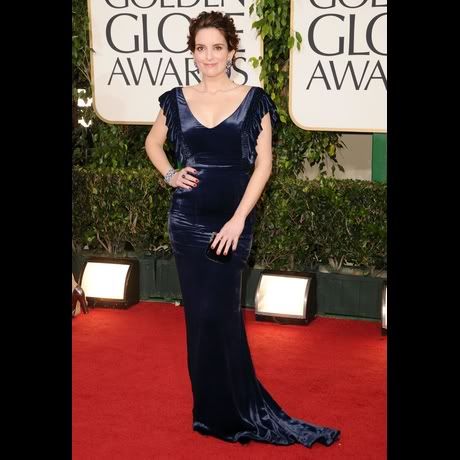 Props. She usually gets the awkward frump award so this is a huge step up. I actually kind of like it.
Tilda Swinton in ... Gah!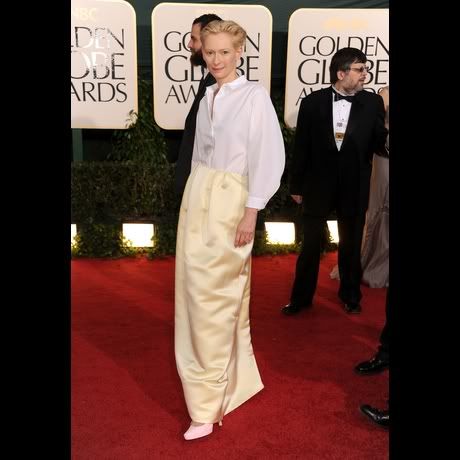 Who is responsible for this?? I know there's always going to be disagreement about who's best and worst dressed for these things.. but I don't think there's a soul alive that would say "She looks good in that". So unfortunate! I'm just gonna give it up right here, this is the worst dressed from the ceremony.
Michelle Williams in Valentino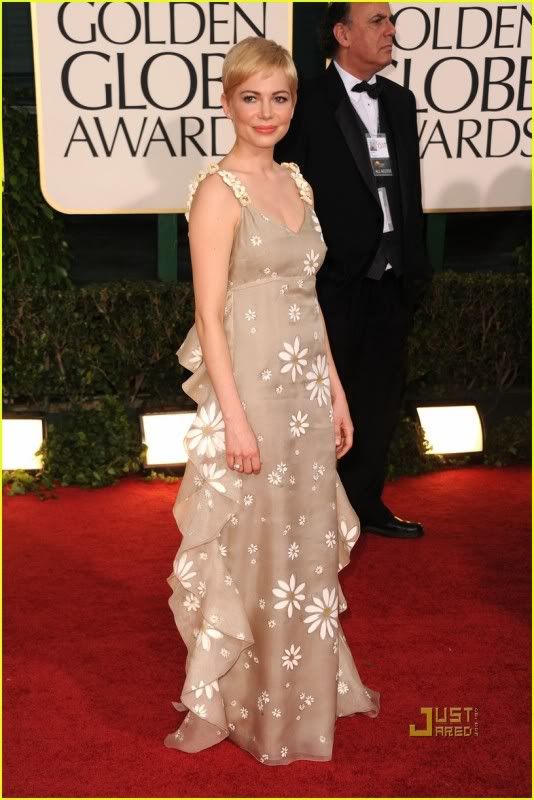 VALENTINO made this?? It looks like some 70's dress from a consignment shop! Daisies? For the Globes? Ugh why do the actresses I root for always dress bad? Her hair and makeup looks so irresistibly cute though. Some points redeemed there.
Eva Longoria
Parker
in Zac Posen
This look is to DIE for!! I love the neckline, it's something different-and she's even got a little cleavage goin on!! Different cap sleeves too. And this dress gives her curves!! She's finally leanring what works on her! No more Sparkly mini-dresses! I'm in love with this look. And check out at her hair and make up!
So glamourous!! I love my bouffant-y hairstyles and this is doing it right! It reminds me of Eva Mendes's hair at the 2009 Globes. So beautiful.
Jennifer Lopez in Zuhair Murad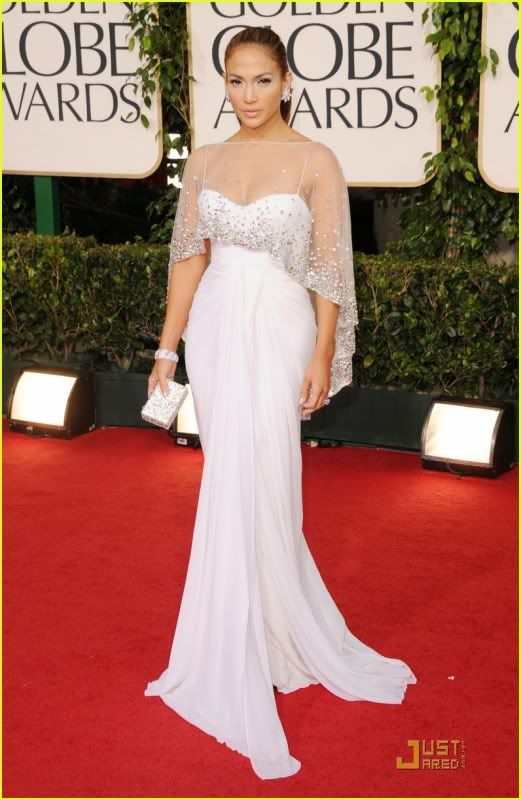 She does like rocking white on the red carpet. I actually like this though. Even the sheer poncho-y thing with sparkles. I know some won't like it but it works for me.
Heidi Klum in Marc Jacobs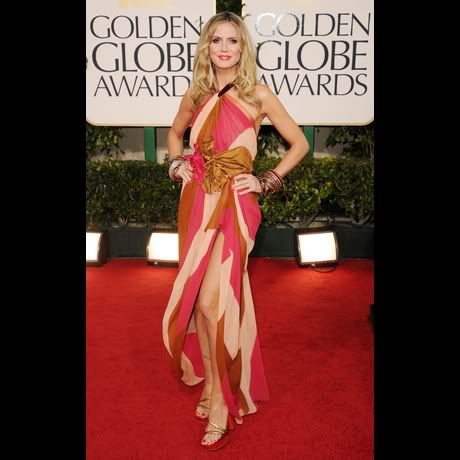 This does NOT work for me.
Christina Hendricks in Romona Keveza
No bodacious cleavage?? I'm a little disoriented.. It's a good dress.. and it could be good, maybe on someone else or styled differently. I just think it's too much going on up top. EVERYTHING is going on up top. She's obviously very busty, and it seems very bulky to me, with all that boobiliciousness covered up with material. So there's bulk, there loads of heavy ruffles right on top of it, AND her hair is down and wavy with a lot of volume. Way top-heavy over here. Sorry Christina. But I still love you and drool over you.
Christina Aguilera in Zuhair Murad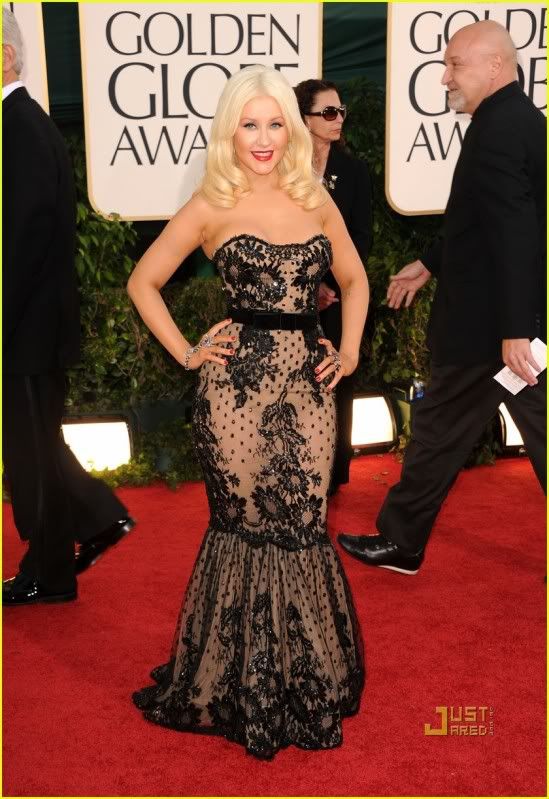 If we're just talking about the dress.. I like it alright. I know whenever I mention her on this blog, I'm bashing her. But I'm not a hater, Stripped is one of my favorite CDs! And Back to Basics is awesome. So, just to give her something good, I'll stop with saying the dress is actually very pretty. I won't get into talking about her hair or make up or her weight gain. There.
Anne Hathaway in Armani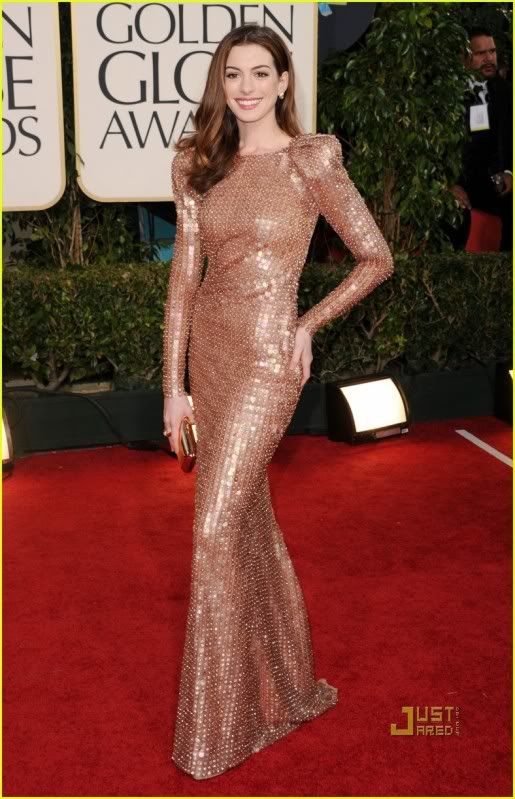 I actually gasped and shreiked outloud when I saw this. This. is. Amazing. Love love love the strong shoulders and the big sequins and metallic color. These pictures do not do the dress justice, but I couldn't find any other angles. HUGE fan of this look. I would defs wear this.
Lea Michelle in Oscar de la Renta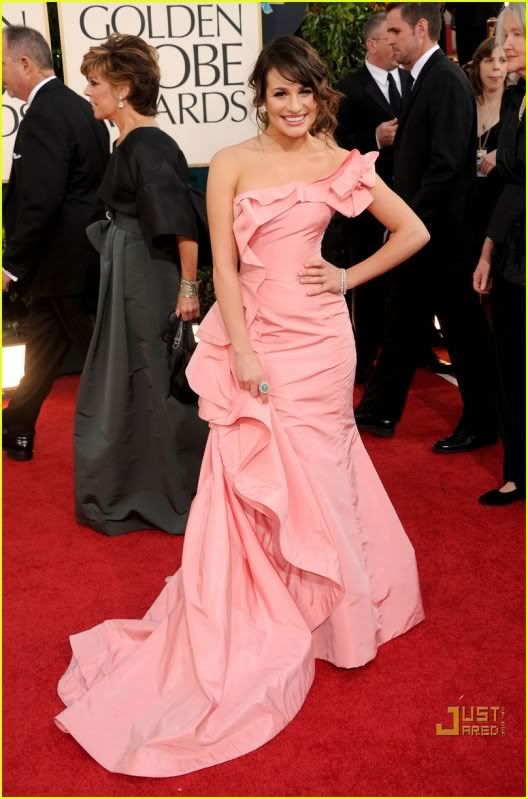 So pretty! I love this pink! So girly, paired with all the ruffles. I can't stand those damn Glee kids but Lea is absolutely irresistible here.
Julianne Hough in Marchesa
I love this! It works on her! Hair back, not too busty, not too much going on up top to compete with the metallic chest piece. She kept it minimal and allowed the embellished neck piece to do all the talking. It looks like some Egyptian chest piece a queen would wear, or some other object of worship. Regal.
Jennifer Lawrence in Louis Vuitton
I don't like it. Her stylist was talking to E before the show and told them they decided there would be a lot of pinks and greens so they wanted to do something Different, and go with black. Are you serious! hahaha Everyone wears black. How different is black?
Claire Danes in Calvin Klein
Another gorgeous pink one!! Also simple, but so pretty.
Julianne Moore in Lanvin
Ugh. I love the color but this is atrocious. What is with her fascination with hideous asymmetrical dresses?? She wore an equally erroneous wonky dress last month, also by Lanvin:
January Jones in Versace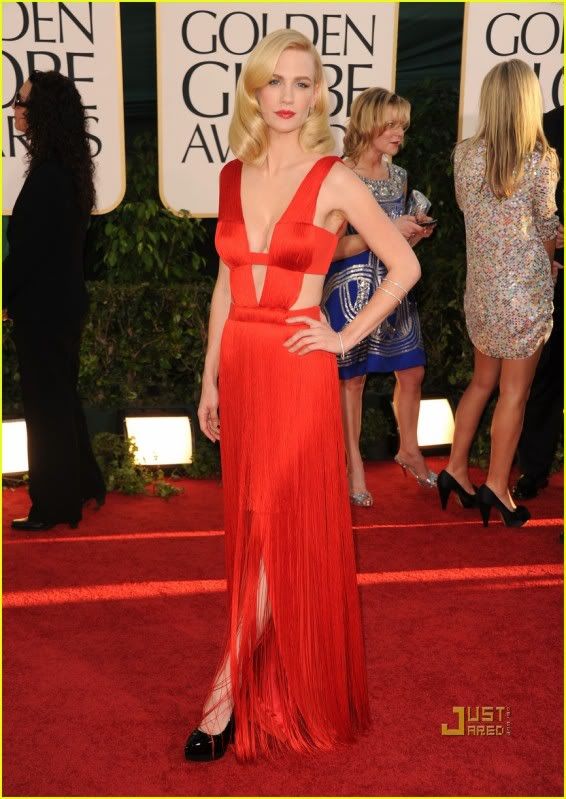 OMG How fierce is this. Love.
Helena Boneham Carter in Vivienne Westwood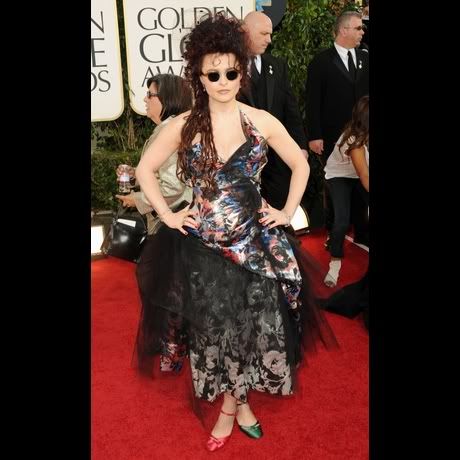 Of course she's wearing Vivienne Westwood! lol. I do like it. Not sure about the two different shoes, but I think the dress is cool. Love the glasses. It's the best case scenario of what you'd expect from Helena on a red carpet. You know she's not gonna be wearing a classic or in-any-way-understated gown. This is zaney enough to show her personality but still recognizable as a dress. Not some crazy swan draped over her shoulders or something.
Halle Berry in Nina Ricci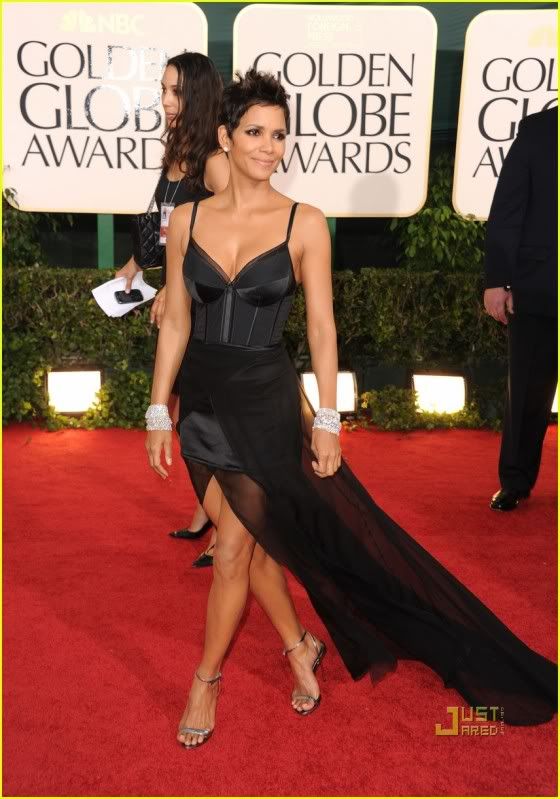 I'm not crazy about these dresses I've seen alot of lately, that stop as a mini dress but continue down longer with just a sheer fabric. I want a dress to stop at a certain length and not confuse me. She herself looks good though.
Okay. I would talk about who won and stuff but blogging about this much has exhausted me. Best lead actress went to Natalie Portman (who gave a great speech)and best lead actor went to Colin Firth. Best Motion picture: The social network. Blah blah blah
Ok so to conclude, here are my picks for best and worst
Best Dressed
4. Julianne Hough
3. Lea Michelle
2. Anne Hathaway
1. Eva Longoria. absolutely stunning.
Worst Dressed
2. Julianne Moore
1. Tilda Swinton