The Oscars got freshened up a bit this year with some youth from hosts Anne Hathaway and James Franco. The ceremony was pretty fun, not as stuffy as years past; I enjoyed it quite a bit!
Here's the fashion highlights!
Hailee Steinfeld in Marchesa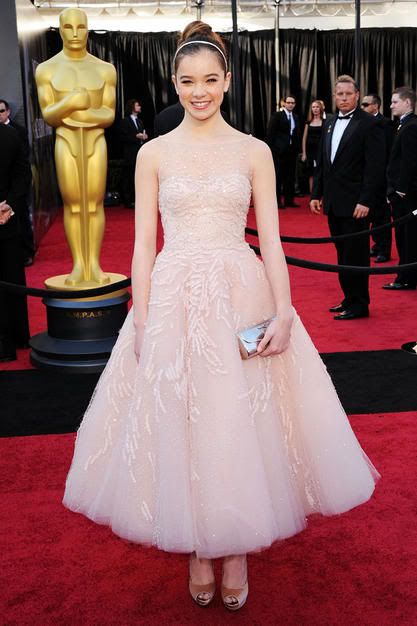 The 14-year-old was up for a best supporting actress for her role in True Grit. Everyone seemed to be in agreement that this was the perfect dress choice for her. Doesn't she look adorable?
ScarJo in Dolce and Gabbana
SEX BOMB! Honestly the first thing I noticed was her loose, short sexy hair! Love it! Usually she goes for very stiff, sculptured up dos or ringlet curls and this is what I've been DYING to see from her! Perfection. And then I noticed the dress!!! Omg what a gorgeous purple. It's just stunning, the beautiful cut, the lace, the subtle see-though and the cut-out in back...And who is this hot arm candy she's got??
And look at her sultry copper smokey eyed make up
Everything is to DIE for, I am in love.
Nicole Kidman in Dior
This doesn't make the cut for me. I don't like the detailing/embellishments and I don't think that origami jutting out at her hips is doing her any favors.
Melissa Leo in Marc Bouwer
Too much! The lace, the collar, the gold, the sparkle.. and it's so stiff! It looks like this dress has been starched to within an inch of its life!!
Marisa Tomei in 1950 Couture Charles James
I wasn't a huge fan of this, but learning it's 1950 couture did give me a little different perspective.. In that context, I do have some appreciattion for it. It has something going for it in its own special unique way. .
J.Hud in Versace
Did homegirl get a new stylist?? This is a BIG improvement. Probably the best dressed I've seen her on a red carpet ever. That's a big deal. The hair on the other hand, needs some work.. looked a bit too stiff and matronly for me.
Jennifer Lawrence in Calvin Klein
Damn Jennifer is lookin sexay in this slinky little thing. Love! The best I've seen her look!
Hilary Swank in Gucci
I love the bottom of this dress with the feathers but everything up top is just blah for me. I don't like the top of the dress, nor do I like the hair or make up look. Sorry Hil. I still love your movies.
Helen Mirren in Vivienne Westwood
This is a bit more of an adventurous cut for her, and I like it. Vivienne Westwood gets a LOT more off the wall than this, so it's not too crazy for Helen to pull off this look. I like to see these little risks here and there! Well done, as always.
Gwenyth Paltrow in Calvin Klein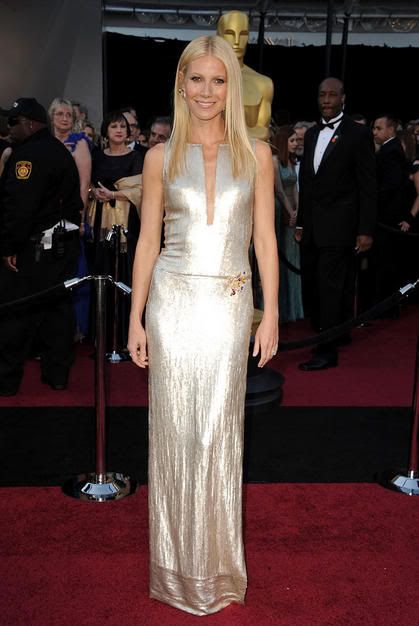 I must say I am loving the Calvin Klein tonight! This is gorgeous! Love the metallic on her, and love her straight hair.
Florence Welch in Valentino
Yes, this is almost the same color palatte as what she wore to the Grammys two weeks ago, but I do love it. I like it even more than her Grammy dress actually. The off white just really makes her red hair pop! Love the sheer lace and high neckline.
Celine Dion in Armani Prive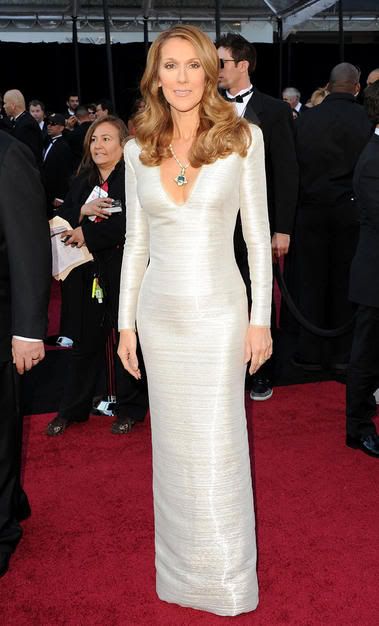 This is the best I've seen Celine in years!! Granted, I haven't seen her around much.. but I didn't even recognize her when I was looking at this wonderful dress. Love the color, love the sculpted shoulder, love the plunge.
Cate Blanchett in Givenchy
This is a work of art. I love how different this is. Wonderful ornate detailing around the circle shape up top and down through the waist. The circle itself looks plain but if you look closer it has pleating all inside.
It's very structured up top so the waist is defined to make sure we still see some shape. Love the strong shoulders and high neck! Just exquisite.
Sandra Bullock in Vrea Wang
This is meh. I don't dislike it but there's nothing exciting about it for me.
Reese Witherspoon in Armani Prive
I like the dress even though it's pretty basic. It seemed to remind people of Julia Roberts' vintage dress she wore to accept her best actress oscar 11 or 12 years ago. But it's hardly a copycat. And I like the Barbarella hair!
Natalie Portman in Rodarte
She WOULD. I hate Rodarte. This is boring!!
Mila Kunis in Elie Saab
This is the prettiest look ever! What a dainty feminine color! I adore that shade of lavender. I also love the sheerness and light airy ruffles, it's so spring! But my very favorite part about this dress is the delicate lace on her tittays!!
It almost gives the effect that we are looking at lace pasties peeking through! I know that's not the case but that's what I imagine!! I am in with love this!
Michelle Williams in Chanel
So pretty, and MUCH improved from her Globes daisy dress. This is an adult, Oscars dress, and so old Hollywood. Understated Old Hollywood, but still. Beautiful silhoutette, color and beading on this dress. And the hair and make up is perfection.
She looks like a doll! Love the darker brow against her platinum blonde pixie. Adorable.
Halle Berry in Marchesa
I do love the color and material and overall feel of this dress. Very feminine and floaty. The more I look at it actually, the higher this dress moves up on my list. It's like she stepping off of a cloud, or trailing one behind her.. it's very mythical to me.
And there you have it; These were the biggest names of the night and overall most noteworthy.
My Worst Dressed:
Nicole Kidman
Most Improved award goes to J.Hud!!!
Honorable Mentions:
Gwenyth Paltrow and Celine Dion
MY Best Dressed
5. Michelle Williams
4. Halle Berry
3. Cate Blanchett
2. Mila Kunis
1. ScarJo