I'm exasperated. Exhausted. I've been a Britney fan from day one. And there's always been something I need to defend her for. When I liked her in 4th and 5th grade it was, Why do you like someone who lip synches and dresses way too sexy? In high school it was, Why do you like someone who is making out with Madonna on TV? And then there was giant Britney clusterfuck that was 2007: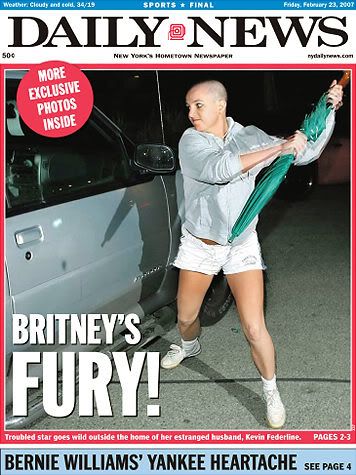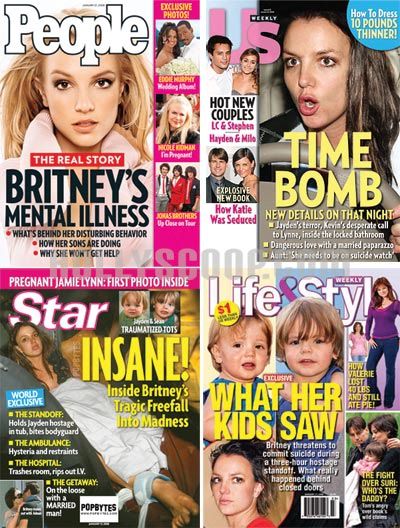 not pictured:
Britney's stints in rehab
Britney's British accent while wearing a pink wig
Britney naked in hot tub with random guy
Britney naked in hot tub with random girl
Britney's dog London peeing and crapping all over expensive clothes she was to wear for a magazine shoot
Britney bailing out on the entire interview for Allure magazine after the her cover photos had already been shot
Britney stealing a lighter from a gas station
Britney stripping down to bra and panties to run into the ocean
Britney galavanting with Adnan Ghalib
Britney galavanting with Sam Lutfi and Ali Sims
Britney's bomb of a performance when she opened the VMAs with "Gimme more"
And just spilling into 2008 we saw her carried out of her own home strapped down on a gurney and subsequent conservatorship of her father, Jamie Spears
And I've defended her through it all.
So now we think she's getting it together, she shot her newest music video with a really good director... maybe she'll get her act together and be a little more respectable.
Nope.
Today Brit released the title and cover art of her newest CD scheduled to drop in March and wow.
Presenting, Femme Fatale:
Why can't she even get it together for one second while a picture of her is being snapped for a CD? Look at this knarly ass weave!
And Femme Fatale?? Allure, mystery, and classy, dark glamour embody the femme fatale.
Let's see.. Any allure and mystery went out the window once we started seeing her naked pussay on the regular as she exited her car. Oh, and the barefoot romps through the gas station bathrooms, the smashed videos of her like these....
Is this the picture of classy, dark glamour??
Don't get me wrong, I love that video, I embrace that spacey Britney of the past. It's endearing... but she can't expect that we forgot about those 4 years, does she? How can she and the people who are marketing this CD honestly believe the public will buy her as a Femme Fatale??
sigh. She hasn't had a good CD cover in years!! In the Zone was the last good one.
The most recent CD was Circus, complete with wonky eye:
Then the year before that was the aptly named, Blackout:
In order to stick with her I guess I need to change my approach. Through all her trials I held on to my hope that she would eventually get it all together and reclaim her throne. I'm a bit delusional in the sense that I still want to believe she will one day redeem herself and become the classy, polished and savvy woman I want her to be!
I can still love her, but I think I need to abandon those dreams and just love her for who she is... You can take the girl out of the country but you can't take the country (bumpkin) out of the girl. It's just... hard to let go of my hope and dreams for Britney!!