The Grammys this year were boring, underwhleming and anticlimactic. Even the fashion was kind of blah..
I have a lot to say about the awards and performances..but first red carpet!!
Heidi Klum
BIG step up from that Marc Jacobs disaster she wore to the Globes. I think she looks great in this slinky gold dress.
Willow Smith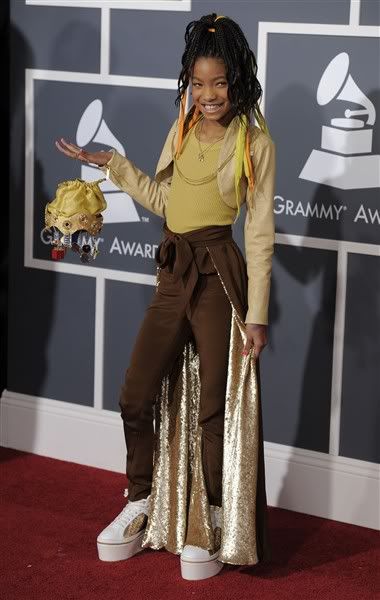 Ugh! She looks terrible! The orange streaks, the shoes, that cape..and what is that mobile shit she's holding? I'm not afraid to hate on a child. This girl is NOT cute..
Ricky Martin
OMG I think he looks bangin!! Love the metallic pants with the boots. This is just freakin hot.
Lady Gaga rollin in, in her egg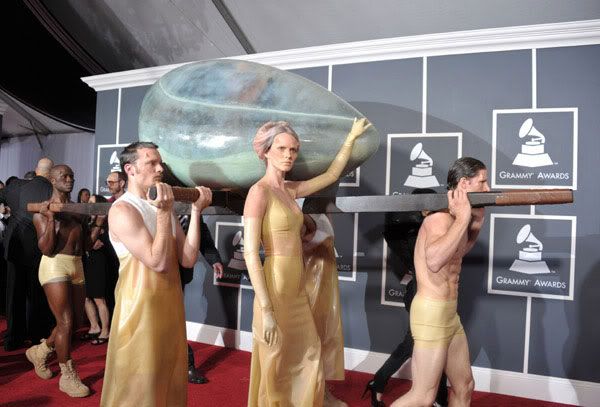 She was "incubating" in this egg in preparation for her performance. While it did add some much needed theatrics to the red carpet, I do feel a bit cheated. Since she didn't hatch out of the egg, that's one less outfit we got to see her in.
Rihanna
At first I wasn't sure but this ended up winning me over. Hair and Makeup look great. And I did come to love the dress. It really shows off her hourglass hips. Alternating stripes of white frills with sheer fabric.. you could pretty much see her cooch and butt crack.. but it was subtle enough. She's done a similar concept to this before; it reminded me a lot of the alternating white-and see through outfit she wore suring her AMA 2009 performance: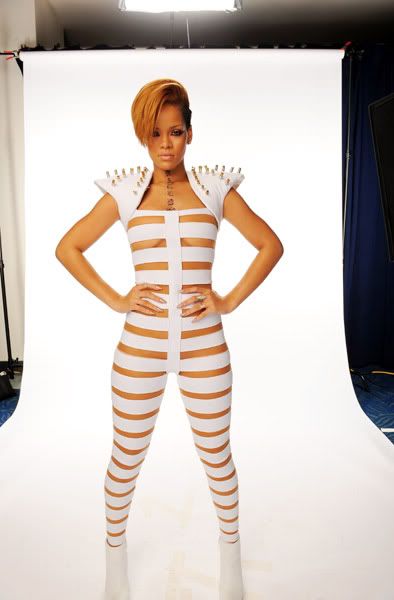 Her red carpet dress is a big improvement on that look!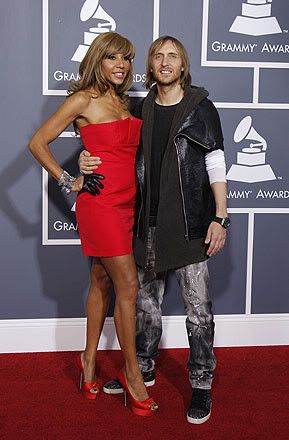 Tom Petty?
That's what Bambi and I thought when we saw this.
Apparently this is David Guetta. hahaha We had a good laugh over that one. We really though it was Tom Petty from afar.
Nicki Minaj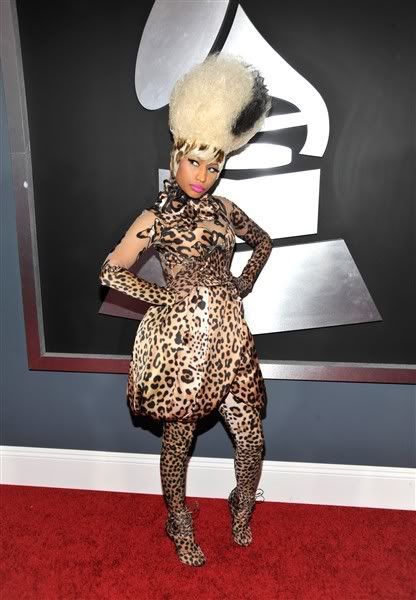 I was watching with Bambi and she was getting clautrophobic just at the sight of this outfit. Nicki's basically covered from head to toe, the only skin not covered up is her face. No ankle or hands, high neck..Even the HAIR is engulfing and covering up the sides of her head like a helmet. Between this outfit and Gaga's encapsulated egg, Bambi called this red carpet "A claustrophobic's nightmare!"
I do like the outfit. It's just Nicki. It's not really supposed to look GOOD. It's just wild and crazy. She was giving Seacrest hella sass on the red carpet interview too! Even more points for that.
Kim Kardashian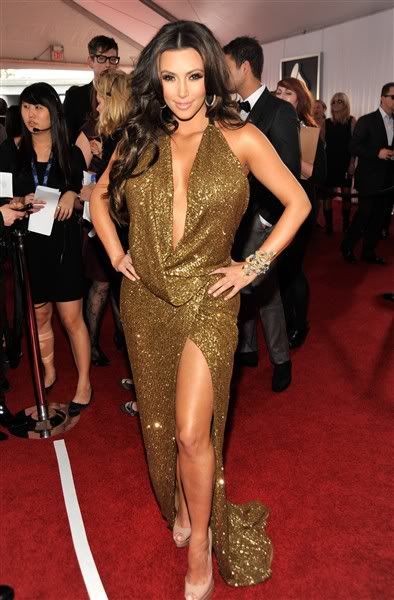 I Hate myself every time I say something complimentary about her, but you have to admit this trick looks bangin. Absolute bombshell status in this dress. She said there was a major fashion emergency getting dressed because her huge ass wouldn't fit in the dress so she almost didn't come out! But you know she threw an epic bitch fit and some tailor came out and fixed it up for her last minute.
Jordin Sparks
Noo!! What is this JCPenney contemporary prom collection mess? I ALWAYS think Jordin looks absolutely ravishing. I've never seen her look less than stunning, but this is all bad. I'm a BIG fan of her red carpet looks, but not tonight. Not enough make up, and the dress is hideous. Major sad face.
Miley Cyrus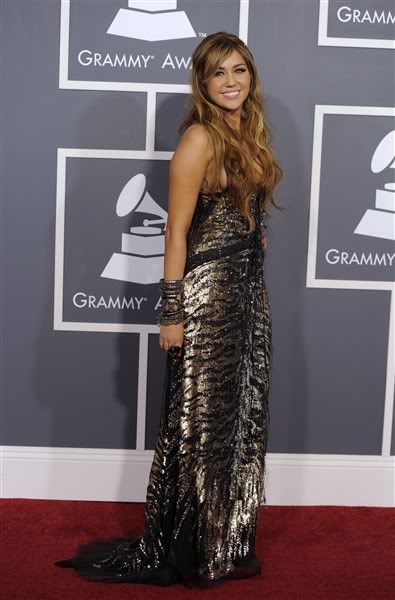 When her hair moved away from her sides there was some major side-boob action going on. The dress is just kind of "meh" for me though.
John Mayer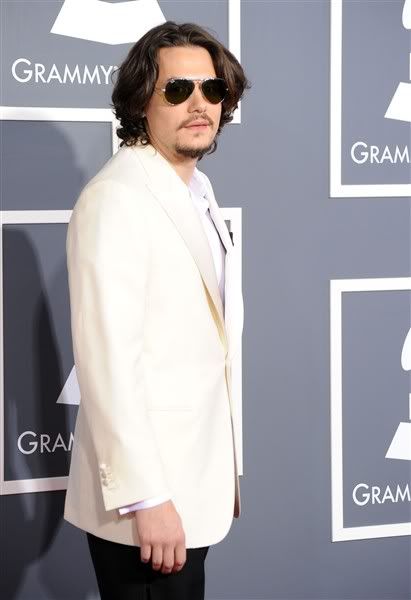 Or, a bloated, coked-out Johnny Depp.
Keri Hilson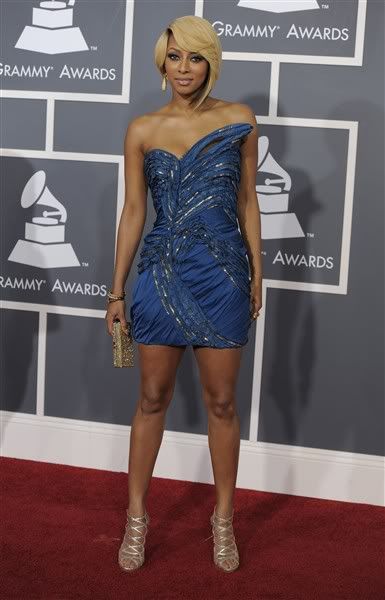 Don't like the hair, or the dress really. And the shoes.. ew.
Look what other trick decided to grace us with his presence..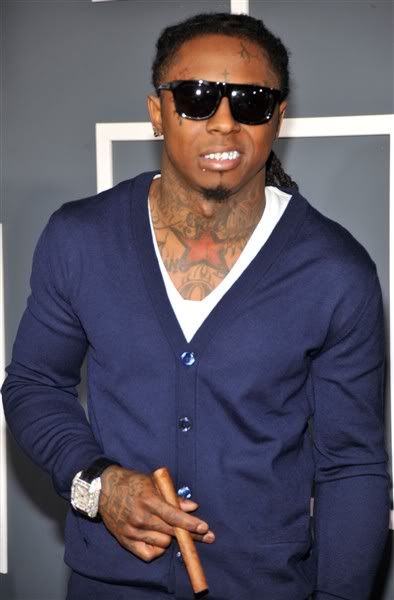 Julianne Hough
The picture doesn't do this look justice. I saw her on TV and though she looked great. Soft, wavy hair swept back, soft frills on the dress. It worked for me. But from this picture alone, I wouldn't be that impressed.
Jennifer Lopez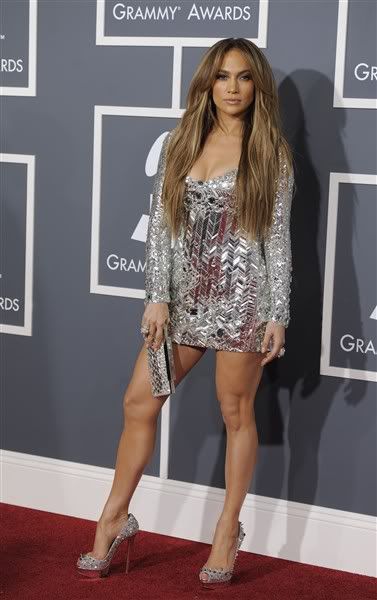 I thought this was Hot! She's really been workin the red carpets lately! I have been impressed by every look I've seen from her for a while!! Love this mirror dress. Love the hair. She's still got it.
J.Hud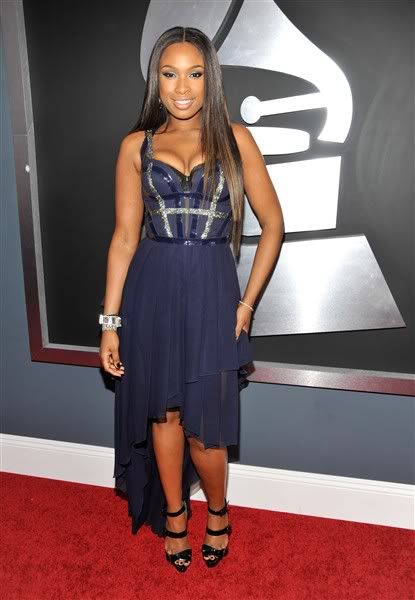 ....really? She really needs to get a new stylist! She never looks good on the red carpet. Her dresses just don't flatter her. And come on! She's lost all this weight. She could really be wowwing us with her hot new bod but this... isn't it. What's with the cheap ass shoes on this red carpet too? Looks J.Hud and Keri Hilson are rockin some Payless designs.
Hayley Williams of Paramore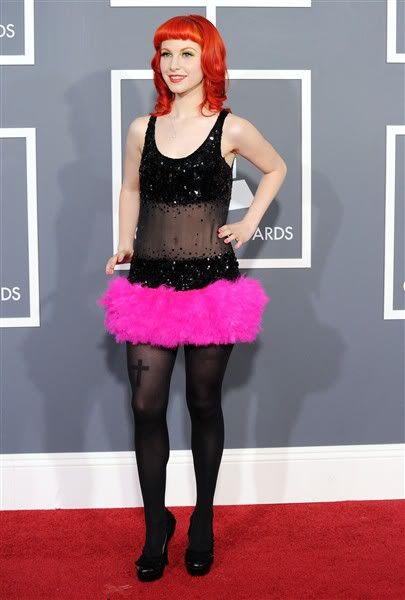 If it wasn't for the sheer stomach, I'd like this. I like the hot pink ruffly skirt part. And her eyebrows were red to match her hair! Awesome!
Florence of Florence+the machine
This works for her. It was funny because on the E red carpet special, the hosts were picking which dresses from the runways they'd like to see celebrities in, and Kelly Osbourne picked this exact dress for Florence like 2 weeks ago! It's destiny.
Ciara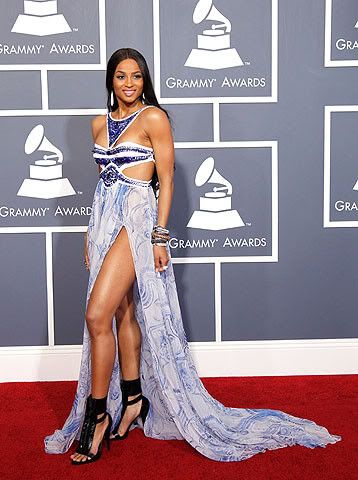 I was not a fan of this. It's too hodge-podge for me. And too much skin. Skin up top, skin on the sides, and a whole lotta leg. Admittedly, her body looks great, but it's just too much skin display for me.
And the shoes are distracting; I feel like they don't go with the vibe of the dress.
And the show begins!!
.. with maybe the worst opening of all time.
This sucked even harder than Eminem and Riri opening the VMAs last year. The opening is supposed to start right up, before anything else happens. And it's suppose to pump us up for the show!
This years Grammy's were "dedicated" to honoring Aretha Franklin. Does this have something to do with the fact she has pancreatic cancer?? Hmm..Why do we have to start worshipping these stars once they're dead or stricken with cancer?
I don't get anything from her performances or songs.. to me its just a big fat lady screeching. It's annoying.
So that's the context for our opening, but, all of a sudden, the grammy's have started and were expecting a performance, and instead we get someone talking at the podium, explaing shit about Aretha. Come ON! Opening performances don't get set ups. They're supposed to be self-explanatory. So we're introduced and all that, we're told What, Why and WHo the opening is going to be.. and then it happens. No no and no. You are totally disrupting the flow of an awards ceremony.
So it's Snookitina, Martina McBride, J.Hud, Florence and some other gospel singer I don't care to look up.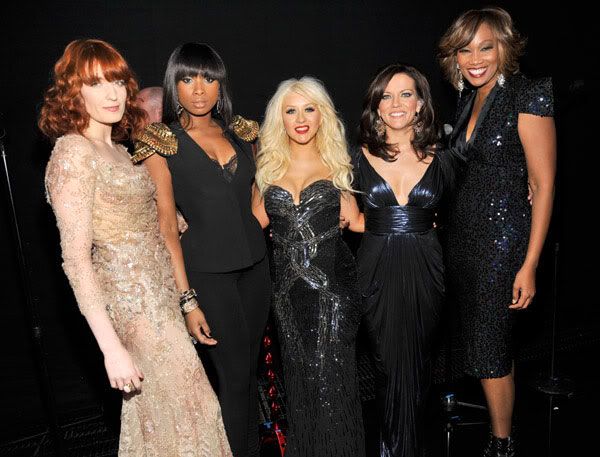 Snookitina Dragulera was tryin to make that shit all about her but J.Hud stole the show.
So you know I'm always hatin on J.Hud but she gets props for this. I actually, for the first time in history, liked what she was wearing. All black with these gold metal shoulder pieces. I LOVE. And she sounded AWESOME. She did "Respect" and brought that shit down.
First award of the night is for Best Pop Duo or Group: Hey Soul Sister, by Train.
Then Ricky Martin comes out in his sick ass metallic jeans and intros the Gaga performance.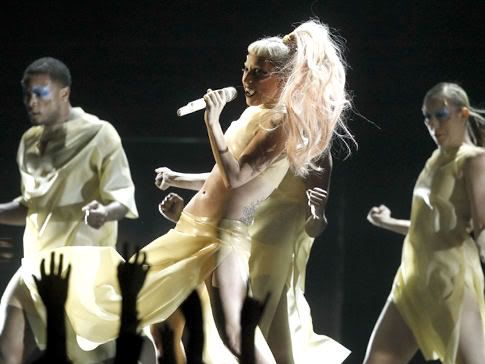 She emerges from her egg and performs her new song "Born This Way" for the first time. And she's definitely reinventing herself for this new album. She premiered a new look, a long, high pony tail and short short bangs. She also had, along with her dancers, really pointy alien-like shoulders. And not her clothing; her SKIN. It was sick. She also had some pointy/boney protrusions on her face. Same with the dancers.
A new choreography-vibe for her too. Check out this video of the performance while you can; I suspect it will be taken down sooner or later.
Then a Miranda Lambert performance I found very boring.
Then Muse performed Uprising.. really? That shit was released as a single in Summer 2009. Old news. Don't you have anything else?
Performance with B.O.B., Bruno Mars and Janelle Monae. meh.
Best Female Country Vocal: Miranda Lambert
Bieber performance- He sounded good at first when he started with "Baby" acoustically on the guitar, then he broke out into a bigger production.. and towards the end who pops out but another unwanted. unwelcome Smith child. This time it was Jayden. ugh. They ended the song like back to back with these tough looks on their faces like they're so hard.. give me a break.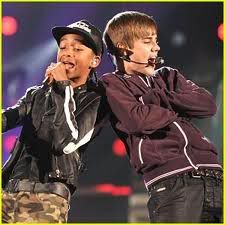 (Note to Smith Children! Stop bastardizing music and iconic American movies. Jayden HAD to fuck with the Karate Kid movies and now Willow is going to star in a remake of Annie. AS ANNIE. Fuck no.)
Anyways, then Jayden disappeared and Usher came out and Biebs and Ursh did OMG. I do love that song but I have little respect for Usher as a performer. He's a great dancer. And it ends there. Beyond that, He puts no effort forward for any kind of vocal performance. I've ranted about this before though, so no need to rehash it.
Best Rock Album: Muse. For whatever that album was called.
Best Pop Vocal: The Fame Monster, Lady Gaga!
She was wearing these hella high, "no heel" heels. Love it.
Best Country: Need you now, Lady Antebellum
Cee-Lo Green performance-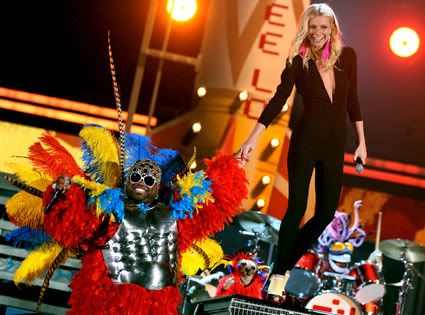 This fat fuck.. I find him so annoying. .His creepy-ass Cheshire Cat smile. And YES that's Gwenyth Paltrow performing with him and it's the only thing that saved the performance for me. She was hella funny! She said something like "I am so mad at yo ass right now!!" haha. And on a side note, she was wearing the exact same outfit BAMBI wore for New Years Eve.
Ok in sum- Cee Lo is not my cup of tea. He's probably a great person, but I am not a fan.
Katy Perry performance
This was just too sappy syrupy sweet. I love Valentine's Day but I draw the line. Before this part in the picture, she opened the performance on a swing while her "Never before seen" Indian wedding footage played in the back! BARF!
The Grammy's are NOT the place to showcase your sappy home videos! Inappropriate.
Ok now, this was the most underrated performance of the night. It was Keith Urban and John Mayer on these dueling guitars, with Norah Jones in the middle of them singing. They sang Dolly Parton's Jolene! It was so beyond good. It was just one of those moments.. I wish it lasted longer, but the performance was very brief, maybe 2 minutes tops. It was just totally stripped down acoustic, but so soulful and awesome. Here's a clip, I know it's not the best quality, but all the other ones I found on youtube didn't have John Mayer's part included. weird. But just watch.
Jolene
After they sang, they announced the winner of Song of the Year: Need you now, Lady Antebellum
Eminem performance with Rihanna and Dr. Dre- Out comes the gaunt lezzie, spewing his anger in an indecipherable rage of a performance. Is he ever going to get tired of being enraged? I counted like 4 different veins on his face and neck that looked like they were ready to blow while he was rapping. . The one saving grace of the performance was Dr. Dre. Seriously, when was the last time this man performed? I'm surprised they didn't hype it up more.. But it was a pretty short part.
Best New Artist- I had it going to Drake. But you never know, the Biebs SWEPT the AMAs and had a big presence at the Grammys here so it could be him..Or shit, maybe even Florece and the Machine..
..And it goes to........"Esperanza Spalding"
I did NOT appreciate that. I let out a screechy "WHAT!" so high pitched the dog in the room got upset.
This is all wrong! We're supposed to actually KNOW who the Grammy winners are. It's disorienting and just no fun when the winners are these unknown mystery artists. It needs to be somewhat mainstream for the sake of understanding! This is just a slap in the face.
Mick Jagger performance- What a legend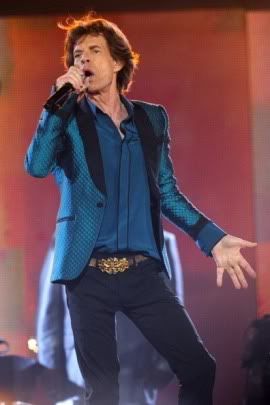 This rock and roll God is still kickin! I though he looked awesome. He's 67 years old!! And look how he's dressed! Sick turquoise blazer, skinny pants and a gold belt buckle. And he was really movin and jumping and running around up there too. PROPS. This is what artists should apsire to still be able to do 40 years from now. Amzaed.
Best Rap Album: Recovery, Eminem. When the camera showed him, when his name was announed as a nominee, he looked pissed. Everyone else was happy to be there and be nominated and here's Eminem and he's angry. Get over yourself!
Riri and Drake performace- Oh my GOSH this was an electric performance. "What's my Name"- She looked BOMB. He hips and legs are to die for, and she knows how to work it.. with her sexy gyrations.. she looked amazing in her little belted, fringey outfit.
In the video for the song, Drake and Rihanna's chemistry is so real and sexual.. and this performance was so different. It was seriously exciting seeing them flirt and grind together on the stage. They really connect and make me wish they were a legit couple. Oh my GOD they look so good together You need to watch.
What's my name
RIGHT?? Her voice may have been less than stellar but she had bronchitis and laryngitis this week. AND was on steroids and antibiotics to get well in time! So, all is forgiven. BOMB performance.
Record of the Year- announced by Jennifer Lopez and Skeletor Hubby Marc Anthony. It was hella funny. She interrupted him or something and he rolled his eyes at the camera. Haha it was the first time I saw anything likeable about that skeleton.
The award went to Need you Now, Lady Antebellum. Okay enough already!!
And somewhere in here was a seizure of a performance by Arcade Fire. Complete with disorienting strobe lights. I'm so glad I wasn't there for that one. And in rehersals, someone must have said "Hey you know what would make it even cooler? If you let me and my friend ride our bikes in circles around the stage the whole time! It would make it so badass!" Yeah. I thought that was pretty low budget entertainment.
And Finally, Album of the Year: And it goes to Arcade Fire. and they annouce they're gonna do ANOTHER song for us! please no!!
So they break out the BMX show and close out the Grammys.
Underwhelming.
Top three moments:
3. Gaga performance
2. John Mayer/Norah Jones/Keith Urban rendition of Jolene
1. Rihanna and Drake performance