Oh my beloved VMAs! For a second there I thought I might not be able to watch them because I had something going on tonight... but thank god that shit got cancelled!!
They were again in LA this year, and if you recall from my previous VMA review, I'm not a fan of the VMAs in LA! But this year was good and it proved me wrong.
There wasn't much on the preshow, so this will be brief..
I did see Amber Rose with Wiz, they are starting to grow on me as a couple.
Sway gave away a new award, called Best Video with a Message..and it went to Lady Gaga for Born this Way. Yay.!
Nicki revealed her atrocious VMA outfit:
I really don't think any commentary is necessary.
I'll throw in this pic of Brit.. I feel like she always has this look nowadays, like shes pretending to look happy to be there, and a little unsure.
And Jessie J was there with a broken ankle and her leg in a damn boot, complete with bedazzled crutches.
Basically the preshow was boring!!
Soo opening the show was Gaga, and she came out as her male alter ego, Jo Calderone!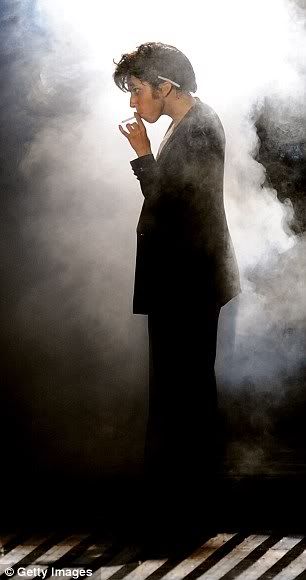 She went back to her theater roots and did a whole opening monologe, about how "he" used to date Gaga and the issues in their relationship, etc.. Then he started in on You and I at the piano. The guitars came in and he did some choreography.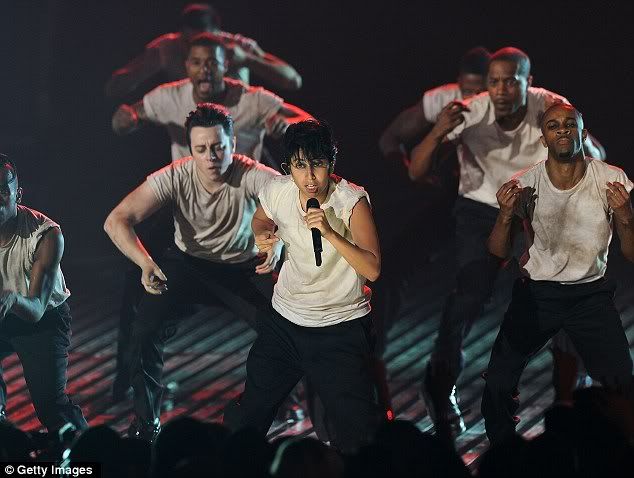 I'll attatch some videos, I hope they won't be disabled by the time you read this!
Overall I think it was very good. I think it's amazing that Gaga still managed to do something unexpected and innovative. Even if Annie Lennox has done it before, that was 20 years ago! It was about time someone stepped up to do this!
First up is Nicki Minaj and Jonah Hill to present Best Pop Video: Britney Spears-Till the world ends. I know I'm rough on her but I did actually want this video to win. It's the only decent one she's put out in years!
Thenn "Otis" starts up, with the piano and his voice.. and then Jay and Kanye emerge !! It was so sick, love the energy of those two together.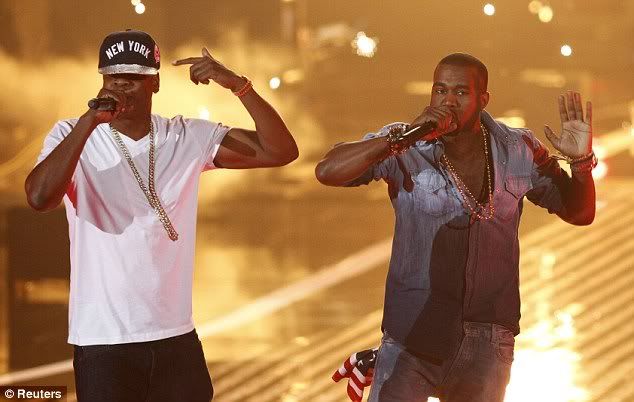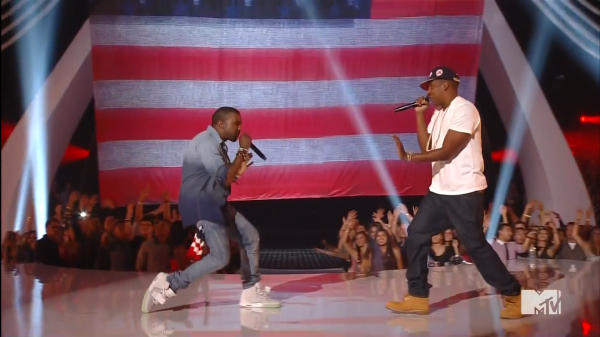 Otis also happens to be my favorite song right now.. Can't wait to see these two live at the Watch the Throne Tour!!!
Miley and Shawn White (really..?) present the award for Best Rock Video, and it goes to the Foo Fighters-Walk. You all know this isn't my category but I AM glad the Foo Fighters won. I do like them, and they've been nominated 12 damn times and have only won once!! So here's to moonman number 2! Plus how can you not love Dave Grohl?
Best Hip Hop Video had some good nominees..All of the Lights, Look at me now and 6 foot 7 foot were all really good. I figured it would go to Chris Brown but they announced... NICKI???? Omg. Super Bass is the most cheap ass ghettorific video!! Over Look at me Now??? Just no.
Best Collobo: Katy Perry ft Kanye-E.T. Mehhh none of the noms had good videos in the category.. but you could tell they spent a lot of money of that weird video so I can't complain too much.
Pitbull ft Neyo performed Give Me Everything and it was alright. I feel like it was the only "meh" performance of the night. Everything else was really good.
Oh and BTW after every performance they'd transition by cutting to Jessie J, just sitting in this white chair on stage in her boot, singing! I could not stop laughing at that.. "Okay guys so Jessie broke her ankle.. can we get her a chair???"
Katy Perry presents Adele for her performance of Someone like you. It was just her, a pianist and the spotlight. And it was incredible.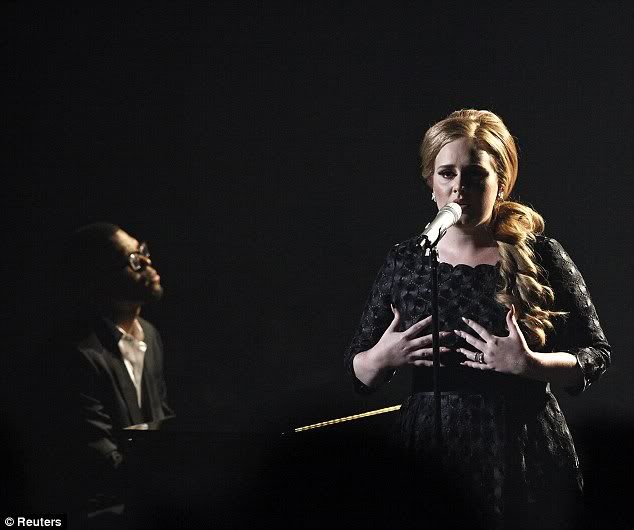 I got goosebumps it was so good. I never realized how fierce she is but she is fucking fierce! Amazing voice' it was chilling. Gaga's performance was fun and unexpected but for me, Adele gave the performance of the night.
She got a standing O.
Kim Kardashian "Humphries" presents Best Male Video. It goes to.. U Smile, by the Biebs. !!!! What! Again, so many other good videos he was nominated alongside that shoud've won.. But, since the awards are now voted on by fans it just makes sense. You know how crazed those Beliebers are!! They're out for blood and won't stop till Selena Gomez is dead and the Biebs wins every award!!
Chris Brown performs.. He starts with Yeah3x.. then did this weird thing where the back track said "1993" and played what I am assuming is a popular song from 1993 that I didnt recognize.. he danced to it..amazingly, like he does. Then "1994" and Smells Like Teen spirit came on and he danced to that.. and the year countup stopped there. I thought it was kind of random they only did those two years but whatever. He then went into Beautiful People and started flying thru the air and shit!
It was really good. Great dancing, flying, flipping thru the air.. it was a little magical and I even forgot for a second that he Ike Turnered RiRi!
It just made me think, it's amazing how time heals absolutely everything..People were saying his career was over.. and now he's back and hotter than ever! And he's still throwing chairs thru windows! Not condoning it.. it's just the Kanye effect.. once you reach a certain level of talent, you can do whatever the fuck you want, or so it seems.
Now it's time for the Britney tribute! Gaga was hugely influenced by Britney so she had the honor of presenting it, as Jo. The tribute consisted of dancers dancing to quick versions of many of Britney's iconic videos and performances: Hit me Baby One more time, Oops, Toxic, Circus, etc. It showed the progression of the career and evolution of her image, etc. No rendition of her drug hazed Gimme More performance from 2007 VMAs however!
Jo Presented her the award. Brit came up and they made us THINK they were gonna kiss but no. And probably rightfully so, Between Britney's melting face and Gaga in drag I think it would have just weirded everyone out more than anything.
Now the cutest performance of the night from Ms. Bey! She was in this adorable sequined blazer and performed Love on Top. I'm not into her sound this last album but I thoroughly enjoyed this. It was so peppy and cute, it reminded me of early early Mariah Carey.
The real surprise came when she unbuttoned her blazer at the end of the song and rubbed her baby bump!! Omg Saint Bey is pregnant!! Drop to your knees and rejoice!!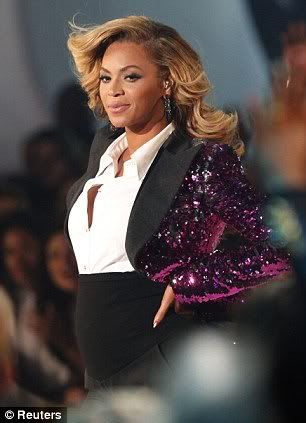 It cut to the Kanye smiling and slapping Jay on the back in the audience. So cute, those two are like brothers.. you know that baby is gonna be calling him Uncle Kanye. We even got a glimpse of "Jo" jumping and smiling in the audience. Priceless. This might have been my favorite moment of the show.
And then they present the Best New Artist award. I SO had this going for Wiz Khalifa, I think everyone did. And then out of left field they announce this Tyler the Creator character!! That's it. The "Best New" category is officially fucked this year! At the Grammys some person named Esperanza Splading beat Drake AND the Biebs and won, and now this shit. no.
Some group I didnt quite catch the name of.. (The Giant?) performs. Their lead singer guy was hot.. it was a good performance too. Really good crowd energy, he crowd surfed for a minute and then was laying on the stage letting all the fans touch him.. pretty cool.
And the category of the night, the fiercest of the fierce: Best Female video goes to: Gaga-Born this Way! Of course I wanted her to win, but I did NOT see this coming! I saw it going to Adele or Beyonce. But then again Nicki has that fan power and Katy's Firework was a big video too.. but Yay! BTW is one of my favorite videos..
Russel Brand comes out and does a tribute to Amy Winehouse, by telling the story of how they first met and his impression of her and how he was blown away the first time he heard her sing. It was well said. Then they showed this video footage, probably the last video footage of her in a studio EVER recording with Tony Bennett at the Abbey ROad Studios in London. It was shot in March and she looked and sounded good. It was the Amy we loved! Seeing that was very moving.. they also played some of her songs off of Back to Black.. so good. Bennett said she had that real soul in her, and embodied the style of Ella Fitzgerald and other classic jazz artists.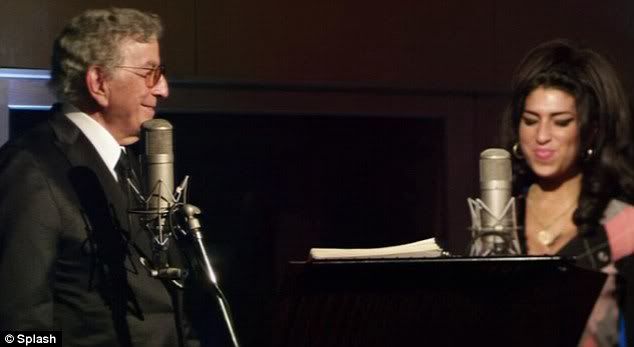 Bruno Mars then performed her song Valerie, and he did a great job, I think.
I resisted him at first but he actually is pretty adorable.
The biggest award of the night, video of the year, was presented by Katie Holmes. What is with these random ass presenters for the Video of the Year? Last year it was Cher..hmm
And the award goes to Katy Perry-Firework.
Nice cube.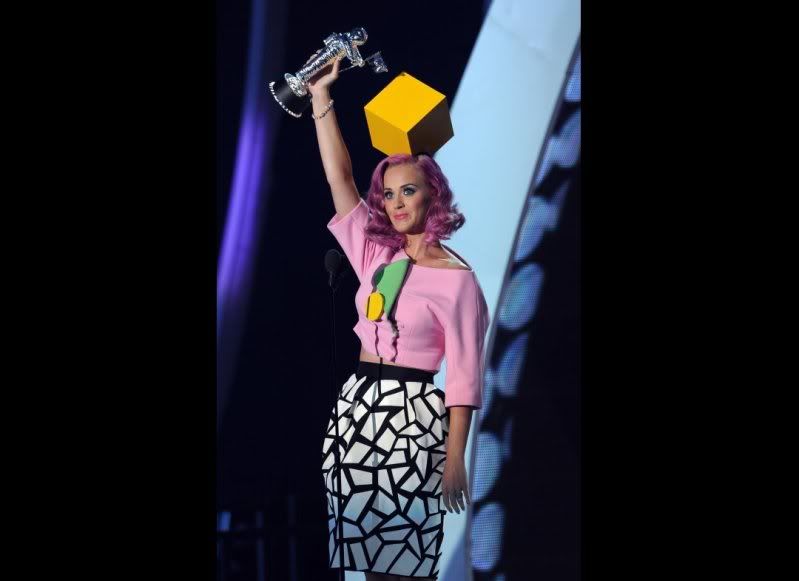 I totes saw it going to Adele!
And Weezy wraps up the show.. that little gremlin! I'm so embarassed how hot I was for him 2 years ago! I mean, he still has that something, and he is amazing live.. but to an outsiders eyes.. just ew. I should probably keep that memory to myself?
Look at this goon!
Despite being in LA this year, I did expect big things. It seems every year either the performances are amazing but the winners are wack, OR the winners are sound but the performances are underwhelming. Last year was the latter: lackluster performances but proper winners. This year the performances were AMAZING and the winners were mixed. Some curveballs but some definite legit wins.. I can't complain.
The highlights for me were definitely Adele's performance, Bey's performance and pregnancy reveal, Gaga's You and I performance and Jay and Ye's Otis performance. In that order. Loved it!!!!
Loving how the women are still dominting, like last year. Everyone on top is a female! Katy, Adele, Gaga, Bey, Nicki, Brit.. as it should be! The hot female divas!
Remember when it was all terrible in 2005/2006 when all these BANDS were winning?? Green Day, Panic at the Disco, Fall Out Boy?
NO MORE!! Long live the reign of the pop diva!!
And OMG how great was it with No Taylor Swift there playing the damn martyr! Excellent.
So overall this years VMAs gets a big Thumbs Up from me!!