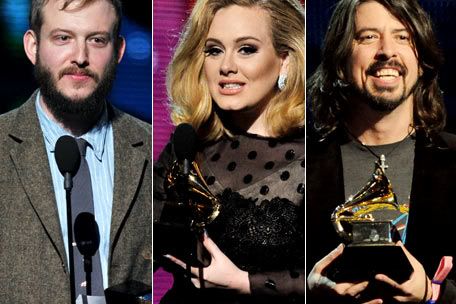 I'll be damned. Who knew this would be the year the Grammys would regain their dignity after such acts of fuckery as 2011's awarding best new artist to someone named Esperanza Spalding.
It was so good last night; Everything was just. Everything was right. As I scroll down the winners list every single one I say aloud, "YES.... YES.... YES... YES"
The show started with LL Cool J leading a prayer for Whitney Houston.. which I found kind of weird and borderline inappropriate.. to assume everyone in the house is Christian, to give a Christian prayer. Whatever.
This followed with a performance by Bruno Mars, who is apparently the go-to performer for deceased musicians-tributes. He did the same for Wino at the VMAs. It was almost the exact same performance. Him at a mic with a couple backups behind him, all dressed in their little colorful tuxedo jackets and matching high-water pants, singing a tribute, with a bunch of fancy footwork dancing. I liked it though, just oddly similar to what he did 6 months ago for Amy.
Next Alicia Keys and Bonnie Rait perform a tribute to Etta James, singing "Sunday Kind of Love". And for once I actually approve of the way Alicia is dressed.
Best Pop Solo Performance is given to Adele for "Someone Like You". Such a good song; I prefer it to Rolling in the Deep. Well-deserved.
Chris Brown performs. Started out singing another song, but then went into Beautiful People. He was much criticized for lip synching, but for some reason I didn't really have a problem with it. I liked the dancing. He was hopping aroung a pyramid of light-up blocks.. kind of reminds me of that old show GUTS on Nickelodian...
It was overall kind of weird for me to think that, exactly three years ago, Chris and RiRI were notably absent from the Grammys because he beat her the night before..a PR and image nightmare for Chris Brown- people wondered if his career could ever recover, and now here we are and he's performing from the same ceremony he was absent from. And Rihanna is there too... It's just weird to me. Did they see eachother? Is she really secretly hooking up with him again? Crazy how time really heals everything. Or seems to..
Best Rap Performance award is given to.. OTIS !! Yes!!! It beat Black and Yellow, Moment 4 Life, The Show Goes On and Look at me Now. Great nominees, but so glad Otis won. Well deserved!! Unfortunately, Jay and Ye weren't there to accept! WTF is up with that! Kanye lead the pack with the most nominations out of everyone! And he couldn't even make an appearance? Jay gets a pass because he is tending to the needs of the new Messiah, Baby Blue.
Performance by Jason Aldean and Kelly Clarkson. Nothing really to say about that.
Performance by the Foo Fighters. Who doesn't like the Foo Fighters? Honestly, there's nothing un-likable about them. They make good music thats "rock" but is still so .. approachable? I'm not a huge rock girl but I can still appreciate their music. Their lyrics are so honest and relatable. And they all seem super nice. In both a genuine and self-depricating-humor sort of way. They've been around for years, have major rock cred/talent but they're still not above hitting the red carpet beforehand and doing interviews with Ryan Seacrest. They don't think they're too good for that, like Radiohead. Love.
Then RiRi performs We Found Love! Girl has lost weight! She used to be kinda thick.. She's still toned, but looks noticably thinner. Still bangin though. Great performance. Then she segued into Paradise with Coldplay. Great performance!!!
Best Rock Performance awarded to the Foo Fighters, "Walk". Yay. Grohl mentions that they went back to their roots and instead of recording that song in the best Hollywood studios, they recorded it in his garage. How can you not love them????
Beach Boys performance? wtf.
Stevie Wonder presents Sir Paul McCartney and he performed something (Sorry, that was my break to go make my mac and cheese).
Best R&B album goes to.. F.A.M.E. by Chris Brown. Even though I have mixed feelings about him being there and performing on the anniversary that he beat RiRi.. I have to say this was deserved.
Taylor Swift performs "Mean". Ok so I guess it was a good performance but this girl is 21 years old. Why is she still singing songs that seem to be based off a girl's third grade life experience? "You're Mean!!!" ?? Seriously? It was pointed out to me that Taylor Swift and Adele are only 18 months apart, yet Adele comes across decades more mature. Taylor needs to grow up.
Song of the Year awarded to: Adele! Rolling in the Deep. Well deserved!!!! I could honestly say that for every single award so I guess I'll just stop repeating myself.
Katy Perry performs ET, then goes into some other love-scorned song with a "keep your diamond ring" lyric. hmm. And to think last year she performed some stupid Valentine's Day song dedicated to Russel. And now she's divorced (laughing on the inside).
Best Country Album- Lady Antewhofuckingcares.
And then, the much-anticipated Adele performance. She sings Rolling in the Deep and makes everyone forget we've been beat over the head with this song for the past year. So good. It was so refreshing, to go back to basics, just Adele in her black dress, singing with a small band and some backup singers. No dancing, no lasers, no costumes. And she still had everyone captivated. Amazing.
Blake Shelton performance.
Best New Artist awarded to: Bon Iver. Honestly, I'm not even going to complain. I was entertained by the fact that he got up there and kept telling us how umcomfortable he was being up there, getting recognition on this kind of platform.. LOL you just have to say that cuz you're a fucking indie! haha oh well this win still gets my stamp of approval.
Then, the tribute to all those in music that we've lost in the past year.. Etta James, Amy Winehouse, Clarence Clemmons, Whitney. Whitney was the last one shown and the screen paused with her image up there, and out emerged Jennifer Hudson for her tribute song.
I knew it was coming but I didn't know what she was going to sing. It was all dark with just a single spotlight on her. The anticipation was building and then you heard the first note and it sent shivers up everyone's spine!! That immediately recognizable "Iiiif". I Will Always Love You. From that first note I immeadiately started tearing up and was soon full-on crying! I was shocked, as I was never a huge Whitney girl and you KNOW I'm not the biggest J.Hud fan. But it was just one of those moments. She did the song SO well, and it just brought everyone back to remember Whitney at her best, what an amazing talent she was. It was such a beautiful moment. The night belonged to Adele but for me, this was the moment of the night. Way to go, J.Hud. She looked amazing too.
Next was a performance from Guetta, Breezy, Weezy and DeadMaus or D3adMau5 or however the fuck you spell it.
Last performance of the night is Nicki. Oh Lord. I wasn't sure if she was gonna perform Stupid Hoe or what. She ended up pullin a Lady Gaga and doing some bizarre story-telling performance of the Exorcism of Roman. It was pretty out there.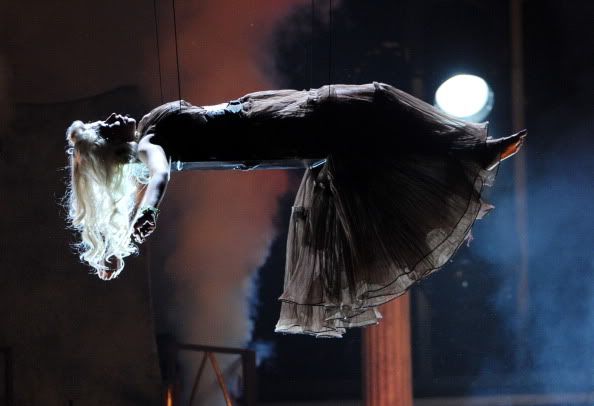 BTW Nicki was my favorite on the red carpet, dressed in her Versace red riding hood dress! Love the more natural makeup look.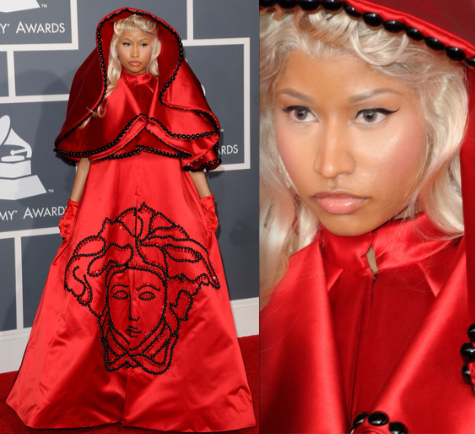 Record of the Year goes to: Adele, Rolling in the Deep. Yay.
And Finally, Album of the year- goes to.. 21, by Adele! And she gets up there and gives the best acceptance speech, emotion, humor, genuine appreciation and a little anecdote. She thanked someone (her producer?) for teaching her about quality control in her music. What fucking concept. Artists these days have a few hit singles in their albums and then a bunch of shitty filler. Learn some QUALITY CONTROL !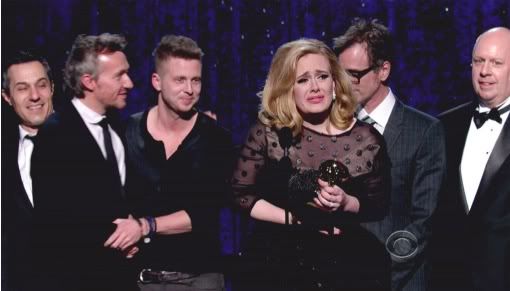 What a fucking triumph. All winners were just and right and correct.
The performances were good.
The Grammys struck the perfect balance at paying respect and tribute to Whitney without being a complete downer. It made everyone reflect on what a legend she truly was. J.Hud came through in the clutch, less than 24 hours notice to pull together the performance of the night that had everyone in tears.
And Adele came back from throat surgery to perform the song of the year and blow everyone away without any smoke and mirrors. Just sheer talent and emotion. She deserved every single award she won.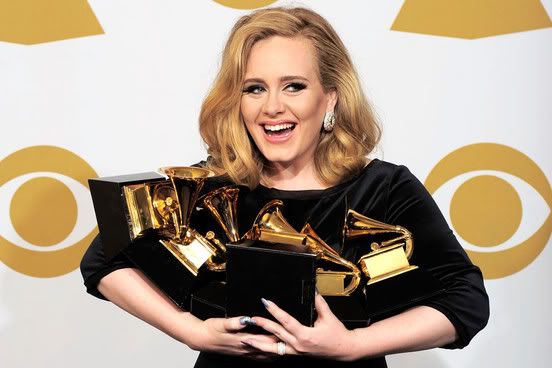 A triumph!!!!
(Curtains close)