The VMAs did NOT disappoint this year!
Ok. The ceremony started with a really up-close shot of a wide-eyed, crazed-looking Gaga-her face in the middle of a white block.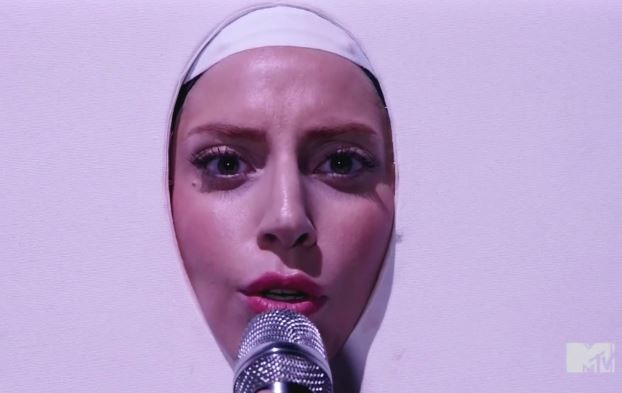 I love that that's the first image we saw!! LOL She started in on some opera-esque sound..She lost the white block framing her face, stripped down and segued int Applause. Her dancers outfitted her with 2 different wigs and sequined outfits for the first part of the song, She is such a drag queen! Love it. Then she disappeared and re-emerged wearing a sea shell bra and thong. Damnnnn her body is looking good!!! People kept talking about it throughout the ceremony..just tight and toned..with an ass! Anyways, it wasn't as cray cray as I thought it would be but I did enjoy it.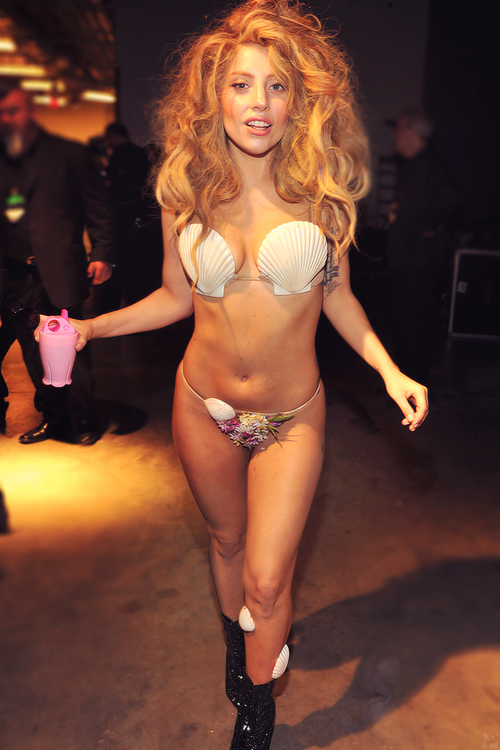 I didn't realize there was no host this year, which I did not miss at all. Shit just got started right away and the first award they handed out was for Best Female Video: Come and Get It, Selena Gomez! I didn't see that coming at all (despite the fact that it was a beautiful video)! She would have been my choice for who I wanted to win, but I saw it going to Taylor or Miley. Thank God it didn't!

Speaking of.. Miley was the first to perform of the night and it's emerged as the most talked-about performance of the night-for all the wrong reasons!! Omg. I can't.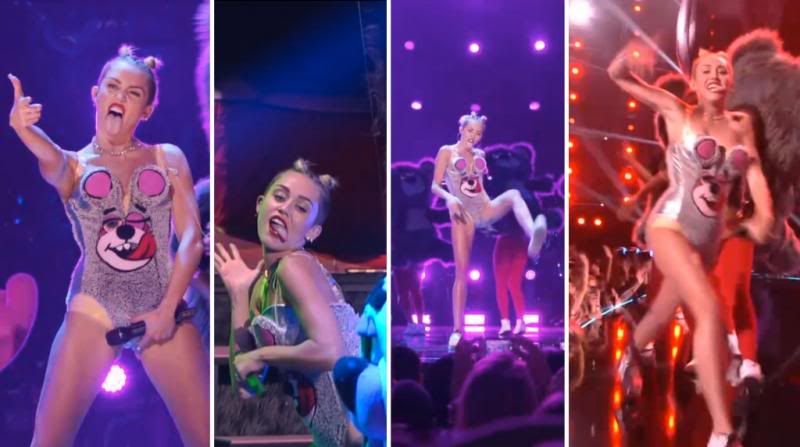 Watch if you dare.
We ALL knew Miley wasn't going to serve up any sort of class or substance.. and we all expected it to be some ratchet ass shit.! And I don't like using that word but I think that is just the best way to describe what went down! Also: Tasteless, talentless, image nightmare, offensive, disgusting, horrifying, embarrassing, etc.

Sticking her tongue out, making those stupid faces, thrusting, shaking her ass.. Then Robin Thicke came out and it was more of the same, except she stripped down to reveal and nude-looking silicone bra and panty (?) set and shit was not flattering. The look of endless Memes. !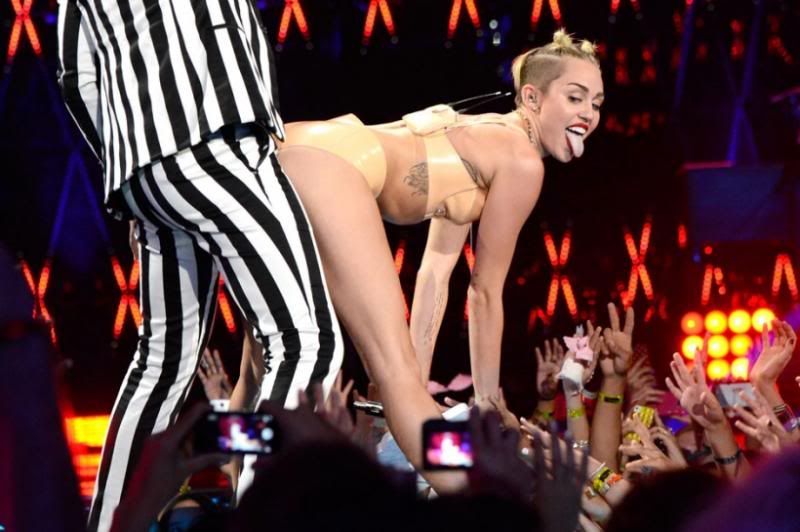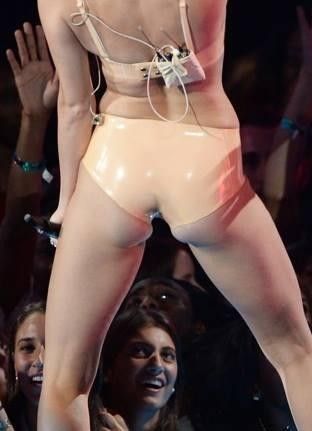 On my prediction blog I touched on cultural appropriation via Miley's adoption of her idea of "Black culture" and this went even further than her video.. Just as I said her video featured black women as props, she featured them as such again in her performance of the song-They were literally the teddy bears. And she used the giant black woman from Beechers' Madhouse (I'm an LA nightlife local, cough cough) to motorboat? mime rimming? and spank as she passed by. Reducing black women's bodies to sexualized props to be seen or touched for your entertainment. The audience reactions said it all. Horrifying. Horrifying at the shallowest surface level and even more-so when you look at the deeper subtext of what she's demonstrating.

How does she recover from that?? We shall see, but I think it's safe to say there is pretty much no one on her side who can say that was in any way a good performance. Probably more universally panned than Brit Brit's zombie walk through Gimme More in 2007! Oye.

Lil Kim and Iggy Azalea come out to present the award for Best Hip Hop Video, which went to Macklemore for Can't Hold Us, which was the only good nominee. He was looking good!
Kanye performance!! It was reported everywhere that he was going to do Black Skinhead but he came out doing Blood on the Leaves. It started out with a darkly lit close-up of his face and then cut away to just his shadowy figure spazzing/dancing in front of a background scene. It was simple but I really loved it. I'm obsessed with the way he moves.


Best Female Video: I knew You Were Trouble, Taylor Swift. Of course she gets up there and gives a bratty little finger-wag, thanking the person who inspired the song "And he know EXACTLY who he is". Perpetual Martyr. Stop whining about every guy who's done you wrong and move on. I wish Kanye would have come up there again!!

Best Video with a Social Message: Same Love, Macklemore & Ryan Lewis. Of course. They come up and give a great acceptance speech about how they really wanted to win for Best Hip Hop but this was so far and away the most important award for them.. the evolving landscape of gay rights/acceptance. Gay Rights are Human Rights..It was a poignant moment.

Ok....What happened next was the most unexpectedly magical, spectacular moment (15 minute moment) of the night and, dare I say, in VMA history! I knew Justin Timberlake was scheduled to perform but that didn't spark any excitement or expectations from me At All. It almost didn't even register.. like, Oh.. JT's performing..? That might be Ok I guess.. OH MY GOD. His performance was so out of left-field spectacular it blew my mind. It started with him performing Take Back the Night in some lobby, probably of the Barclays Center, then he appeared on stage and slowly started in with.... SEXYBACK!! You don't even know ! I wasn't (before this night) even that big of a JT fan but I still die for SexyBack. And!! I remember, when he performed at the VMAs in 2007, after a whole summer of SexyBack tearing it up, he DIDN'T PERFORM SEXYBACK. It left so much to be desired, for me, personally, and this redeemed everything, and them some. He said "I still run this bitch!" and he's so right.. After a 7 year hiatus from releasing new music and a lame ass return single, he still runs this shit and can do a better performance than ANYONE.
And I am not even a third of the way done. After SexyBack, he continued to do: Like I Love You (Omgg flashbacks to 2002 when he emerged for his solo debut on the VMA stage with that light-up boombox), My Love, Cry me a River, What Goes Around, Senorita..Rock Your Body..!!!!!!!!!!! And these aren't 20 second snippets-he goes a good way into the whole song. And chereography!!!! Out the Ass!!! Ev.er.y. single move is sharp, crisp, exact, on-point!!! Singing live, sounding amazing, nostalgia swells and there is much glory!!!!!


Not done.

He disappears for a sec and then you see spotlights on 5 figures.. Oh My God it's NSYNC!!!!! The guitars for Girlfriend come on and people go crazy! But they have already been on their feet going crazy for like 10 minutes. They do Girlfriend and then Bye Bye Bye. They are so happy JT FINALLY threw them a bone and let them dance and sing with him for all of 90 seconds. That was the biggest moment of Lance, Chris, JC and Joey's LIVES of last 10 years. And we won't see them again for another 10 ! Hope they enjoyed it!!

JT KEEPS ON GOING. He does Suit and Tie.. and finished with Mirrors. I am out of breath even typing what all went down. He MURDERED IT!! This performance was not even on my fucking radar and he killed it so hard!! It wasn't even an awards-show performance that climaxes quickly after like 3 minutes with some theatrics.. This was a mini-concert, a fucking marathon!! And it was ALL JT. Yeah he had backup dancers but your eyes were on him the whole time. No costume changes, no gimmicky background images, smoke, flying through the air.. it was just him dancing, singing, performing like I have never seen anyone do! Reminding us why he runs this bitch!!!!!!!!!!!!! JT just had the BEST VMA MOMENT OF ALL TIME!!!!!

My boo Jamal brought up the fact that you know JT had to FIGHT to convince MTV to give him a 15 minute performance. That is like an 8th of the whole ceremony!! They don't give NOBODY 15 minutes!! That's pretty fucking amazing.

Then buddy Jimmy Fallon presented Justin with the Michael Jackson Video Vanguard award. This was just on another level. When Britney was presented with the Video Vanguard award 2 years ago that lazy trick didn't even perform!!!!! She has some troop of 12 year olds dance to a mashup of her songs!! She just waddled onstage with some "Thanks to the fans and my babies" BS and walked off.!! Wowwww. Your ex-boo just put you to shame girl.
Jason Collins (recently out NBA player) and A$AP Rocky introduce Macklemore & Ryan Lewis and Mary Lambert to perform Same Love. It was good. I love Macklemore and his spastic, uncoordinated movements, even for this song. I love it.. J.Hud came out towards the end and sang with them. Jamal said he kind of didn't like that she appeared in the performance because it was such a surprise that it stole the spotlight from Mary Lambert. I didn't even think of that, but it's true. Here they are performing an important socially-aware song, most people's first time ever even seeing who the woman behind that beautiful voice is.. It should have been a moment for us to appreciate the song and the unique artists behind it and a totally unrelated powerhouse singer swoops in and steals a bit of the focus. It's true though. Nothing against J.Hud but.. maybe she should have just let them make the moment.

Drake performance: He started out with Hold on We"re Going Home and then shifts into Started from the Bottom. It was good but this was a ceremony of AMAZING performances so it got lost in the shuffle.

Best Male Video: Locked out of Heaven, Bruno Mars!!! Yay!! Love that video.

Bruno performs his newest single, Gorilla. I'm not about sex-songs but this performance was really good. I love his expressions and movements. His face is so soulful when he sings!! What a freakin cutie!!! Will Smith approved. (They were cutting to his ass all show long!! Every fucking performance or acceptance they would cut to Will Smith and the kids to show their reaction! I just thought that was so random. and hilarious.)

VIDEO OF THE YEAR! Goes to.... Mirrors. Ok I'm not a fan of the video but I ain't sayin shit after all JT just blessed us with.

The ceremony closes with some cliche, overdone boxing-themed performance by Katy Perry. The scene was cool- It was a ring set up outside with the Brooklyn Bridge as the backdrop. Like the real Brooklyn Bridge. It was a great setting wasted on a boring performance. It was just baisc. Reductive, to use a Madonna-word. The only person who can make a boxing-theme cool and not contrived is Xtina!!!

Let me catch my breath!!!

SO. I've been glorifying 2009's VMAs as the best I can remember watching but this one might take the cake. It just proves my thoughts that the VMAs are infinitely better in New York. It's on so much more of a grand scale in NYC.. LA just can't compare. And that seems to set the tone for the whole show too-the red carpet, performances, and EVERYTHING are just better in New York. As much as I'd love to attend the VMAs in LA, I'd rather preserve the credibility and grandiouse nature of the ceremony and keep it in NYC!!

Ending notes/themes- Miley is a mess. Justin is an entertainment God. Taylor's a martyr. Gaga is bangin. And we should always watch for Will Smith's approval.

Aand Robin Thicke walked away with NO awards for that distasteful, ignorant video, despite being nominated in three major categories. And his association with Miley via their performance together was surely embarrassing and a little damning. SORRY ROBIN.

Despite that embarrassing spectacle, I am thoroughly pleased-even delighted- with the 2013 VMAs. Like I said on Facebook- JT brought it to the highest possible level.. and Miley brought it to an ultra embarrassing low!! But the VMAs are nothing without drama, so the Miley-low was actually an integral part of the show. At least it got people talking, thinking, evaluating, and hopefully looking at pop culture on a deeper level. I wrote my final university senior paper on Kanye's Twitter rant/apology about his VMA incident, and Miley's performance could for SURE be dissected and analyzed deeply enough to serve as a dissertation. Engage the culture (Sorry, SPU)! That is what the VMAs are all about.! So sad they're over for another year..but already looking forward to 2014!